Celebrity chef Gordon Ramsay owns dozens of restaurants all over the world – including 11 with Caesar's Entertainment Casinos – yet it wasn't until this week that any have operated in the Midwest. Monday marked the debut of Gordon Ramsay Steak at Harrah's Casino North Kansas City, just the fourth Gordon Ramsay Steak restaurant in the country, and the only one of Ramsay's properties between Baltimore and Las Vegas.
Ramsay was on hand late last week for a debut of the restaurant, which was attended by local sports figures and athletes including the Chiefs' Mitchell Schwartz, Sporting KC and Men's U.S. National Soccer Team members Matt Besler and Graham Zusi, as well as the Royals' Rex Hudler, among other personalities. At the event, Ramsay talked about his love for Kansas City and, noting the athletes present, his personal connection to sports (as a young man, he played professional soccer until his career was ended by a knee injury). Notably, Ramsay also announced a philanthropic partnership for Kansas City's Gordon Ramsay Steak, following in the tradition of his other restaurants. A portion of all sales at his restaurant will go to Harvester's Community Food Network, Kansas City's largest food bank. He also took the time to address his new staff, noting that the restaurant had already received over 3,000 reservations.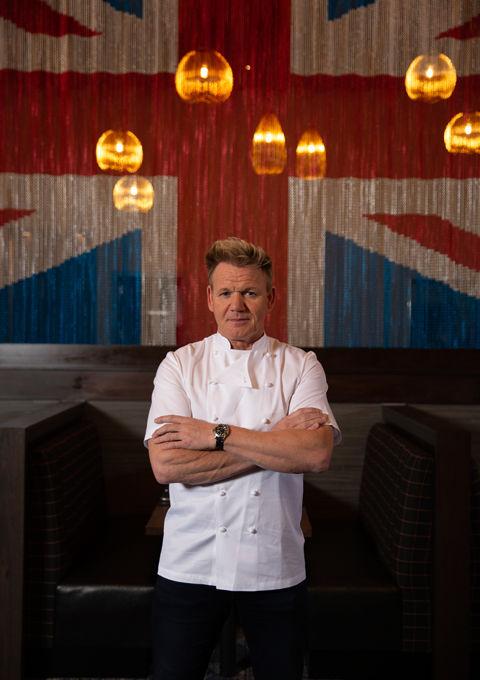 "I've had my eye on the Midwest and fell in love with Kansas City as soon as I arrived," he said to the crowd.
The restaurant is located within Harrah's Casino North Kansas City, just inside the doors from the valet entrance. On walking in, guests will find themselves in the lounge, with walls of natural stone and a dramatically lit bar featuring a dozen seats and a handful of high-top tables for walk-in guests. Down a short hallway featuring its own fireplace, the dining room features an enormous, custom-made mesh screen emblazoned with a Union Jack, which divides the spacious room in two. Plush booths and comfortable four-top tables fill the space, which also features Ramsay- and Kansas City-themed artworks, including paintings and photography (you are unlikely to forget where you are dining when you are at this restaurant).
The menu features many of Ramsay's classic dishes, including a luscious, enormous serving of beef Wellington, as well as a sticky toffee cake with brown butter ice cream, with the ice cream shaped into a stick to resemble a stick of butter, complete with a real butter knife cutting it in two. But fans of all types of cuisine are likely to find something to enjoy here, from the appetizer menu, which includes fresh pastas, lump crab cakes and burnt ends-style pork belly, made in tribute to Kansas City ($18-$24). Shellfish platters, oysters on the half shell, king crab and caviar servings are also available ($23-$170).
The restaurant is a steakhouse after all, however, and the main stars of the menu are the steaks, many of which feature beef sourced from Creekstone Farms in Arkansas City, Kansas. Guests can opt for a 24-ounce bone-in rib eye, an eight-ounce American rib cap (which Ramsay says is his favorite cut), and a 14-ounce Kansas City Strip, among other cuts ($49-$115). Gordon Ramsay Steak also offers a triple-seared Japanese A5 Wagyu steak, one of the most desirable steaks available in the American market, available at $35 an ounce (there is a three-ounce minimum). Demi-roasted bone marrow, shrimp and even a butter-poached lobster tail can be served as steak accompaniments ($10-$35).
Other options include the aforementioned Beef Wellington, as well as Ramsay's signature roasted chicken, served with cornbread pudding and a confit egg yolk, a braised Colorado leg of lamb with chimichurri, Scottish salmon and seared scallops ($34-$56). Side dishes include shiitake mushrooms with fried garlic, mac 'n' cheese with smoked Gouda, Emmentaler, Parmigiano Reggiano, and Manchego cheeses, fingerling potatoes with Parmesan and truffle butter and seared asparagus shoots ($13).
To drink, customers can choose from an extensive wine, beer and spirits menu, including the "Perfect 10" cocktail menu. One sample drink unique to the Kansas City Gordon Ramsay Steak is the Pendergast, which features J. Rieger & Co.'s Kansas City Whiskey, Benedictine, Carpano Antica Formula and barrel-aged bitters ($17).
At the debut, Ramsay praised his team for training for several weeks ahead of the opening, noting their expertise in the kitchen as well as in the front of the house.
"It's about perfection," said Ramsay, addressing his staff directly. "I would like to take this opportunity to wish the team many, many successful services. And thank you all for welcoming me to Kansas City."
Gordon Ramsay Steak is open Sunday through Thursday from 5 to 10pm and Friday through Sunday from 5 to 11pm.
Gordon Ramsay Steak, located inside the Harrah's Hotel & Casino, 1 Riverboat Drive, North Kansas City, Missouri, 816.889.7037, caesars.com/harrahs-kansas-city