When Jhy Coulter turned in a design project at University of Missouri - Kansas City in 2016, she had no way of knowing that five years later it would become a popular pop-up pizza concept.
Devoured Pop Up, as it's currently known, was born in Coulter's backyard as "Backyard Specials" last year during the COVID-19 pandemic. Prior to COVID, Coulter dabbled in and out of a local pizzeria, worked as a freelance designer and cut her teeth under chef Brandon Winn at Webster House. The design world never felt like the right place for her, so she began cooking more and more at home and started an Instagram to share her creations with the world.
During this time, she also entered one of chef Matty Matheson's Instagram contests to win a Gozney Roccbox portable oven, and ended up winning. By 2020, she was still working on recipes in her own kitchen, but had finally found a home working as a sous chef in Kansas City. Like many in the industry, though, a few months later found her unemployed and antsy to get back in the kitchen. Inspired by the street carts in Spain that would pop up at local cafés and venues and now with her own portable oven in tow, Coulter began working on her signature homemade pizza dough.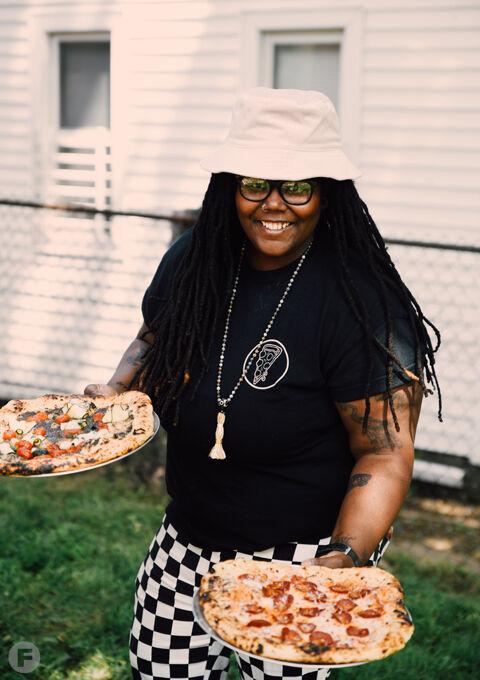 Coulter spent weeks refining the dough and tweaking her favorite flavor combinations before inviting friends and family over for her backyard specials. Once news of her Neapolitan-style pizza started to spread, Jhy's opportunities for partnerships grew quickly. This summer, she's partnering with places like Cafe Cà Phê, SoT and more to host pizza pop ups across the city nearly every weekend.
At her next pop up at SoT on Sun., June 6, Jhy plans to serve up her three favorite pies. The Herbie Birdie is a savory-sweet combination of roasted chicken, Feta, crème fraîche and creamy butternut squash with plenty of rosemary and garlic, while the Vegan Bae starts with an earthy base of portabella spread topped with high-quality olive oil, fresh basil, blistered tomatoes and zucchini.
For traditionalists, The Pep is a crowd-pleaser. Creamy mozzarella, Parmesan, Pecorino and crispy pork pepperoni are loaded on top of a traditional acidic red sauce. Fans also drool over the Chippy Chips cookies, which are available in flavors such as a traditional chocolate chip and, for the more adventurous, a spicy basil sugar cookie.
Catch the next Devoured Pop Up this Sun. June 6 at SoT cocktail lounge (1521 Grand Blvd.) from 4pm until sold out. To stay up to date on future events, follow Devoured Pop Up on Instagram.
Devoured Pop Up, devouredpopup.com