Spicy, sweet and sour, chamoy gummies hit on all cylinders, and a new company is bringing a taste of the trendy treat to Kansas City.
This past fall, Michael Ho decided the time was right to launch Chamoy Boi, a business he had been mulling over in his head for a while. The venture was born out of a love for the candy itself, but also out of survival, as Ho needed a source of income when the nail salon he was working at shut down due to the pandemic.
"I knew I had all of the ingredients I needed to throw a batch together, so I just decided to go for it," he says. "I launched Chamoy Boi last October, selling chamoy- and chile-dusted fresh fruit and gummy candy, which is very popular in Latinx communities. I moved around a lot when I was young, spending time in Texas and California, which is where I first came across this addictive combination of sweet, salty, spicy and sour gummies."
Made from pickled or fermented fruit (such as salted plums or apricots), chamoy can take the form of a powder, paste or sticky red sauce. It's then spiced with dried chile powder, which gives it just enough of a fiery kick to balance the sweetness of candy, paletas, ice cream and more.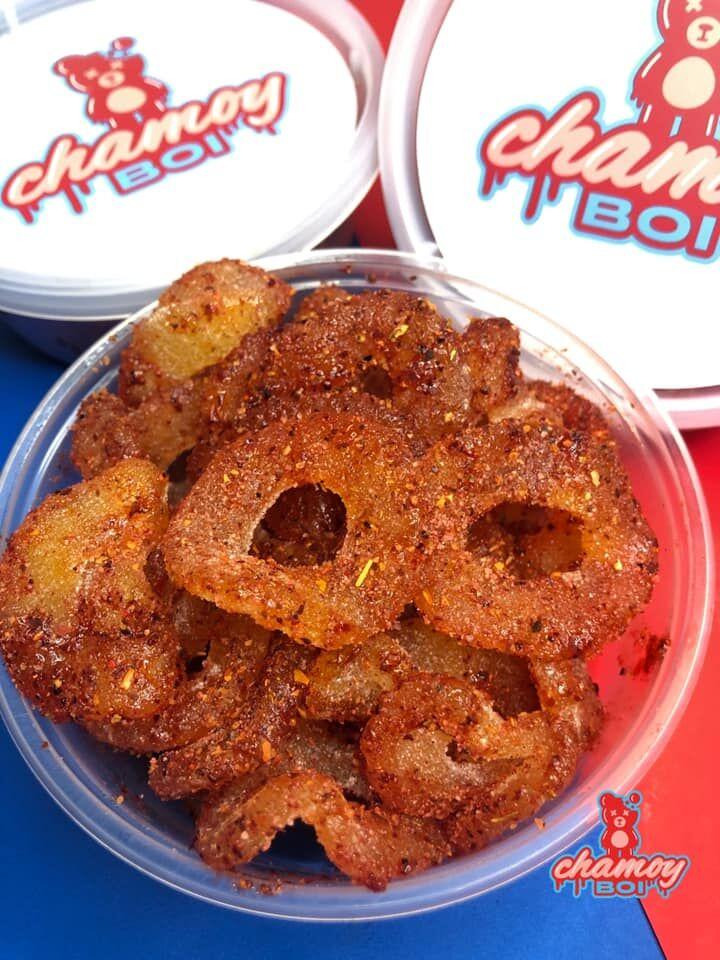 In Mexico, chamoy is perhaps most associated with street food; it's poured over pieces of fresh fruit in plastic bags and then sprinkled with Tajín, a spicy powder made with ground dried chilies (árbol, guajillo and pasilla), sea salt and dehydrated lime powder. In the 1970s, chamoy began making its way to the U.S., and in the 1990s it began popping up everywhere from the rim of a Michelada to fresh fruit to candies like gummy bears, Skittles and peach rings. Today, chamoy is found in craft cocktails, barbecue and wing sauce, cookies and even craft beer.
Chamoy Boi has quickly taken off in Kansas City, and Ho recently partnered with Café Ça Phê owner Jackie Nguyen to host a small pop up where he was able to sell his product directly to the consumer. That feedback allowed him to focus his inventory in preparation to launch his website, where he sells a selection of candies covered in chamoy and chilies in 6- to 8-ounce plastic containers for $10 each.
Currently, the selection includes dried mango, fruit snacks, green apple sour belts, gummy bears and worms, Gushers, mango paletas, mango sour belts, mini Starbursts, peach rings, Skittles, sour gummy worms, sour straws, strawberry sour belts, tamarind drops, watermelon gummies and watermelon paletas, all of which are tossed in sticky chamoy and dusted with chilies.
The gummies are a bit wet and sticky to eat and will stain your fingers red if you aren't careful, but Ho thinks that is why people love them. "If you know them, you love them," he says. "Sometimes I eat mine with chopsticks so I can re-dip them, and so I don't get my fingers dirty eating them." 
Chamoy Boi candy is also currently available for sale at Café Ça Phê. Ho is seeking additional partnerships and locations where he can sell his candy and expose it to a wider audience.
"Right now, as I am just getting started, I have agreed to meet people halfway if they don't want to pay for shipping, or if they are close to my house or work," says Ho. "I have had people who have driven in from Lawrence to meet me, and someone from Puerto Rico who was really excited to get their order."
And Ho is just getting started. He hopes to add a line of products with a little more heat, perhaps offering two levels of spice (regular and extra-spicy). He's also working on a new tamarind dip soon that can be used to decorate the rim of Micheladas and Margaritas, in addition to being drizzled over fresh fruit. Eventually, Ho dreams of turning his pandemic pivot into a brick-and-mortar business.
"I have been thinking about one day expanding this business to opening up a small shop selling ice cream, popsicles, fresh fruit and Chamoy Boi candy," he says.
In the meantime, you can get your spicy Chamoy Boi candy fix by ordering directly from the website.
Chamoy Boi, chamoyboikc.com