The partners behind Rockhill Restaurant Group love pizza. They started their restaurant careers in Kansas City by opening Coal Vines, the popular pizza restaurant that operated on the Country Club Plaza for six years before closing in March 2017.
Just the year before, they opened The Rockhill Grille, their own original restaurant concept. The modern American grill and bar serves up sizable salads, two-handed sandwiches and entrée plates in the East Crossroads.
Now, the owners have gone back to their restaurant roots by opening Rockhill Pizza, a new delivery and carryout pizza concept that offers thin and crispy pizzas made with high-quality ingredients alongside fresh salads and a few desserts.
Rockhill Pizza currently offers bottled wine; this summer, they plan to expand the menu to include canned beer and bottled cocktails as well. They also plan to add a few self-serve tables and chairs on the sidewalk in front of the newly remodeled walk-up pizza counter they fashioned out of a former dry storage closet on the west side of the building.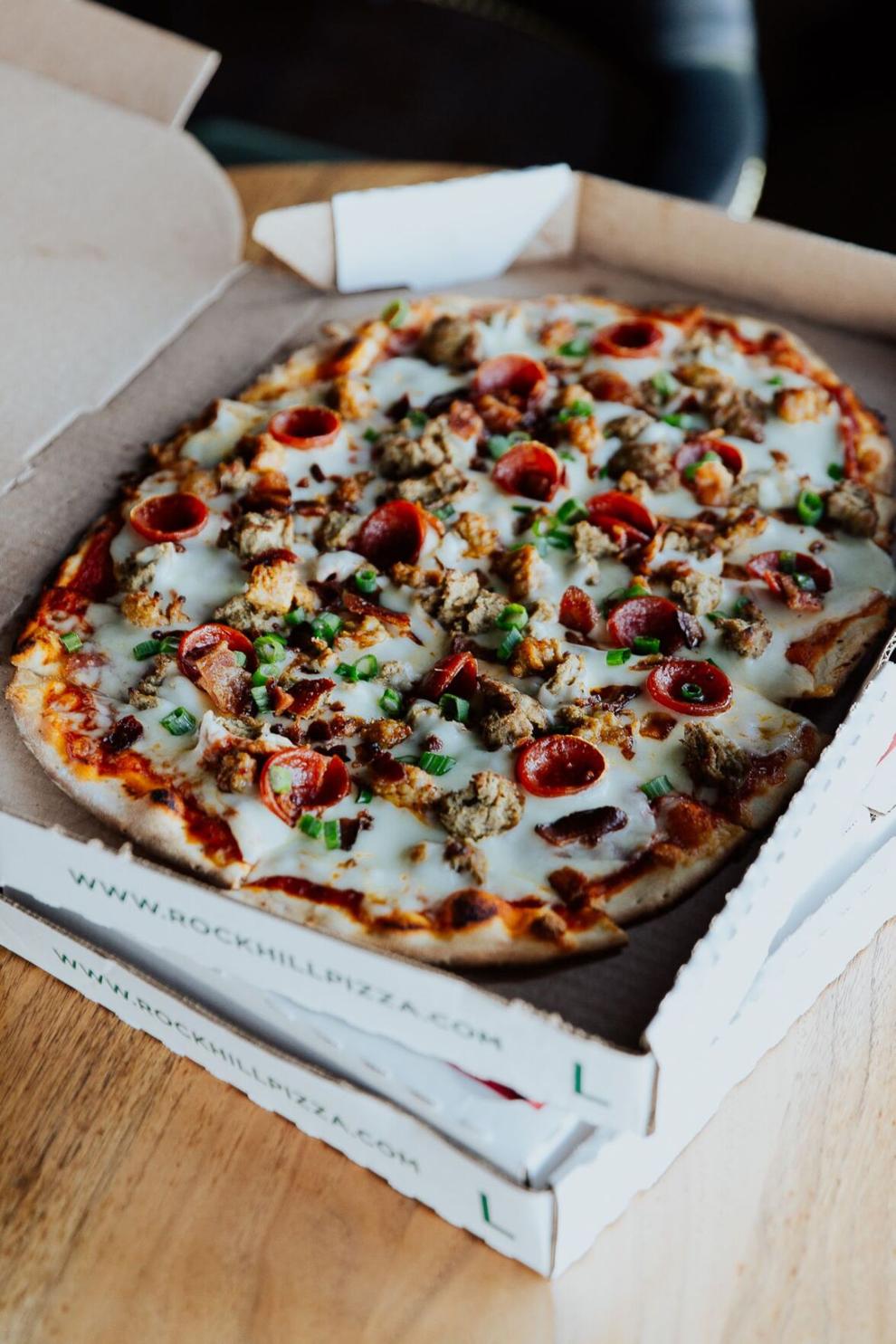 The Rockhill Grille executive chef Clark Grant is overseeing the pizza kitchen for the new concept.
"We were not looking to do a specific style of pizza per se; the goal was to make a thin and crispy pizza with the best quality toppings at a reasonable price. We wanted our pizza to taste great and when you opened the box you could see the quality and value right away," says Grant. "We want people to take one look and know this is a Rockhill pizza."
It all starts with a unique pizza box. The green-and-white striped box has two small holes on top of the lid that punch out to hold small plastic containers of grated Parmesan cheese and red pepper flakes. It's a clever delivery vehicle to make sure the condiments come with every pizza.
Pizzas are available in two sizes – medium (14-inch) and large (16-inch) – and prices range from $14 to $22. The shape of the pizza is distinctive, too; rather than round, it's oval-shaped, with long and rectangular slices. With not much in terms of an outer crust, the thin, crispy bottom crust is the vehicle for the toppings and cheese. For those who enjoy maximum toppings and less crust, this is one to try.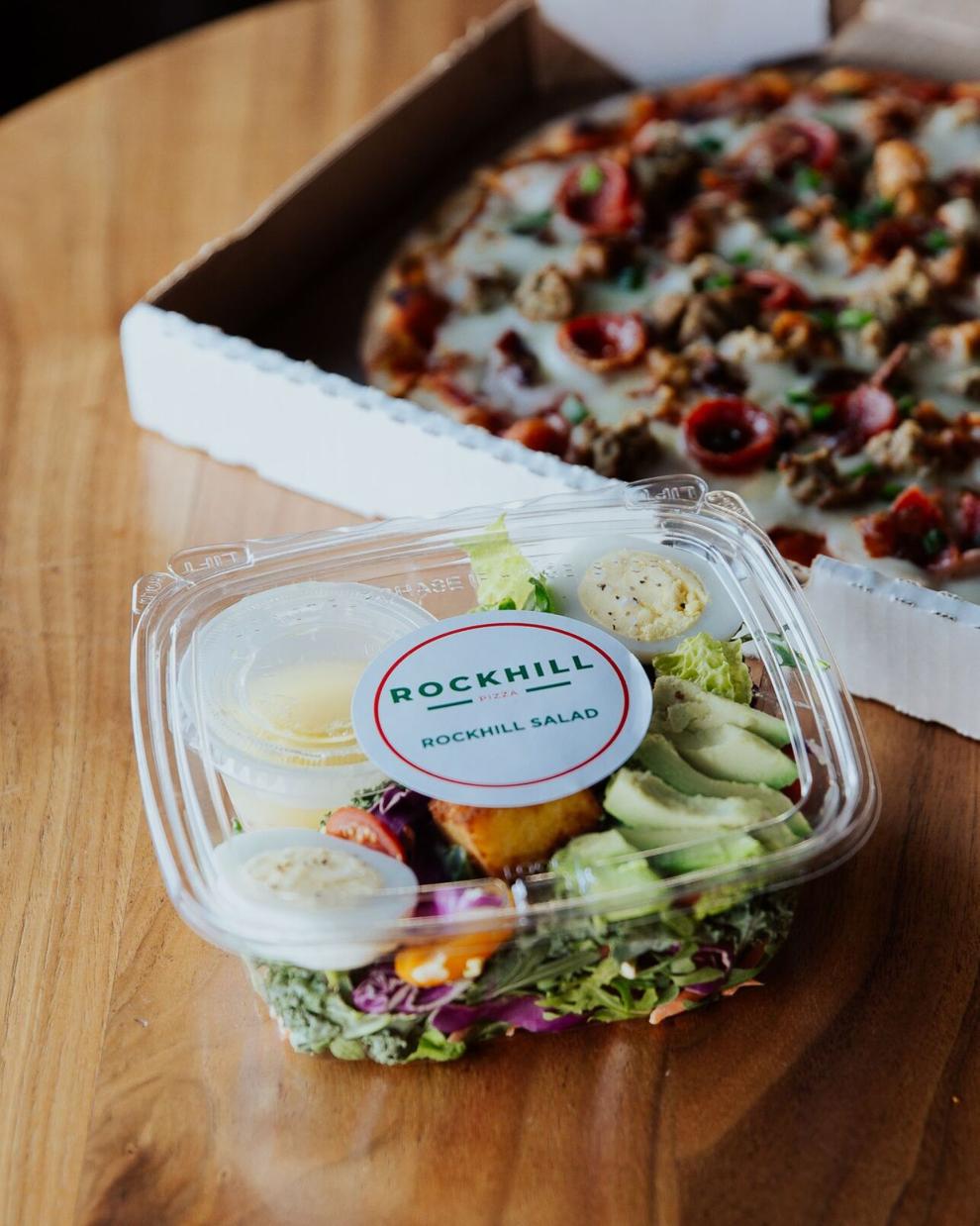 Diners can choose from seven signature pizzas and a build-your-own option. All of the usual ingredients, except pineapple, are available to customize your pie.
"We are test driving everything with this location right now, but the beauty of this concept is that it is an additional revenue center for us that fits into a very small square footage," says Grant.  
So far, the breakout best seller is The Wise Guy, a meat-lover's pie that comes loaded with pepperoni, Italian sausage, meatball, Canadian bacon, ground beef and breakfast bacon. A more traditional favorite, the pepperoni pizza features both diced pepperoni and old school cup-and-char pepperoni, ensuring there is pepperoni in every bite.
Another favorite is the Rockhill Special, which is a little lighter with grilled chicken, artichoke hearts and roma tomato. Other specialty pizzas include sausage and roasted pepper, spicy meatball with habanero sauce and a vegetarian pie.
A small selection of fresh salads are also on offer, including a house salad, Caesar salad and pasta salad along with garlic bread that comes with or without cheese. For dessert, customers can choose from a decadent pecan brownie or chocolate chip cookies.
Rockhill Pizza is open Monday through Sunday from 4 to 9pm. Guests can order online for carryout or delivery via ChowNow.
Rockhill Pizza, 2000 Grand Blvd., East Crossroads, Kansas City, Missouri, 816.360.9757, rockhillpizza.com