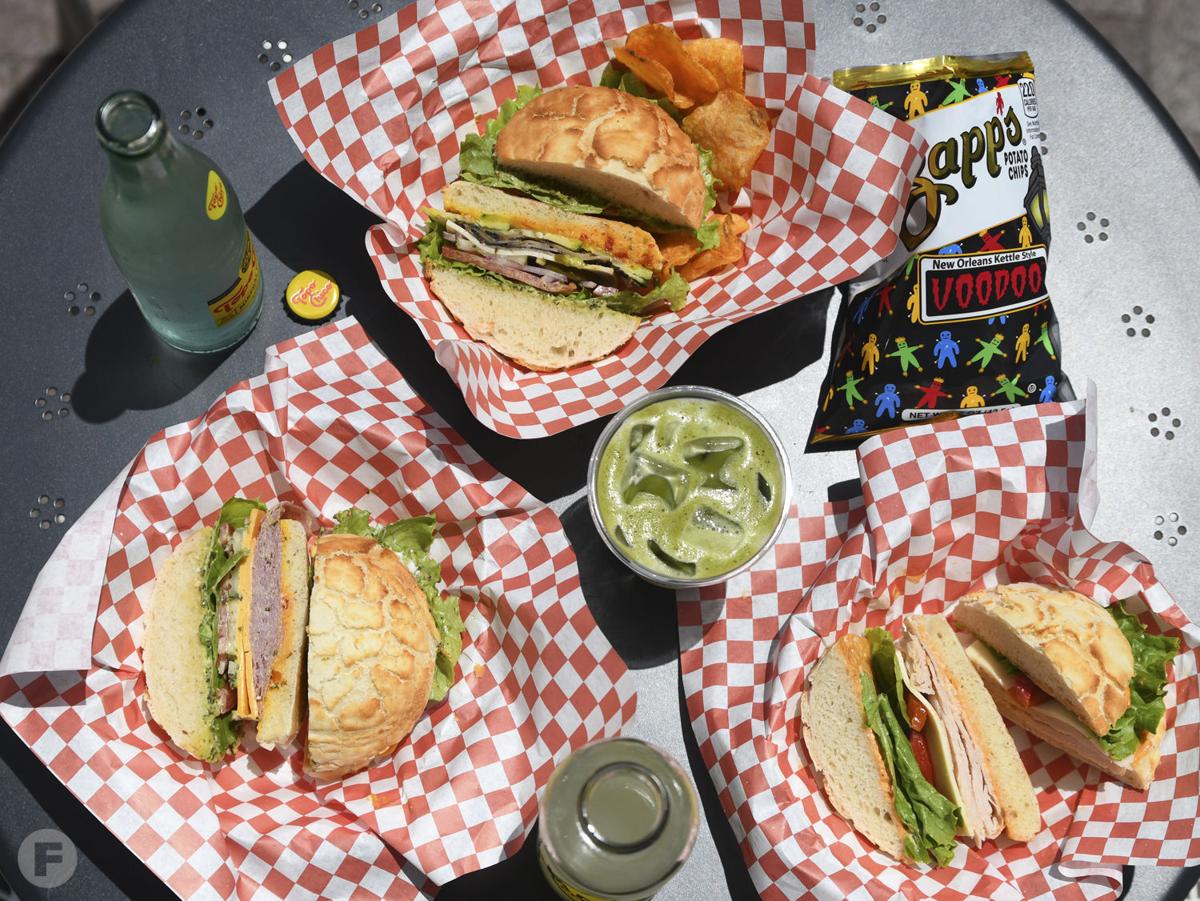 Sample all things cheesy, try some new beers or learn to make some magical cocktails this weekend. 
Friday
"Pumpkin spice and everything nice will be at the second annual Cornucopia! Enjoy a fall filled District boasting with family-friendly activities, live entertainment, food/drink tastings and more. Cornucopia will cover three streets throughout the District and surround the KC Live! Block Friday, October 15th through Sunday, October 17th. Carnival festivities will be available ALL weekend with the MAIN festivities taking place on Saturday, October 16th." Free admission. Varying hours each day.
Hot Air Balloon Glow at Z&M Twisted Vineyard 
"We will have live music, inflatables, and rent-a-pit fire pits available both days. Our outdoor space has plenty of seating, but we recommend bringing a lawn chair or blanket to enjoy the hot air balloon glow." Free admission. Friday from 4 to 9pm and Saturday from noon to 9pm.
Saturday
Bay Boys Specialty Sandwich Pop Up
"They brought 'dutch crunch' bread to KC, and now Bay Boy Specialty Sandwiches is bringing their signature sandwiches to the Lenexa Public Market! With freshly baked bread and unique flavor combinations, you will not want to miss this culinary treat." From 11am to 5pm. 
"Parkville Microbrew Fest is one of KC's largest beer festivals with live music, handcrafted ales, and great food in Historic Downtown Parkville, Missouri. Festival admission includes a commemorative logo tasting glass, live music, and all the beer you care to sample from 1-5pm!" Tickets start at $40.
Kansas City Grilled Cheese & Mac Festival 
"The KC Grilled Cheese & Mac Festival is the only event in Kansas City where you get to sample a huge variety of gourmet, chef-inspired twists on your childhood favorites: Grilled Cheese AND Mac & Cheese! Amazing local chefs and restaurants are cooking up their most creative and delicious grilled cheese and mac & cheese while competing for the title of best bite in town. Along with all the tasty eats, you'll also get to enjoy beer sampling from a variety of breweries and an open bar! Be there to try it all for yourself and cast your vote!" Two sessions available. Tickets start at $84.99. 
Farm to Table Dinner at The Cider House
"This evening will still be set up to help showcase fresh products from local farms (within 100 miles) and from our own farm to help support the local food movement. Each dinner is prepared by a professional chef. We would love to invite you to join our family at our farm for an amazing evening of food, wine, music, supporting local farms, and a beautiful atmosphere to just take a walk and enjoy the scenery. Mask are welcomed but they are not required. Our past dinners have been sold out, so don't wait to book!!! Fall is a beautiful time to join us on the farm! Enjoy some live music by a local artist, wine tasting with wine from Aubrey Vineyards, and an amazing 5-course meal prepared by a professional chef. Our chef for the evening is, Chef Matt Chatfield!" Starts at 6pm. Tickets start at $69.
Sunday
"Join us for a parking lot party & Oktoberfest celebration that you won't want to miss! At Rock the Lot-oberfest! You'll be able to shop lots of fun local vendors, while sipping (or slamming) your favorite drinks from Captain's, Canoe Club and Tipsy Taco! The DJ will keep the party going while you shop, drink, dance, and play games! Did someone say drinking games? This is a free event! Just come on out and shop, eat, drink and party! There will be shops, bars and more set up in the parking lots of Captains, Canoe Club AND Tipsy Taco! All of the restaurants will have drink specials to take advantage of! We'll be announcing those soon!" From 11am to 5pm.
Dirty Diznee Piano Bar Drink-A-Long
"Mixologist Ross Helart will teach you 4 'Disnee' villain themed cocktails that will be sure to bring back amazing memories. You will not only get to enjoy your creations, but be wildly entertained by Piano man Ben Gentry who takes a dirty and hilarious spin on your favorite childhood classic cartoons. Class includes the 4 cocktails and all the supplies needed to become a true mixologist for the night!" Tickets $45. From 7 to 9:30pm.