Just over a year ago, the iconic Do Drop Inn, located at the corner of Third and Market Streets in downtown Lee's Summit, Missouri, closed its doors after 58 years of sometimes raucous history. The building stood dark for 11 months. But now light shines again from the large front windows as customers taste a little bit of Latin America at Sabor Latino.
To move Sabor Latino from its original location near Woods Chapel Road to this revitalized portion of downtown Lee's Summit, just west of the train station, owners Fanny Ruiz de Chavez and Julio Stredel partnered with local real estate investor and entrepreneur Reggie Gray.
"When Reggie approached me with his vision to bring us to downtown Lee's Summit, I was very excited for the opportunity because I knew downtown was the perfect place for us to offer the diversity of Latin food to a larger, discerning audience that appreciates something new and unique," Ruiz de Chavez says.
As many loyal customers from Sabor Latino's previous location already know, appetizers and entrees are more diverse than what's found at many other Mexican restaurants in the area. Sabor Latino's menu identifies the country of origin associated with each dish, including offerings from Venezuela, Mexico, Brazil, Honduras, Peru, El Salvador and Colombia. "One of the our new cool ideas we came up with is that every Wednesday we are serving a surprise Latin dish from one of 26 Latin American countries," Ruiz de Chavez says.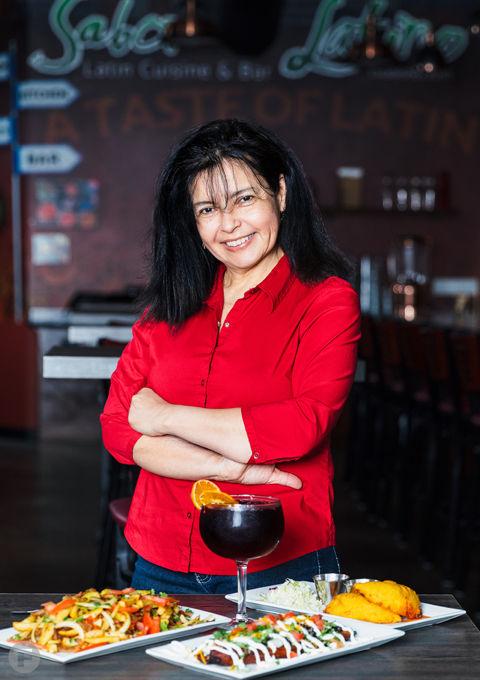 The specialty around which Ruiz de Chavez built the Sabor Latino menu is platano relleno, a Venezuelan entrée that features a ripe plantain topped with black beans, chicken, cheese, pico and sour cream. "This dish is a combination of several Latin American flavors coming together to create a mouth-watering meal," she says.
Those put off by the visual similarity between plantains and bananas should know that the base of platano relleno is more akin to grilled eggplant in texture and has a very mild flavor. The seasoned chicken, beans and cheese carry the dish with a good combination of more familiar flavors. "People are amazed that we make dishes that are surprisingly delicious yet with mostly ingredients they're familiar with. It's a very approachable foreign cuisine," Ruiz de Chavez notes.
She also recommends new patrons try pabellon, a Venezuelan mixture of black beans, rice, sweet plantain and shredded beef. She points meat-lovers to lomo saltado, a Peruvian specialty of grilled steak sautéed with onions, tomatoes and yucca fries – similar in texture and flavor to french-fried potatoes – and served with rice. If you're not feeling particularly adventurous, however, quesadillas, nachos and chimichangas are also on the menu.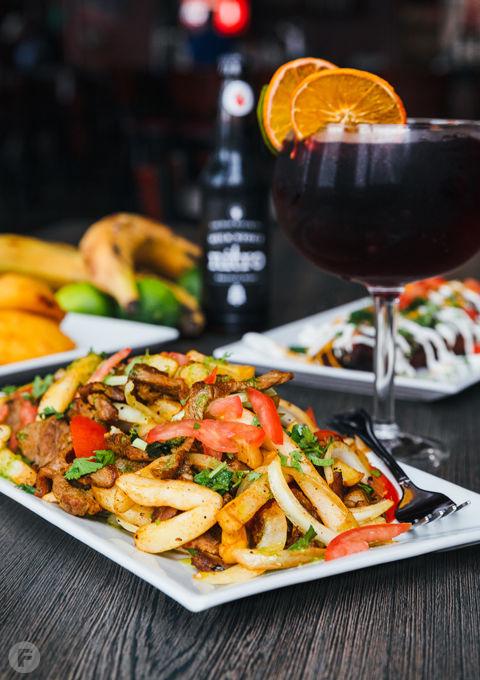 Accompanying Sabor Latino's flavorful dishes, a variety of Latin-inspired craft cocktails keep staff behind the bar busy mixing and pouring. Patrons may be surprised to see an egg white slipped into the shaken Margarita, but the addition makes for a surprisingly frothy, creamy drink that still tastes like the traditional Mexican staple. Mixed with Cimarron Blanco, dry curaçao, agave nectar, fresh-squeezed lemon and lime juice, and served in a shallow coupe cocktail glass, the drink is a sophisticated take on the standard Margarita.
The restaurant, currently offering a limited menu, accommodates 28 diners indoors at socially distanced tables and offers carryout, curbside service and home delivery within 5 miles. Orders can be placed by phone or online. Happy hour specials, available Wednesday through Saturday from 3 to 5pm, save diners $1 on appetizers, $2 on craft cocktails and half the price of any beers on tap.
Sabor Latino offers a fresh new choice for Lee's Summit diners, presenting unique drinks and dishes high in quality and flavor. Do drop in for something surprising and delicious.
Sabor Latino is open Wednesday and Thursday from 11am to 8pm, Friday and Saturday from 11am to 9pm and Sunday from 9am to 2pm. 
Sabor Latino, 22 SW Third St., Lee's Summit, Missouri, 816.272.0497, tasteoflatin.com