It isn't terribly difficult to spot historical elements of Kansas City as you move through the various districts around the metro. The Combine, a new concept featuring delicious pizza and sandwiches, looks to pay homage to some of Kansas City's rich history while helping to tear down some of the uglier aspects that still loom.
Both sides of that coin factor into The Combine's location. You can find it inside the Wonder KC Shops and Flats building, a multi-use space that was originally home to Kansas City's Wonder Bread factory. Although the space for the restaurant is full of beautiful, modern touches, vintage photos and some of the old Wonder Bread and Hostess equipment remain as a reminder of the building's roots. A wall decorated with hundreds of Twinkie molds is a particular standout.
That same location also puts The Combine on 30th and Troost, one of Kansas City's major socioeconomic dividing lines. For The Combine's operating owner Alan Kneeland, this was a deliberate move to help to change the perception of the area. He grew up on Troost, and he knows a lot of people in the area still view the area as abandoned, or worse.
"When I was a kid, even telling my friends where I lived would make a lot of them pause," Kneeland recalls. "But the area around The Combine is on the rise. My partners and I wanted to be a part of this neighborhood and help usher in a new life and perception for Troost."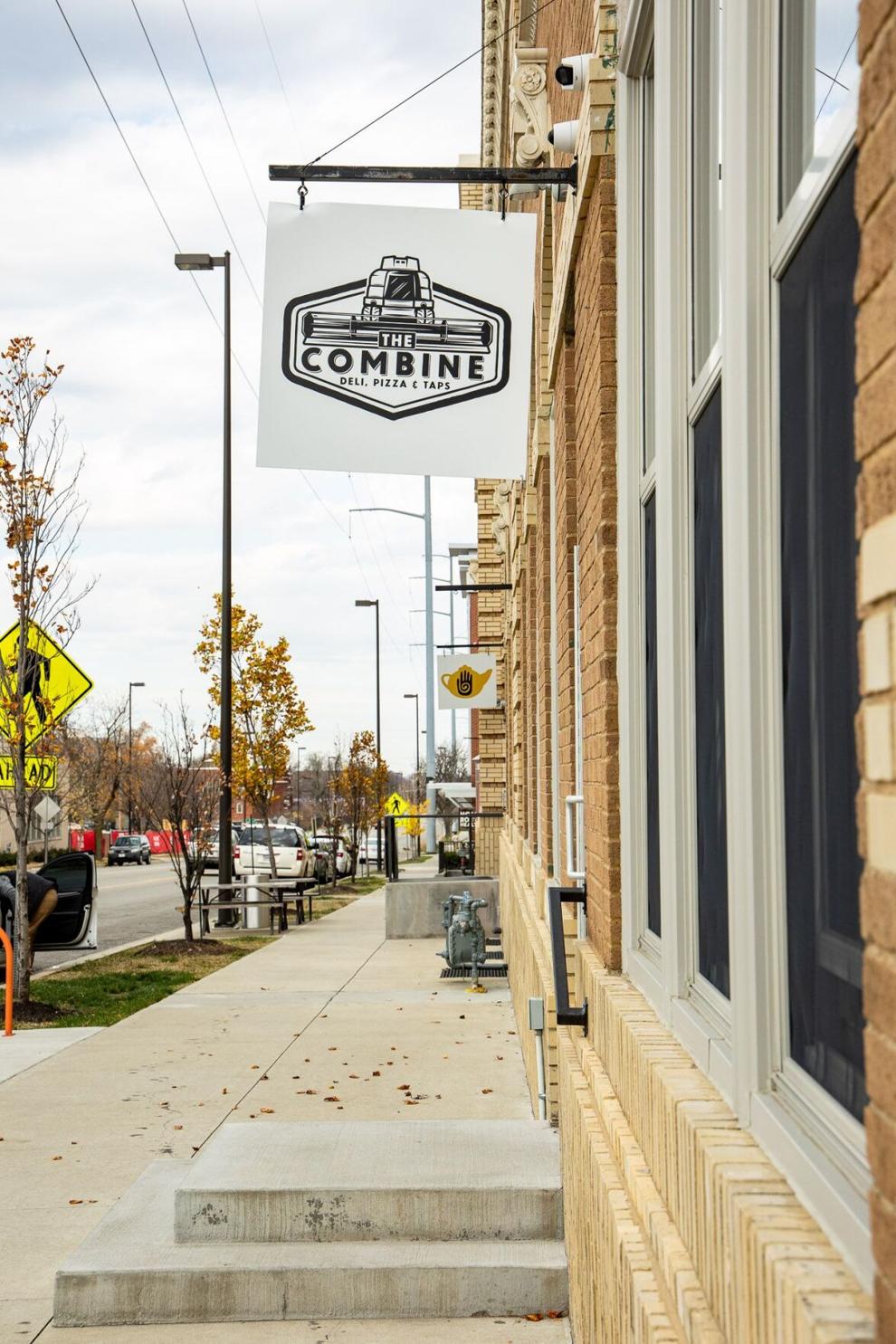 In fact, that was part of the thought process for coming up with the name (alongside the obvious – the farm machinery that graces the logo). Kneeland and Jason Pryor, who is also the original owner of Pizza 51, envisioned The Combine as a place where people from all over the city could come together to share good food, good drink and a sense of camaraderie. They view it as a perfect location for both nearby residents and workers to grab a quick meal, as well as a destination for people who want to do things up a bit in the heart of the city.
"We see a lot of grab-and-go during the lunch hours, but we also wanted to make sure we had a warm and inviting space for people who wanted to come in after work and stay for a while, for families who wanted a good selection or for people who wanted to sit with friends and have some drinks," Kneeland says. "Lucky for us, we have a large space, which means we can still accommodate a decent number of people while still following coronavirus protocols from the government."
The food at The Combine comes in two main styles: pizza and sandwiches. On the pizza side, he team imported the recipes and menu options from Pizza 51. The sandwiches, meanwhile, were developed by the team especially for The Combine. The pastrami sandwich has a remarkable depth of flavor stemming from the coleslaw and caramelized onions on top, and many other little details – like some housemade dressings – help enhance the quality of the food. There are also a few throwbacks to the Wonder Bread factory on the menu: a "Wonder Favorites" section features a few items made on the bread, like a fluffernutter or a PB&J. There are also a few Hostess-brand desserts available.
Kneeland and Pryor also brought in Charles Peach to help design the bar program at The Combine. All three men have different backgrounds and paths through different aspects of the restaurant and hospitality industry, and Kneeland says he thinks that differentiated background is part of the restaurant's winning combination. "The path to success in the restaurant industry looks different for everyone," he says. "We wanted to have people with different experiences involved, as we knew that would be our best chance to overcome any speed bumps."
Peach's contribution to The Combine also offers a few different ways to enjoy a beverage or two with your meal. There's a wall of over a dozen beer taps that host mostly local brews alongside some mainstay bottles and cans and a few wine selections. There's also a handful of cocktails that range from experimental to classic. You could grab a Lemon Drop, Horsefeather or Moscow Mule, but you could also order The Combine's namesake cocktail, a delicious combination of a Mojito and a Margarita.
Kneeland and his team also have plenty of things in store for the future. A happy hour and curbside pickup for both food and drinks are their first priorities, and Sunday brunch is also in the works. "We know Kansas City loves bottomless mimosas," Kneeland says. "So of course you'll see that here soon."
Kneeland is also excited for The Combine to be able to host larger events soon. The space features a large room with bar games and plenty of televisions that's available for reservations, making it perfect for work events, birthday parties and similar events. The team is also working on renovating the massive rooftop space, which boasts room for hundreds of people, for future events. "We're eager to start hosting events, but our main priority right now is getting our name out there while keeping our guests and staff safe. It may not be happening in the immediate future, but stay tuned," Kneeland says.
In the interim, there's a lot to already like about The Combine. The concept features a tasty menu in a modern, inviting space. The staff is friendly and knowledgeable, and the building itself is a slice of Kansas City history. 
The Combine (located inside Wonder KC Shops and Flats), 2999 Troost Ave., Kansas City, Missouri, 816.895.3036, thecombinekc.com