When preparing for a night out in the Crossroads Arts District, deciding where to go isn't an easy feat. Thanks to the number of great dining and drinking establishments, chef Martin Heuser and sommelier Katrin Heuser, co-owners of Affäre, believe that you shouldn't have to pick just one spot for a rendezvous.
With this in mind, they recently unveiled The Wine Bar, a new 14-foot bar addition to their 7-year-old restaurant. Although patrons can still certainly visit Affäre for a sit-down three-course meal, they can now pull up a seat at the bar or relax in lounge furniture with a glass of wine and a small plate.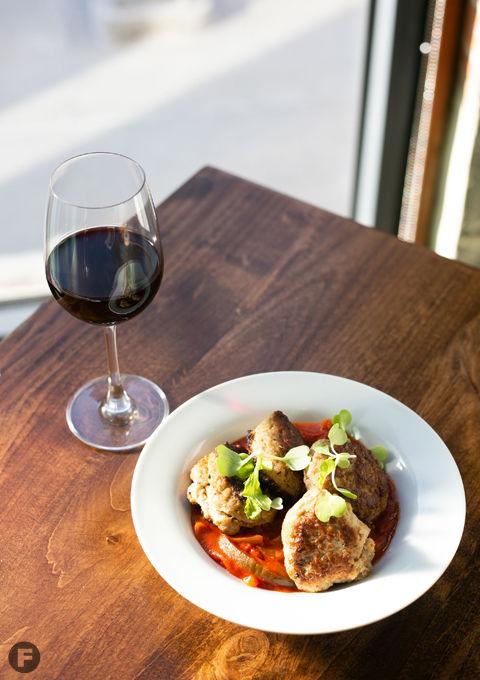 "[The Crossroads] is such a vibrant neighborhood," Katrin says. "The age of people who come down here has changed dramatically. The young crowd doesn't just come down on First Fridays anymore, and they don't always want to sit down and have a three- or four-course meal with a bottle of wine. They want a glass or a beer or a cocktail with maybe a small plate."
With that in mind, The Wine Bar offers wine flights, which change weekly, and more than 25 wines by the glass or bottle, each thoughtfully chosen by Katrin. The wine menu features unique and rare dessert wines, boutique wines, natural wines and low intervention wines. Through her 30 years of experience working in the food and beverage industry, she has formed personal connections with several wine producers.
"First and foremost, I think the wine has to be delicious and well-made," Katrin says. "It also has to have a purpose on the menu, but not always. Sometimes you just need to have a wine on the menu that doesn't need to be there, but it's just amazing."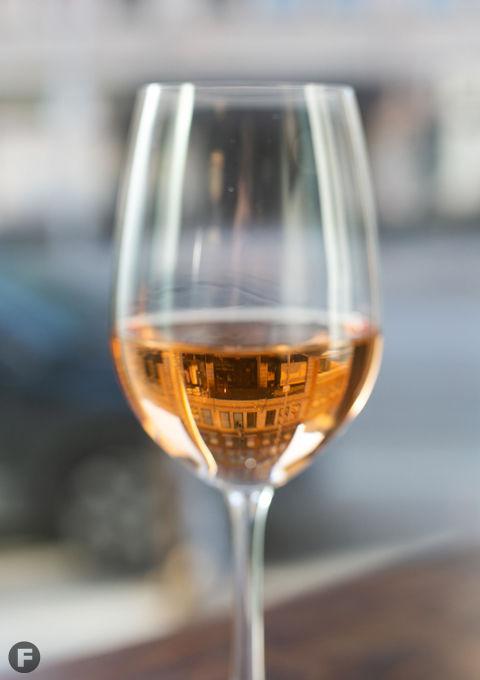 But what sets the experience apart is the collaboration between Martin's and Katrin's skill sets. At The Wine Bar, the couple – both originally from separate regions in Germany – created a wine and beverage menu that plays well together, and they are quick to offer pairing suggestions.
For example, Katrin and Martin say the mushroom gnocchi plays well with the Müller-Catoir Scheurebe from Pfalz, Germany. "I love the delicate yet determined notes of quince and Bosc apple, and the gently integrated acidity which cuts through cheese and dumplings in the mushroom dish," Katrin says. "They complement each other without one being overwhelming."
Another pairing suggestion they offer is the rabbit corndog with Field Recordings, a pét-nat rosé. Katrin says the slight gaminess in the rabbit counteracts the bright red berry fruit and slight oxidative style in the pét-nat.
Currently, The Wine Bar's seasonal menu features seven different comfort foods like pretzel sticks, five kinds of seafood such as blue shell mussels, 10 meat options including German meatballs, and six vegetarian options such as grilled Feta cheese. Chef Heuser's full dinner menu at Affäre will also be available at The Wine Bar.
The Wine Bar at Affäre, 1911 Main St., Crossroads Arts District, Kansas City, Missouri, 816.298.6182, affarekc.com