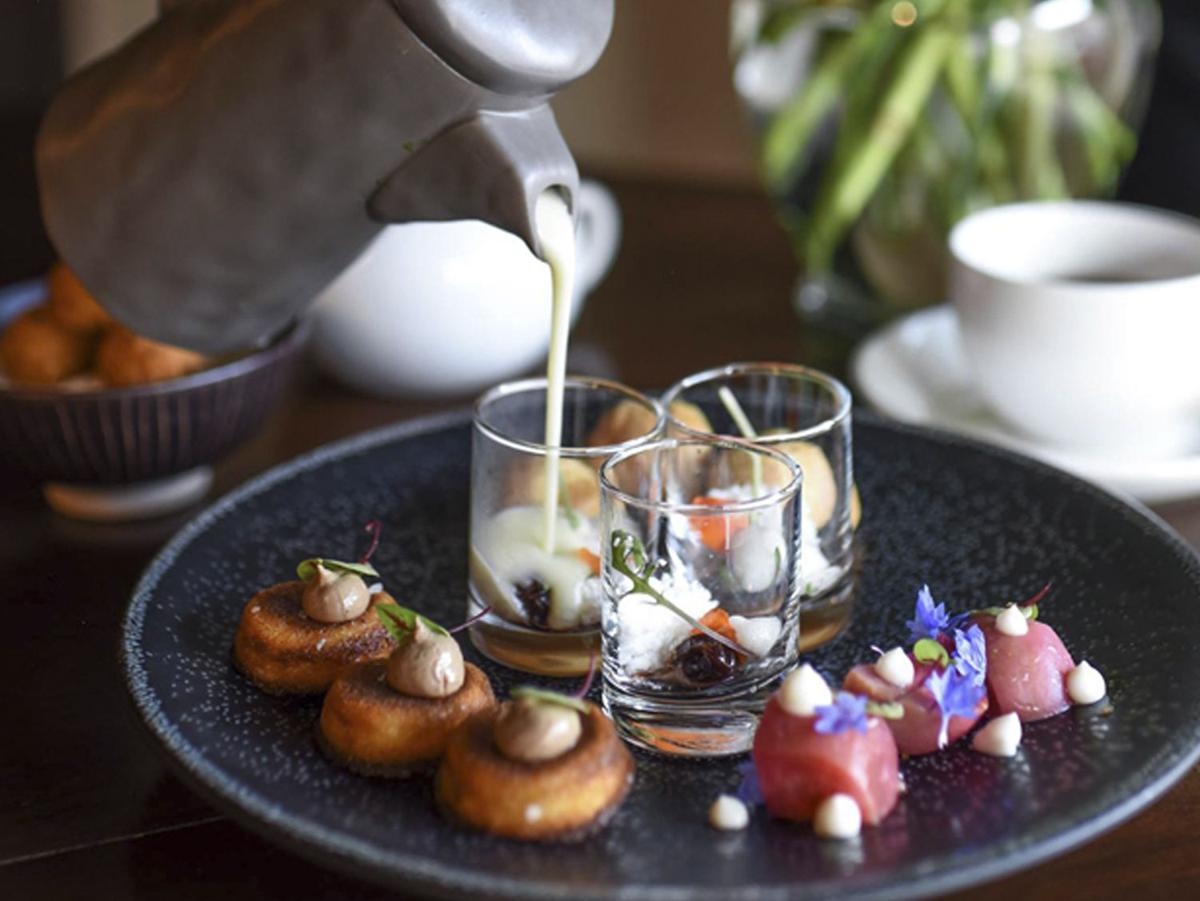 Enjoy afternoon tea, chow down on Brazilian pizza or have a beer while your gifts get wrapped. 
Saturday
"Relax and savor the season before a day of holiday shopping on the Plaza! Enjoy an afternoon sipping fine teas with assorted holiday pastries and savory tea snacks." $42 for adults, $17 for children. First seating at 11am, second seating at 1pm. 
All You Can Eat Pizza at Taste of Brazil 
When you think of pizza, Brazil usually isn't the first country you think of. But head to Taste of Brazil on Saturday to eat as much Brazilian pizza as you please for $15 per person. Try a Portuguesa with ham, boiled eggs, onions and green olives, or Frango Catupiry with shredded chicken, catupiry cheese and green olives. If you just want cheese, they have that too. From 6 to 8pm. 
Holiday Cookie Decorating Class at Rye Plaza
"Get in the festive spirt by joining Chef Keara to learn the secrets of decorating the perfect holiday cookies just in time for the holidays! We'll have all the classic holiday cookie cutouts that you will get to decorate yourself." Tickets are $50 per person, available here. Starts at 2pm. 
"The 4th Annual 12 Bars of Charity is BACK! The event is a friendly competition between (8) local charities. The charities are split up into "teams" and all assigned a "team color". Participants will pick the charity they want to support and receive a Charity TEAM Color Sweatshirt (super comfy - trust us!), $15 donation to the charity of your choice, Drink Specials at All Participating Bars, and Free Admission at All Participating Bars.
Once on the event, participants have the freedom to go wherever they want, whenever they want, and with whomever they want! 12 Bars of Charity is a great opportunity to get friends, family, or co-workers together around the holidays for a super fun event that gives back. With (8) different charities to choose from, we'd like to think there's a cause for just about anyone to support. Finally, a charity event where you don't have to break the bank, attend an expensive dinner or best of all - run 5 miles. So, round up a group of friends, pick a charity to support and get signed up for the 12 Bars of Charity." Tickets are available here. From 8pm to midnight. 
"Get in the spirit (if you haven't already) and join us for our 2nd Annual Ugly Sweater Party! Before you head home or see you family, join the MO Brew family and be festive! Starting at 7PM, we will be letting you choose the music while enjoying some special holiday drink specials and food specials! We will be showing all of the NCAA Basketball games and NCAA Bowl games! Make this your go-to Christmas gathering with your favorite 39th Street family!" From 7 to 10pm. 
Sunday
Board Game Brunch at Pawn and Pint
"You know what goes together great? Brunch and Board Games! Come enjoy delicious brunch food from Homesteader Cafe, miraculous mimosas and good friends!" From 11am to 2pm.
"Join us for a kid-friendly brunch with Santa during our holiday tiki pop up, Sippin' Santa!" Doors at 10am, Santa arrives at 11am and leaves at 2pm. 
Procrastinator Christmas Present Wrapping at City Barrel Brewing Co.
"Come drink a beer and let us wrap your presents for you! Each beer you buy gets you one present wrapped by our helpful little City Barrel Elves!" From 3 to 8pm.