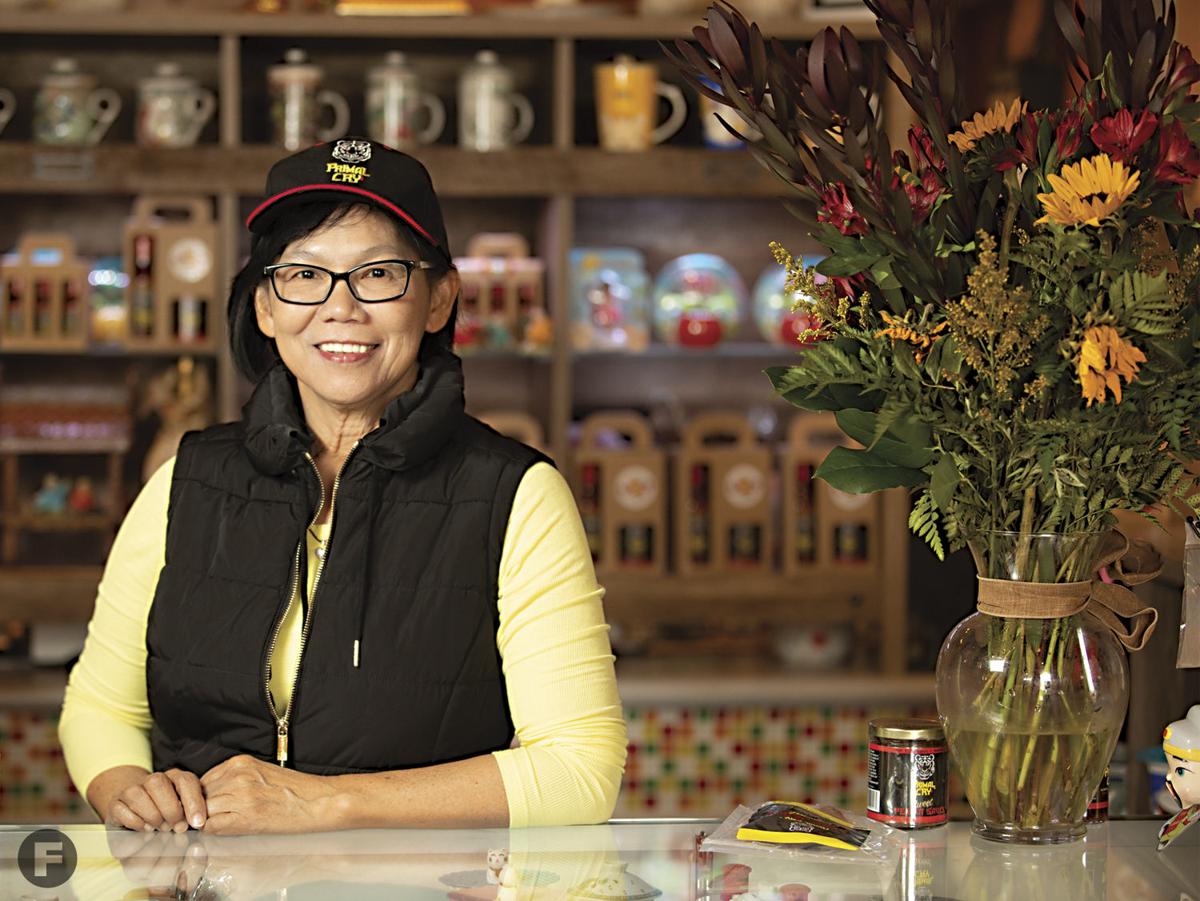 In 1986, Marisa Wiruhayarn, a then 26-year-old Thai immigrant living in the Northland of Kansas City, became a widow. She was desperate for a way to support her two children on her own, so over the next four years, she learned English, earned her GED and graduated from Rockhurst University with a degree in accounting. She met her second husband, Dom – also from Thailand – in college and together they opened Tasty Thai in the Northland in 2000.
By day, Wiruhayarn worked as an accountant for the Kansas City Revenue Division; by night and on weekends, she ran the restaurant. In 2010, the couple opened the second location of Tasty Thai in Liberty, Missouri, which they entrusted to their daughter, and in 2014, they launched Big Bowl Pho next door to the original Tasty Thai. When Wiruhayarn began developing her own line of Thai-style condiments, she finally conceded that it was time to quit her day job. To date, she has created a spicy hot sauce, sweet peanut sauce and beef jerky for the Primal Cry line – available online and at Kansas City-area grocery stores.
What inspired you and Dom to open the first location of Tasty Thai? After settling into my job with the city, I finally had the stability I felt I needed, but I realized I had changed in the process. I had become someone who enjoyed creating new things, problem solving and, ultimately, I wanted to control my own destiny. I used to spend my lunch hour at the City Center Square food court and watched people buy their lunch; I would count the number of customers and calculate the average sales per order to estimate a break-even point. I was already an entrepreneur and didn't even realize it. That's when I knew it was time to open our first restaurant.
What inspired your other restaurant concept, Big Bowl Pho? The space beside the original Tasty Thai became available, and we didn't really need to expand the size of [it], so we opted to acquire the space and open a new noodle bowl concept, serving beef, meatball, chicken, seafood and tofu pho, vermicelli noodle bowls and traditional Japanese sukiyaki. It was a way [to] add bowls of soup and noodles from all over the world to our menu to diversify it and potentially bring in new customers that may like our Thai food, too. Dom and I also enjoyed the challenge of working on something new.
How did Primal Cry start and what's next for the company? I was still working full-time and running the restaurant when my son started bottling our famous hot sauce – because I had noticed that our customers were asking for containers of it to take home. Then, when I left my job, I took over the project. At first we were doing everything in-house, now I have a [contract] packaging company, a broker, a distributor and marketing help. My goal is to start distributing [the line] internationally, focusing on Canada and Mexico first.
Today, do you consider yourself an accountant, a restaurateur or a producer? Our restaurants are doing great, but they were never enough for me, and working with numbers is a skill that will always play a large part in managing my own business. For years, I thought I was just silly or restless, never happy with what I had, but it turns out that I'm an entrepreneur, not a crazy person! Entrepreneurs have to keep creating, and so I do. My success has been due, in part, to my tenacity, focus, curiosity and strong will – if a problem presents itself, I simply find another way to get the job done.
Big Bowl Pho, 7106 NW Prairie View Road, Northland, Kansas City, Missouri, 816.382.3488, kctastythai.com