Bay Vanithbuncha and her husband, Chatchai Pinthuprapa, have dreams of opening bubble and milk tea stores across the U.S., with their eyes on Chicago, Miami and the San Francisco Bay Area.
But for their first flagship location of Bruú Café, they decided to open in the middle of the country. The couple chose Kansas City's Country Club Plaza to help set the inspiration for all future locations to come. Based on the natural foot traffic and number of businesses and apartments – not to mention universities like UMKC and Rockhurst nearby – the couple knew they had found the right spot with the right look for their first retail shop.
"Our plan is to only open one store in each metro we go into to drive demand, and we want each of our locations to be unique," Pinthuprapa says. "At Bruú Café, we offer quality high-quality flavored teas, milk tea with freshly made boba and eventually we will add a few Asian-inspired desserts like Hokkaido cheesecake, matcha cheesecake and chocolate mousse. Each of them are very light, like a soufflé, and less dense than a New York-style cheesecake."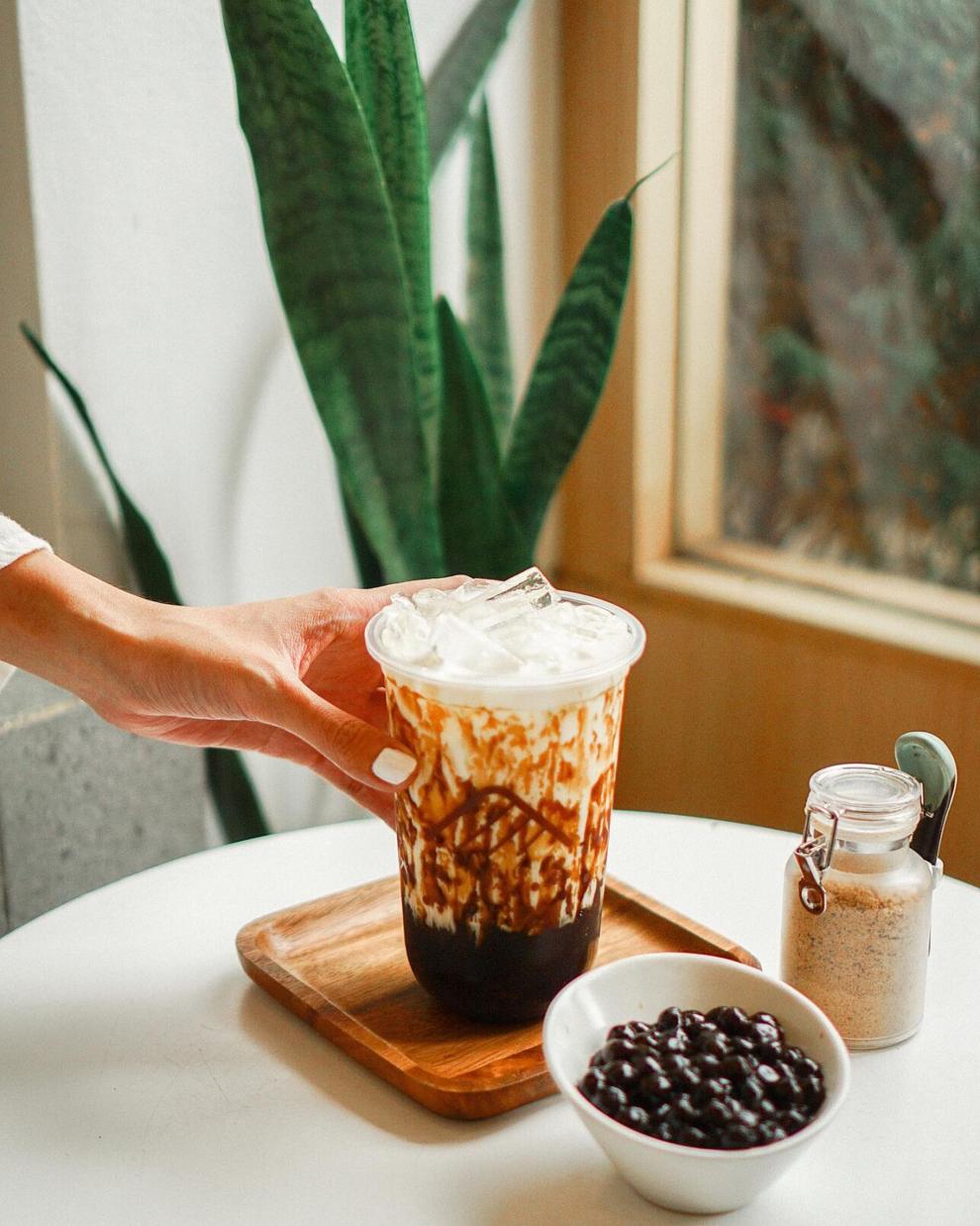 The couple signed the lease for the tiny shop, located in the former Jet Couture space just south of Shake Shack, at the end of 2019. They planned to open in March 2020, but like many businesses across the country, ran into construction delays due to the pandemic. Instead, they decided to wait until they felt they could safely open, and Bruú Café quietly opened this past fall.
Bruú Café specializes in bubble tea, a sweet, cold Taiwanese tea-based drink made with boba (chewy tapioca pearls). The bubble tea craze first exploded across the U.S. in the 1990s and 2000s; today, there is a push for a new school of bubble tea shops to take the drink to the next level with quality ingredients, fresh fruit and fresh housemade boba of different colors and flavors. When it comes to bubble tea, fresh boba is key – stale boba pearls become very dense, tough to chew or soft on the outside and hard on the inside. 
"We take pride in making all of our flavored boba pearls from scratch, which allows us to control the flavor, size and consistency," Vanithbuncha says. "We boil all of our boba fresh in our shop, replacing it every four hours, and it takes 90 minutes to make a batch, which has to cool before we are able to serve it. It is a lot to manage, but fresh boba makes all of the difference in these drinks." 
Bruú Café offers three main drinks: milk tea, flavored iced tea and lattes. Fresh Milk includes one drink made simply with brown sugar boba pearls and cow's milk, where the Original Milk Tea features a selection of drinks made with black tea, non-dairy creamer with brown sugar boba and flavors like hazelnut, caramel, Royal Premium, Thai and honey. The Flavored Teas and Refreshing Me series both are made with iced tea and no milk or boba but come in some fun fruit flavors like lemon-honey, passionfruit and peach. The Latte Series offers some more colorful drinks made with non-dairy creamer, brown sugar boba and taro, matcha and cocoa.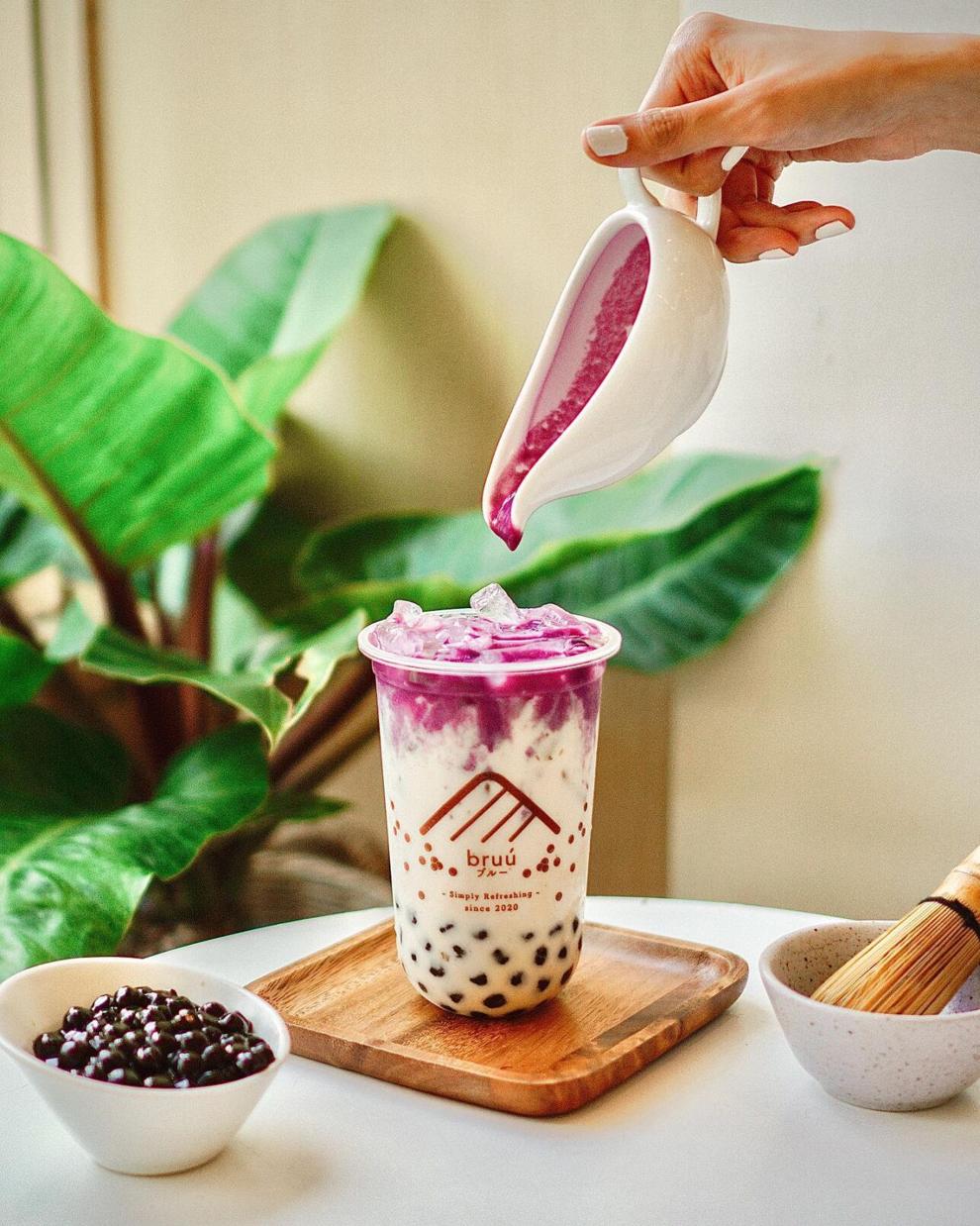 Cheese Macchiato can be ordered either as a creamy latte with boba or as iced tea with a fluffy layer of milk and cream cheese that has been whipped into a sweet foam and layered on top. Finally, Rainbow Crystal Bubble is a latte made with non-dairy creamer and housemade boba flavors that come in every color in the rainbow and float on top of the glass.  
Vanithbuncha and Pinthuprapa quickly realized that most Americans enjoy their boba drinks a little sweeter, so at Bruú Café, guests can customize their sweetness level, from "no additional sugar added" to "100 percent more sweet."
With a very small but stylish footprint, Bruú Café features a luxe space with large floor-to-ceiling windows across the front and light wood booths with small tables across the back of the clean white space. There are only a handful of seats available in the shop, so guests can order online and pick up in-store in addition to regular carryout orders.
Need to take your drink to-go? Drinks are served in either a cup or a plastic bottle with a lid that you can easily throw into a bag or backpack. Bring the bottle back on your next visit and Bruú Café will recycle it and give you a new one with your order.  
As the weather gets warmer, take time to bounce in to Bruú Café for some cool, refreshing bubble tea.
Bruú Café, 4709 Central St., Country Club Plaza, Kansas City, Missouri, 816.209.9759, bruucafe.com