If you're looking for a cozy spot to enjoy European comfort food in Kansas City, turn your attention to the Midtown neighborhood, where Tailleur, a brand-new concept from Heather White and Amante Domingo of The Russell, recently opened. Tailleur's menu is deliberately different from the food on offer at The Russell, but both concepts deliver a high-quality dining experience and lean hard into their respective themes.
White, Tailleur's owner and operator, is excited about the opportunity that Tailleur gives her and Domingo to try something new. "We were at a food show in San Francisco, and we stopped into an all-day, Euro-style restaurant," she says. "The wheels started turning, and we wanted to try to incorporate it into what we were doing at The Russell."
Before long, however, the idea became much bigger. White and Domingo realized that, to truly meet their vision, they'd need to open an entirely different concept.
During the pandemic, they started selling huge amounts of baked goods with takeout orders, and they decided to refine the idea, combining the bakery counter from The Russell with their Euro-style restaurant concept to create the foundation for Tailleur. The two worked for approximately 18 months and built almost everything at the space themselves.
Although Tailleur is very different from The Russell, the concepts share a similar philosophy. Tailleur's menu highlights dishes that pair well with the current lineup of baked goods while highlighting high-quality, local, seasonal ingredients. Although the menu is currently very French-focused, White says things will constantly evolve at Tailleur.
"Amante and our chef de cuisine, Cesar Ochoa, developed the menu here, really focusing on light dishes to pair perfectly with a savory or sweet baked treat," White says. "At The Russell, one of our most common flavors is rosemary – it mingles well with all the fire-kissed meats and is able to stand up to those big, bold flavors. At Tailleur, we were able to highlight lighter, more delicate herbs and spices. Amante and Cesar have really outdone themselves here."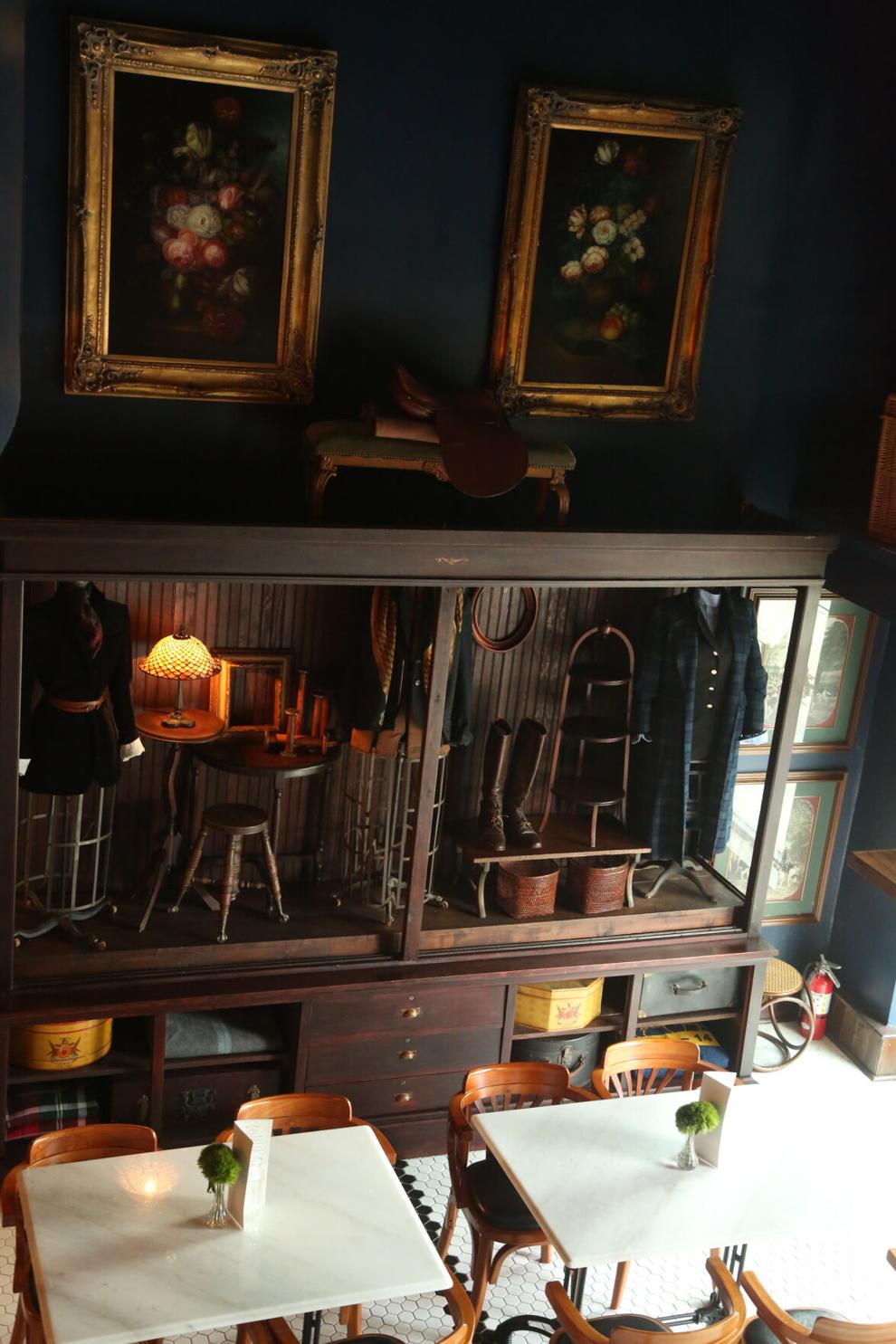 In the morning, Tailleur is more of a quick-service bakery – you might stop and grab a pastry on your way to work or order a slice of quiche and a cup of coffee for a quick pause before kicking off the day. Around 11am, Tailleur becomes a standard, full-service restaurant until it closes in the evening. Right now, some of our favorite dishes include the Salmon Niçoise, the Chicken Paillard and the decadent and delicious Scotch egg Caesar. That said, if you've been to The Russell, you know this is a team that's going to serve up nothing but winners.
That's primarily because White and Domingo pay such close attention to the ingredients themselves. They try to source locally as much as possible, but they also know when to spring for some high-quality imports. That translates well to the small but well-curated wine list and selection of European (and local) beers.
Also on display at Tailleur are some of the antiques White has acquired, which give the space a decidedly European feel. There are plenty of eye-catching displays to draw your attention, including several pieces of riding equipment, laid out and ready for your next polo match. White hopes that aura of sophistication translates to a concept headed soon to Tailleur: high tea.
In the next few months, she hopes to start a monthly high tea event on the second floor, complete with a three-tiered meal service and delicate tea sets. When not serving high tea, the upstairs will be available for overflow seating during normal restaurant hours or to rent out for private events.
Overall, Tailleur is another home run for White and Domingo. It's got more than enough personality to stand on its own, and it should become a strong contender for a must-visit spot in Midtown. Pinkies out.
Tailleur, 3933 Main St., Midtown, Kansas City, Missouri, 816.442.7042, tailleuronmain.com