As restaurants across the country are taking a hard look at their current business models, a new model has started stirring in Kansas City: the culinary collective. Under this model, a restaurant is owned and cooperatively run by the people who work there, and all decisions relating to the business are discussed and decided by consensus.  
Cauldron Collective, which founding members Olive Cooke, Kim Conyers and Sylvia Metta launched in January, is leading the charge in Kansas City.
The trio, who have all worked in restaurants or are currently working in established restaurants, hosted their first pop up on Jan. 20. A few weeks prior, they published their plant-based menu on Instagram, then took orders by DM or text message and accepted payment in cash or through CashApp.
"We learned a lot operationally with our first pop up," Cooke says. "Although we do plan to focus on all plant-based dishes, we will push it more in the direction of healthy comfort food that you want to eat, using as many fresh ingredients from local farmers as we can."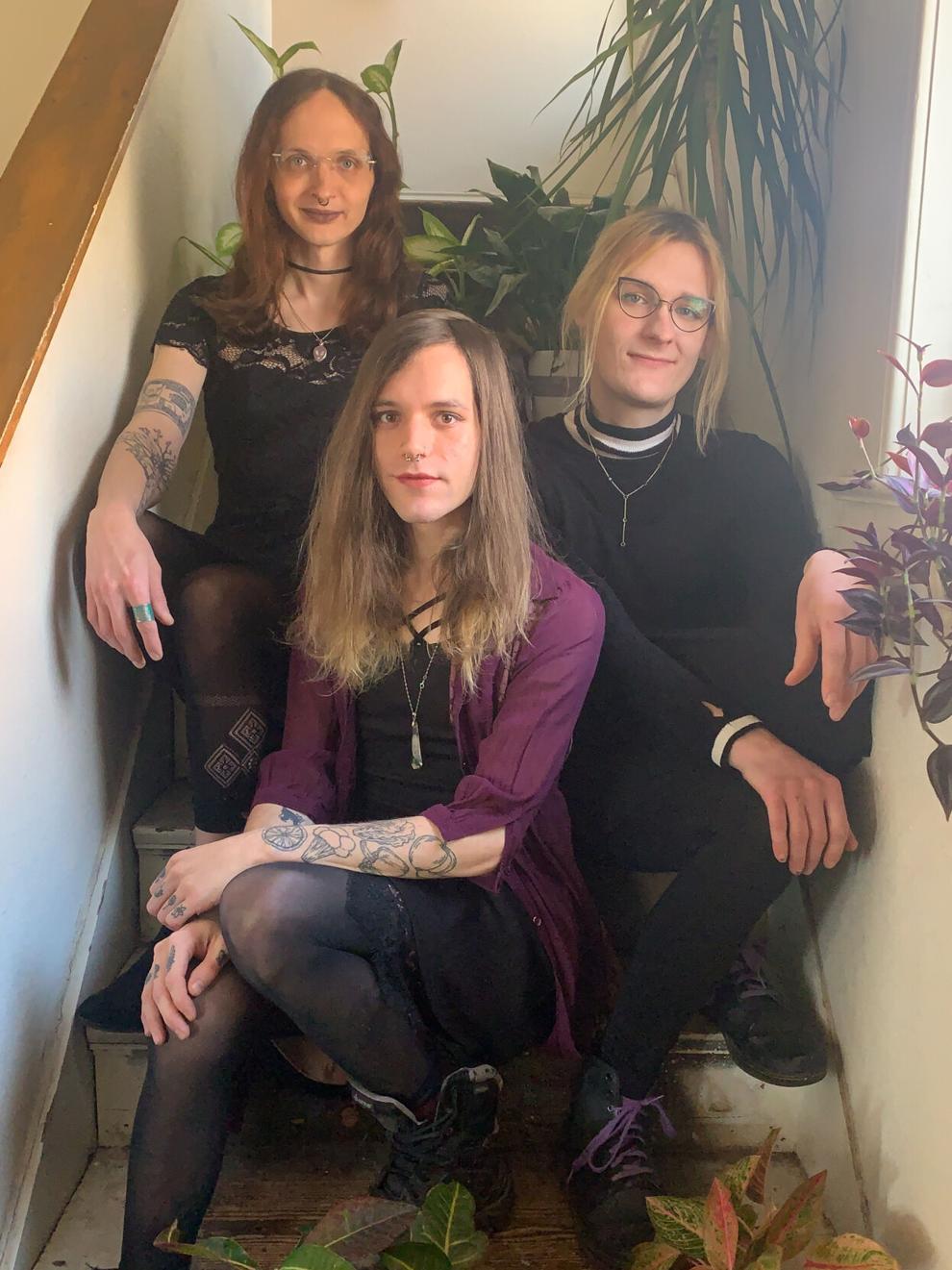 Cauldron Collective will host its next pop up this Sun., Feb. 14. The four-course Valentine's Day-themed dinner package will feature spaghetti with housemade marinara and your choice of beet balls or seitan Italian sausage. The meal also comes with a kale salad with wheatberries, quinoa, pickled fennel and croutons; polenta with cheese-stuffed olives and chocolate cherry pot de crème for dessert. They've also thrown in a candle and valentine all for $25, with free no-contact delivery between 6 and 8pm. 
The January pop up offered a plant-based po'boy sandwich featuring seasoned, battered and fried mushrooms, lettuce, pickles, onions, tomato and a creamy vegan remoulade all piled on a soft French bread. Sides included a creamy play on mac 'n' cheese made with sweet potatoes alongside coleslaw and jambalaya with seitan.
The menu showed a real understanding of flavors and textures – something especially important in plant-based cooking – which illustrates the depth of culinary knowledge within the collective. Their time spent working in the restaurant industry coupled with their own creative talents is the secret sauce to this new culinary endeavor.
For dessert, Conyers offered vegan peanut butter cookies with sales going to the local chapter of "Food Not Bombs," which Conyers helped start in Kansas City. The global movement is made up of volunteers that protest war, poverty, housing insecurity and food insecurity by making vegan meals from donated or surplus food and serving them free of charge to those in need.
The collective plans to work with many different nonprofit organizations, like Ben's Friends, a group for those in the food and beverage industry who are struggling to stay sober. Together, the three founding members will decide – along with any other members who join them along the way – what organizations they plan to support.
"With this model, we have the ability to decide how we want to support our community and what issues are important to each of us," says Cooke. "It also allows us the ability to determine the hours we are open, the kind of environment we want to create, what we serve, how much we charge for it. Everything will be our decision to make, with the goal being to a create a business that is both equitable and profitable."
The team plans to start slowly with monthly pop ups until they find a restaurant space and begin looking for more members to bring into Cauldron Collective. Ideally, they would love for their permanent home to be somewhere in the Crossroads or Midtown.
"I got my start cooking in Kansas City at YJ's Snack Bar over 15 years ago, and there is so much about that experience that I would like to bring into what we are doing with Cauldron Collective," Cooke says. "Much of the food we made there was plant-based and we always had something so that anyone who was hungry but didn't have cash could get a meal. There was all of this crazy creative energy; someone was always playing the piano. It was wild. The owner, David Ford, made it a hangout where creative people had a place to all come together. That is really what I think we all would like to see happen with Cauldron Collective when we have a space."
Post-pandemic, Conyers sees the Cauldron Collective restaurant as a bustling late-night spot – one that doesn't serve alcohol but provides a place for night owls to land for a bite or beverage or to study or socialize until at least 2am. 
"Olive has been doing the culinary heavy lifting for our collective, but the goal is for all of us to be trained within our group to take on a lot of different roles within our restaurant," Conyers says. "Ultimately, if someone is better at something and they like where they are at, it makes sense that they continue in that role. We just want to be a dope restaurant that is owned by people who take pride and ownership in their work, and at the end of the day everyone will get to have a say in the business decisions and how we use our resources. No one person is the boss, and no one person makes all of the business decisions; they are made collectively."
The collective restaurant model has been around since the 1960s, with many of the first still operating today. The Moosewood Collective in Ithaca, New York, for instance, operates a popular restaurant and has published several cookbooks around its vegan and vegetarian cuisine.
The idea is that everyone is crossed trained to do every task so there is a true shared labor, which should automatically breed more accountability and teamwork among all members. With every employee having an equal voice in the collective, it also means that the group learns how to see a problem from all sides and can be flexible in their thinking, working to the best solution for the business and the team.
During the pandemic, there have been discussions across the country within the industry about how collectives are perhaps uniquely positioned to weather ups and downs in their business. With everyone working for the greater good of the business and team, the right compromises can be reached quickly to benefit everyone equally.
"Collectives do tend to weather turbulent times a lot better, and we are also in a better position to be able to quickly respond to the needs of the community that we serve," says Conyers.
All in all, these three friends are on a mission to create their own destiny with a little bit of luck, hard work and magic.
Orders for the Valentine's Day dinner are still available and can be placed by texting 816.775.1927 or messaging @cauldroncollectivekc on Instagram.
Cauldron Collective, instagram.com/cauldroncollectivekc