The luxurious new Meadowbrook Park has finally opened the public-facing hospitality side of its real estate development, delivering serious East Coast beach resort vibes next to a verdant 84-acre public park in the middle of Prairie Village.
The VanTrust Real Estate development includes luxury, custom homes of all shapes and sizes in addition to a brand-new 54-room boutique hotel, Inn at Meadowbrook, and the highly anticipated New England-style seafood restaurant next door, Verbena, along with The Market at Meadowbrook, which opened a few weeks ago for curbside carryout only.
Chef Patrick and Joanne Quillec and their children own and operate the new American market and restaurant, in addition to their French counterparts, Café Provence and French Market in the Prairie Village Shopping Center. The dining rooms at both are now open, with Verbena accepting dinner-only reservations through Memorial Day weekend, along with curbside carryout.
Both restaurants are following all health and safety protocols under the guidelines of the Johnson County Health Administration and the National Restaurant Administration.
Look for seasonal, fresh housemade soups, salads, entrees and desserts along with market staples.
"We have our two French concepts inspired by where I am from, Café Provence, which our family has owned and operated for 18 years, and now French Market," says Patrick. "It made no sense for us to open two more French concepts so close to each other, so it was time to open two American concepts based the East Coast of New England where my wife, Joanne, and I lived in the early days of our marriage."
With these two new concepts, Patrick felt that it was important to pay tribute to Joanne's American roots as a Philadelphia native. After the couple married, they moved outside of Burlington, Vermont, where Patrick attended the New England Culinary Institute. On a recent trip back to Vermont, the family was inspired by all of the wonderful seafood and vervain, a flowering plant in the verbena family, seemingly everywhere. That's when all of the pieces of this new restaurant and its menu finally came together for them.
"We weren't really looking to open two new concepts when we were approached by our friend, Justin Duff from VanTrust," explains Patrick. "When he finally convinced us to do the project, I insisted that the restaurant and market be separate from the hotel itself, which was an expensive change to make as they had originally planned for them both to be located inside of the hotel, but I felt it was important for both of them to be standalone, each with their own main entrances from the street and secondary entrances leading from the hotel."
Verbena, the fragrant lemon-scented herb and namesake of their new seafood restaurant, grows in abundance on the Quillec family farm, and the family is now supplying it to Verbena's chef de cuisine, Kara Anderson, who incorporates it in many dishes on the food menu and in the cocktails.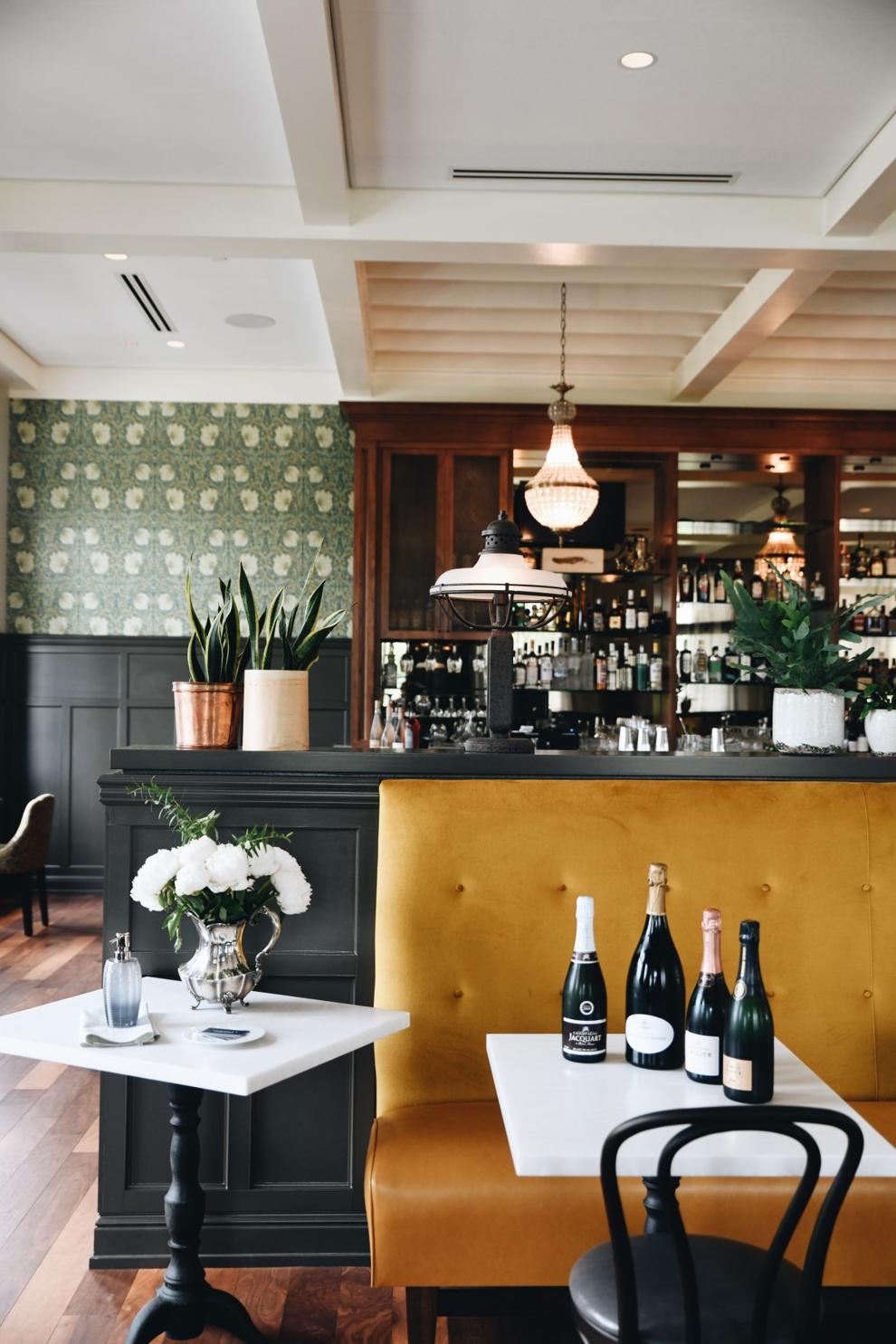 "It has a bright lemon scent and is much milder than say, lemongrass," says Anderson. "To me it has a bright, zippy, clean green flavor that reminds me of spring, and it goes perfectly with many of the seafood dishes and refreshing cocktails we are serving here."
Verbena's dining room feels casually formal, with sage green walls, dark black woods and a white marble bar and tables. The goldenrod yellow velvet banquette seating is the only pop of color in the rich and warm dining room – a nod perhaps to the name and scent of lemon verbena itself.
The fine-dining restaurant is only open for dinner currently, with lunch and brunch services to be added over the next few weeks. The dinner menu, developed during quarantine by Patrick and Anderson, will put guests straight into vacation mode. One look at the lobster rolls, New England clam chowder, crab dip and fish and chips and guests will almost be able to feel the East Coast ocean breeze.
But Verbena offers more than just seafood fan favorites, like pan-seared salmon and scallops, on its approachable menu. Those looking to stay closer to land can opt for juicy grilled lamb chops served with goat cheese corn cake, chimichurri and honey-candied baby turnips, or a beefy 12-ounce New York Strip steak, roasted Amish chicken and even duck confit risotto with farm-fresh spinach and cinnamon cap mushrooms.
For dessert, in addition to cooling sorbet and an artisanal cheese plate, pastry chef Sarah Osborn offers some nostalgic summery treats. Look for a strawberry tart with vanilla bean pastry cream and rhubarb jam; ricotta cake with honey, thyme and brown butter walnuts; hazelnut semifredo with flourless chocolate torte and angel food cake with fresh berry, lemon confit, whipped crème fraîche and lemon verbena.  
The wine list at Verbena travels around the world old and new. In keeping with the theme and feel of the food offerings, New York state and Virginia wines get special attention on the menu.
Verbena's cocktail and nonalcoholic cocktail menus feature some beautiful summer sippers including the Sunset at Verbena with Hendricks gin, fresh grapefruit, Provence rosé, egg white and housemade lemon verbena shrub. It will be the perfect drink to enjoy on the restaurant's sizable outdoor patio.
Depending on how things progress this summer as the city starts to open back up from its shelter-in-place orders, the team is waiting to hear if summer events will be hosted in the park this year. "We had planned to sell ice cream this summer at The Market, and we were thinking about possibly hosting a clam bake on the outdoor patio at Verbena," Patrick says wistfully.
The chef admits that four restaurants may seem like a lot for a man who is perfectly happy these days to putter around on his farm or on the beach in semi-retirement, but he and Joanne are working now to ensure they leave a successful restaurant legacy for their children.  
"This is all for my children," says Patrick. "At this point in my life, I don't need to work. I am fine being on a beach somewhere, but I want to make sure that I am here to support them on what they want to do moving forward. My kids are the future of this family restaurant business."
Verbena, 4901 Meadowbrook Pkwy., Prairie Village, Kansas, 913.329.7800, verbenakc.com