The Westport entertainment district has a lot of options vying for your attention. But if you'd like to experience something a bit off the beaten path the next time you find yourself in the neighborhood, you'd do well to keep The Fall on your radar. It's a curious spot that draws its eclectic décor from Alice's Adventures in Wonderland.
Located beneath Westport Ale House – and brought to life by the same owners – The Fall couldn't be more different than its big brother upstairs. Whereas the Ale House is a big, loud grubpub, The Fall has more of a club atmosphere, with a rotating stable of DJs, a bank of televisions showing trippy visuals synced to the music and a handful of small, semi-enclosed sections that can be reserved by small parties.
The Fall is inspired by Wonderland, but don't think of it as a themed bar. The creative minds behind it chose Lewis Carroll's story as their inspiration for exactly that reason, explaining, "We originally started with a fantasy concept, which evolved into Alice because it's something everyone can connect to. We didn't want to settle on one particular version, so we were able to draw on several different people's connection and memory of the story to help bring it to life."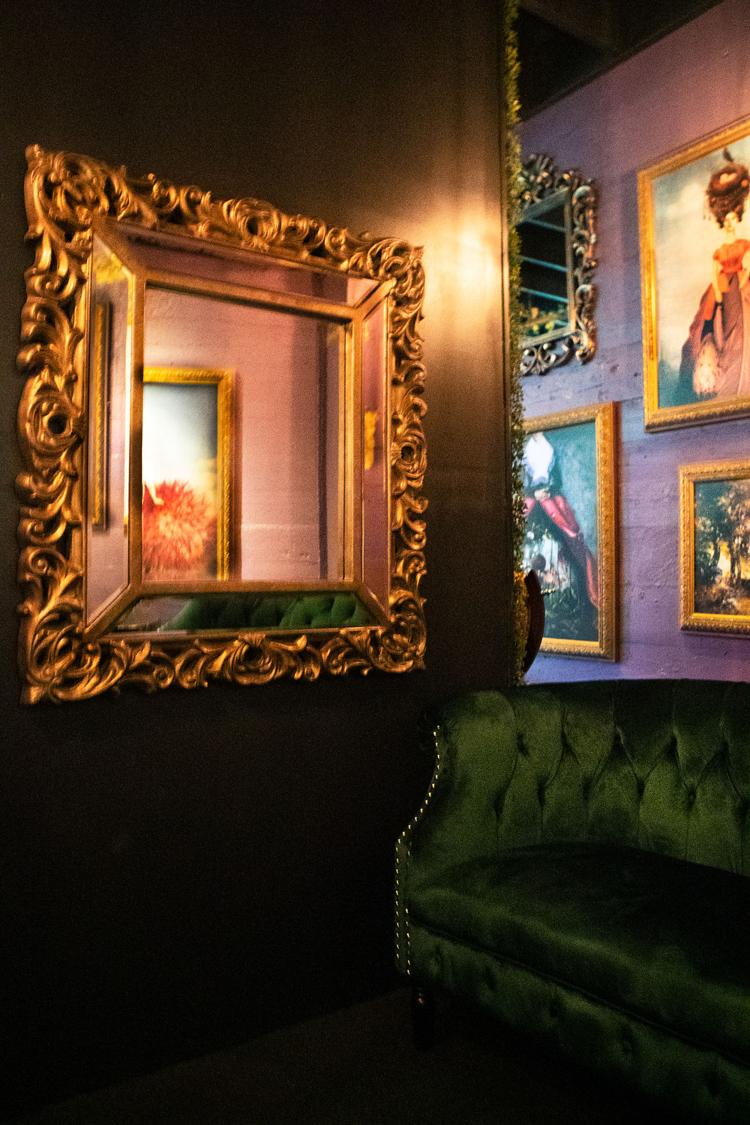 You'll primarily see the theme come to life in the VIP rooms at The Fall. These are open seating unless they are reserved – and you will need to order bottle service to acquire one of those reservations. Each room offers a slightly different feel. The Red and White Queen's Court rooms sit atop a small dais and overlook the main bar. Alice's Room, meanwhile, is a small, quiet space that offers a bit more intimacy. The Mad Hatter features a massive, velvet-lined chair, flanked by small couches: perfect for a very merry unbirthday party.
Looking at The Fall, you might be tempted to lump it in with other underground cocktail bars. The bar does feature a few cocktails alongside an impressive selection of wine and some quality beers, but the focus is more on enhancing the experience than blowing minds with esoteric ingredients and flavor combos. Cocktails will be rotated in and out based on the type of response they get. The Jabberwock is a very strong gin and elderflower concoction, while the Queen of Hearts is a lighter, strawberry-vodka combination. 
Rather than focus on the cocktails, the idea behind The Fall is the experience. The creators want to continue to evolve the space, and they want to make it "worth coming in every time you come in." High end bottles of wine and spirits, custom details on the bar and furniture and a dedication to responding to patron feedback help to make The Fall feel like more than just a gimmicky place to have a drink. It's unique and interesting, and it definitely feels like a destination. It also doesn't hurt that so much of the bar is perfectly designed for Instagram moments.
The Fall is already plenty impressive, and should continue to improve over time. If you'd like to take a little tumble down the rabbit hole, this little underground spot in Westport might be the perfect place to go a little mad.
The Fall, 4128 Broadway Blvd., Westport, Kansas City, Missouri, 816.756.5277, thefallkc.com