When Christopher Ciesiel and Cristin Llewellyn were ready to add a little flair to their classic cocktail menu at The Campground, they took inspiration from the Boy Scouts of America to create a secret menu guests had to find to order from.
Order of the Arrow was named after an honor society created by the Boy Scouts in 1915 to recognize scouts who embodied a cheerful spirit of service. At The Campground, that spirit of service will come in the form of fun and fanciful throwback drinks. To enjoy these nostalgic cocktails, guests must locate a sign with a picture of a boy shooting an arrow that has a QR code that they can scan with their phones to see what is currently on the Order of the Arrow Supperclub secret cocktail menu.
"Just trying to survive during the pandemic, I had gotten into a bit of a creative slump with my cocktails, and l like wacky and fun things, so Cristin and I decided to create a secret menu called The Order of the Arrow as a place where I can play with themes and drinks in a new and exciting way," Ciesiel says.
For his first Order of the Arrow menu, he looked to his own past and sense of nostalgia.
"My parents were once members of a Wisconsin supper club, and they used to tell me stories about the delicious cocktails they enjoyed there that were popular in the 1960s," Ciesel says. "I remember they would always order a Grasshopper to end their meal. I wanted a way to feature those dessert cocktails for a limited time."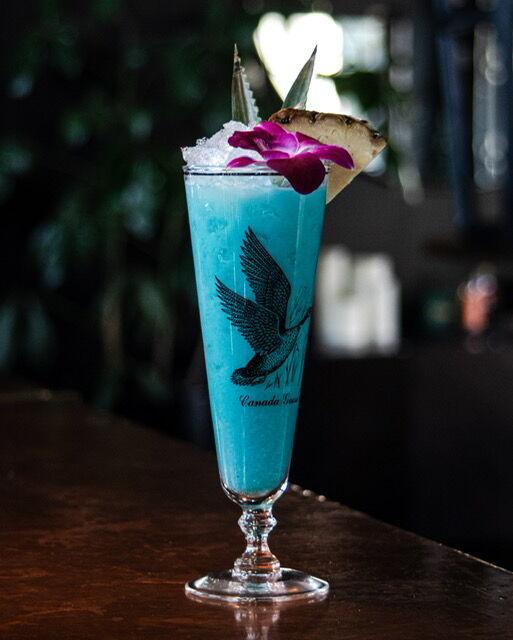 The current list of Order of the Arrow offerings has an eye toward the hot summer months ahead and includes a Rusty Nail, Lemon Drop Martini, Midori Sour and Blue Hawaiian, with a Long Island Iced Tea and a Pink Squirrel joining the menu soon.
"We went to a bar called Pink Squirrel in Chicago seven years ago. It was small and dark but lit with pink neon lights offering two lanes of duckpin bowling and boozy milkshakes, and we loved it. The milkshakes were delicious and comforting and something you really wanted to drink, and that experience changed the way I saw cocktails," Ciesiel says. "The pressure to reinvent the classic drinks your bar has become known for is real, and it can make you feel stuck creatively, so I created Order of the Arrow to give myself and The Campground the freedom to play with cocktails in a fun and engaging way."
The creation of each nostalgic cocktail on the Order of the Arrow menu will start with an old school recipe, but he says that if he and his team can build a better drink with better ingredients, they will – but not just for the sake of it. Sometimes, a Cosmopolitan just needs to be a Cosmo.
The Campground is open Thursday through Sunday from 5 to 10pm. Reservations are preferred, and proof of COVID-19 vaccination is required for indoor dining.