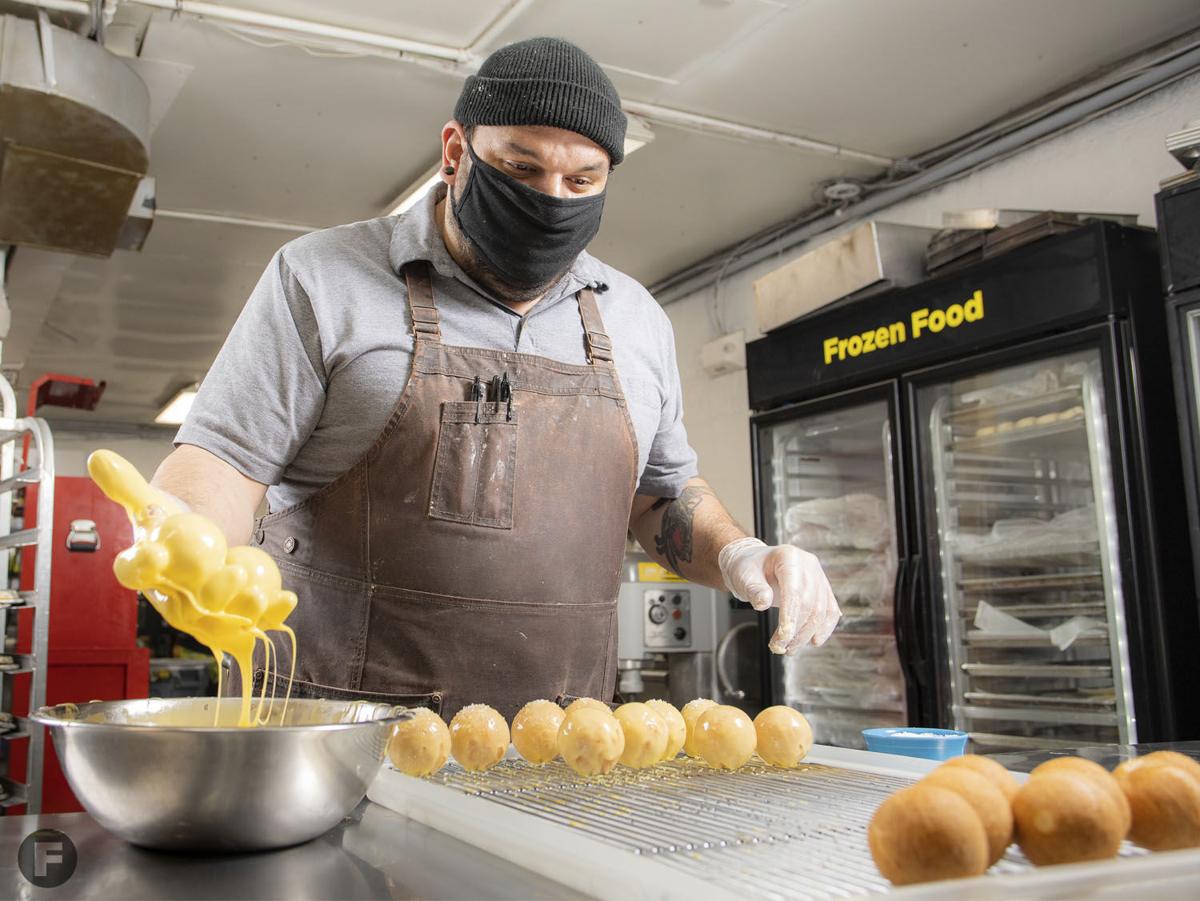 On April Fools' Day last year, Kansas City pastry chef Jason Provo – alongside friend, fellow baker and employee number one Alyssa Bailey – took a deep breath and flung open the doors of his first bake shop, Blackhole Bakery. Everyone advised him against opening the breakfast-centric bakery at the beginning of a global pandemic, but today, business is booming.
Demand for the freshly baked cinnamon rolls, crunchy yet chewy palmiers, stuffed croissants and one-of-a-kind mochi donuts continues to increase, and Provo has started shopping for a second location in order to grow the business and potentially add more products to the menu, take on more catering and wholesale business and provide another retail space for his selection of "baked goods with another dimension."
How is Blackhole Bakery different than your original vision? I was planning to do a small breakfast business with coffee and pastries in the morning, while going after corporate catering and wholesale business. Today, we're known for our decadent breakfast items, like cinnamon rolls, bagels and croissants filled with sausage and cream gravy. Unfortunately, we took the most difficult path we could by making everything with laminated dough, like puff pastry and croissants, and two-day proofed brioche bread, but that's what we were the proudest of – being bread bakers – and it's what we thought would make the biggest splash. We've deviated from our original vision with almost everything that we've done thus far, but it appears to have worked for us.
Do you regret launching during the pandemic? I didn't think opening during the pandemic would end up being a plus. There was part of me that knew it was a bad time to open; I was on a tight budget, and I couldn't really afford to get it wrong. We discovered that during difficult times people are comforted by baked goods in a way that I never could have expected. I don't think I could replicate what happened to us, but I am so grateful for all of the success we've had to date.
How have you found a balance between selling out too soon and making more than you need? In the bakery business, it is never a bad thing to sell out – it is perhaps even the goal – but we used to sell out early on the weekends, which was frustrating for our customers. To help solve that problem, we have started making additional treats, like cookies, to keep the case full, and people seem to love them. We've made a brown butter and sea salt dark chocolate cookie, a double chocolate-walnut and finally a chewy oatmeal-pecan. Now, we take preorders, [which] don't have to be large orders – they can just be a few of your favorites.
What's the deal with Kansas City and its love of cinnamon rolls? Honestly, I don't know why cinnamon rolls are such a popular seller. The only [explanation I have] is, even though Kansas City's food culture has seen an upward growth, there still aren't a lot of specialty bakeries, so everyone just makes everything. Donut shops make cinnamon rolls, bakeries make them, cookie shops make them, and they are eaten any time of the day or night here. Cinnamon rolls and chili are also a nostalgic combo here.
Tell us about your expansion plans. A potential goal with the second bakery is to have a large commissary kitchen. Ideally, it would have retail possibilities and then we could make everything in the commissary and deliver it fresh to both shops every day. [What] we make right now are rich, decadent, luxury items, and eventually we want to get into more staples, more loaves of bread and dinner rolls. People have been beating down my door for wholesale accounts, but we are too small; we hit our max four to five months ago. I want that business, trust me, and we need a second location to handle it.
Blackhole Bakery, 5531 Troost Ave., Kansas City, Missouri, 816.885.6836, blackholebakery.com