Jax Fish House & Oyster Bar finally reopened this week for dine-in service, carryout and delivery after a months-long closure due to COVID-19. The restaurant is now offering an updated dine-in menu created by culinary director Sheila Lucero, as well as new offerings like DIY family seafood meal kits and a new online seafood retail market.
The new seafood market sells the same sustainably sourced, 100 percent Monterey Bay Aquarium Seafood Watch-approved seafood used in the restaurant. The selection of seafood, sold by the pound, includes salmon (Verlasso, sustainably farm-raised from Chile), catfish (Mississippi), halibut (wild-caught from Alaska), shrimp (wild caught from Mexico's Baja side) and snow crab (Alaska).
The seafood family meals are simply meal kits intended to be prepared at home, including favorites like grilled oysters, jumbo lump crab cakes, halibut for two (wrapped in parchment paper and ready for the oven), and mussels ready to steam in your choice of Thai curry, tomato chorizo or Chardonnay garlic sauce. Detailed instructions come with each kit.
"We'll continue to serve our award-winning sustainable seafood, but we've spent a lot of time 'beefing' up the to-go portion of our menu with family meals that travel well, and we are also adding a seafood market component as well," Big Red F Restaurant Group chef and founder Dave Query said in a release.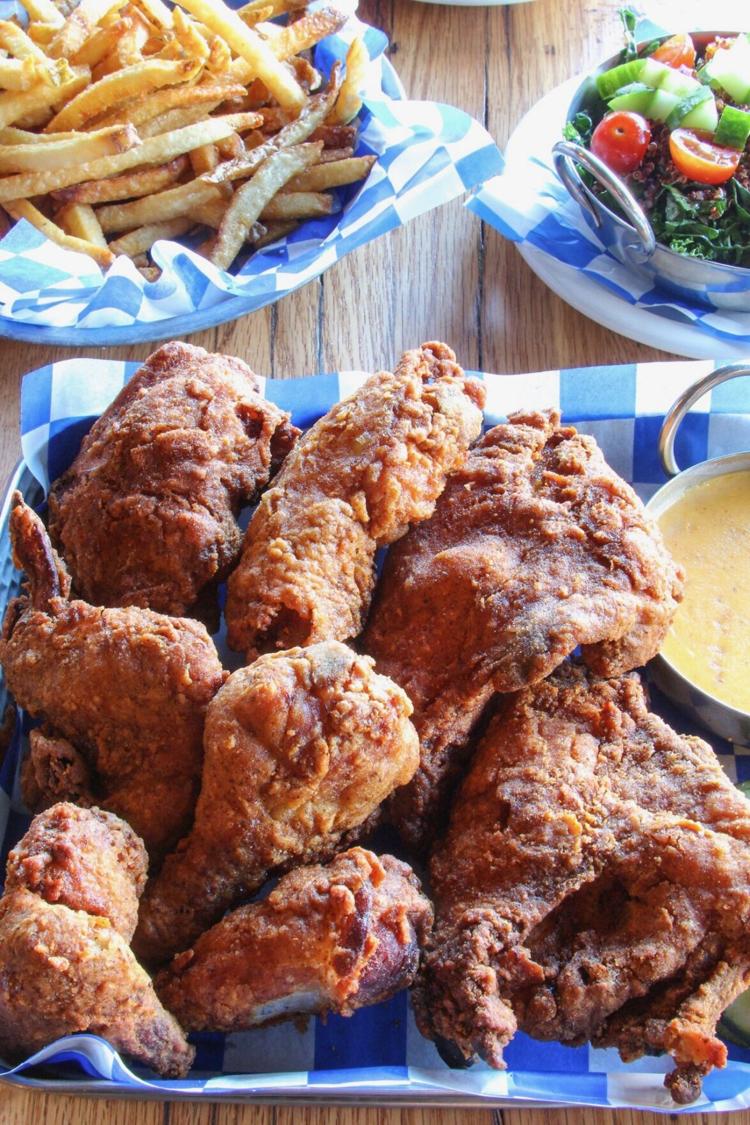 In addition to the solid seafood found at Jax, guests can now order award-winning fried chicken through their new ghost kitchen concept, The Post Chicken & Beer, which is open for to-go, curbside carryout and delivery only.
Query decided to reopen Jax in the West Plaza with the fried chicken concept sharing the same kitchen as a way to test the proof of concept. The Post Chicken & Beer is based on another Big Red F concept, The Post Brewing Co., a Colorado-based brewery concept known for brewing delicious, easy-drinking beer that pairs well with food – specifically fried chicken.
"We opened The Post Brewing Co.in Colorado in 2014 and have since grown to four (soon to be five) locations in our home state," Query said. "We love KC and have been looking for a space here for The Post for years. When the pandemic hit, we saw how well fried chicken lends itself to takeout service and we knew the time was right to open in KC, even without a brick-and-mortar location. The Post will only feature to-go, curbside and delivery service while we find the right space for our dining room."
The fried chicken recipe used by The Post Chicken & Beer was originally created by chef and partner Brett Smith as something to serve at the first location of the The Post Brewing Co., which opened inside a VFW post in Lafayette, Colorado, in 2014.
The Post's fried chicken recipe starts with humanely raised, fresh and all-natural chicken, which is brined for hours in buttermilk, dredged in a seasoned gluten-free flour blend, and pressure-fried until juicy inside and crispy golden brown on the outside.
The menu is short, sweet and straightforward. Order online and get The Post's half bird, four-piece chicken dinner with your choice of two sides, sausage gravy and biscuits, or get a whole bird that comes with a choice of two large sides and four biscuits. There is also the Big Bubba, which comes with two whole birds, four large sides, a large salad and eight biscuits – enough to feed the entire family. All fried chicken can also be made Nashville hot for those who like it spicy. As for the sides, guests can choose from farm vegetable fried rice, hush puppies with cayenne sugar, bacon-braised collard greens and Anson Mills Cheddar grits.
Jax Fish House & Oyster Bar is open daily for dine-in (reservations only), to-go or curbside carryout from 3:30 to 9pm, with happy hour Sunday through Thursday from 3:30 to 5:30pm. The Post Chicken & Beer will be open daily for to-go, curbside carryout and delivery from 3:30 to 9pm.
Jax Fish House & Oyster Bar, 4814 Roanoke Pkwy., West Plaza, Kansas City, Missouri, 816.437.7940, jaxfishhouse.com/kansas-city
The Post Chicken & Beer, postbrewing.com/kansas-city