Craig Adcock has made Jude's Rum Cake for more than 20 years. Evolved from his mother-in-law's rum cake recipe, it's become a holiday staple that ships nationwide.
A barbecue aficionado who caters, Adcock and his wife, Teresa Erb, are also known for their Table Ocho events. Prepared for eight people, the reservation-only gourmet meals take place beside the rum cake production area in downtown Lenexa, Kansas.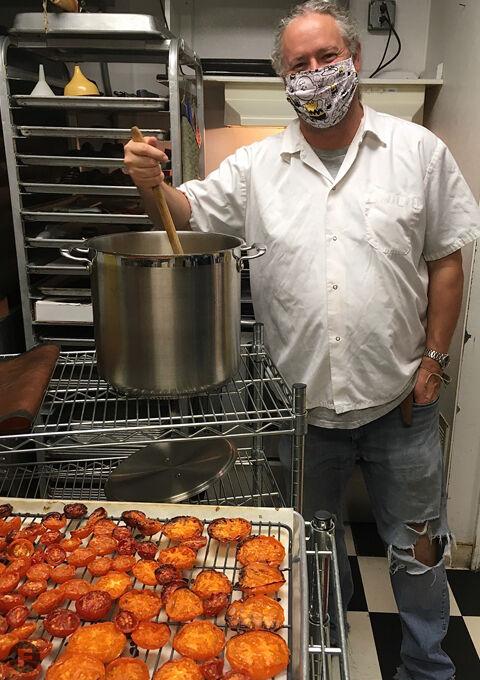 Before the pandemic hit the area earlier this year, Table Ocho events often incorporated a hodgepodge group of people who purchased one or two seats each. In the third week of March, Adcock and Erb had eight Table Ocho events booked; they had to refund fees for five of those gatherings after COVID-19 hit. The couple faced an enormous loss of income. No events took place from April through June, but the couple is beginning to schedule some of these events again, as long as one person buys all eight seats.
Despite receiving some government assistance associated with the pandemic, Adcock decided he wanted to be a resource for people by offering pantry sales. He wanted to continue his longstanding support of local farmers and food purveyors, too, including Crum's Heirlooms and Maps Coffee & Chocolate, which operates just down the block.
So he stocked his refrigerators with pork loin, pastrami, smoked salmon and lamb. He has processed more than 300 pounds of fresh tomatoes and stocked up on premium extra-virgin olive oil; he also created homemade chicken stock.
Craig Adcock and his wife, Teresa, want to revive the dinner party.
Adcock posts whatever he has available on Facebook. Would-be customers simply need to check his schedule and current offerings before showing up. Those offerings may also include premium pastas, infused vinegars and plenty of terrific wines for resale. There are giant heads of garlic from Crum's, as well as enormous quantities of basil (which often becomes pesto) and the tomatoes that Adcock processes.
Pantry sales now comprise about 80 percent of overall sales, which are actually up 10 percent when compared with last year at this time. "I've wanted to incorporate pantry [items]," Adcock says, "and I'm really hustling. I had no idea it would go so well. I don't want to be pushy but about 90 percent [of customers] buy extra stuff and people are tipping 25 to 30 percent too."
Adcock appreciates the fact that he can choose what items he will offer, without the constraints that many restaurants face. "Some restaurants with big menus still have to bring in all the same ingredients [no matter how many customers they have]," he says. Adcock and Erb are, personally, very cautious about dining out right now, too.
Much to Adcock's amazement, his rum cake sales have gone through the roof. At a time of year when he typically sells 15 cakes per month, an average of 50 are flying out the door. Perhaps a comfort food for the pandemic? Adcock's Trademark Denied Rum was initially scheduled for public release by now, but he estimates a 2021 release instead.
"I'm fortunate to be able to do what I love, for as long as I can sustain things," Adcock says.