What do you get when you cross a homemade waffle cone with your favorite cheesecake flavor? A dynamite new dessert from Queen of the Cones.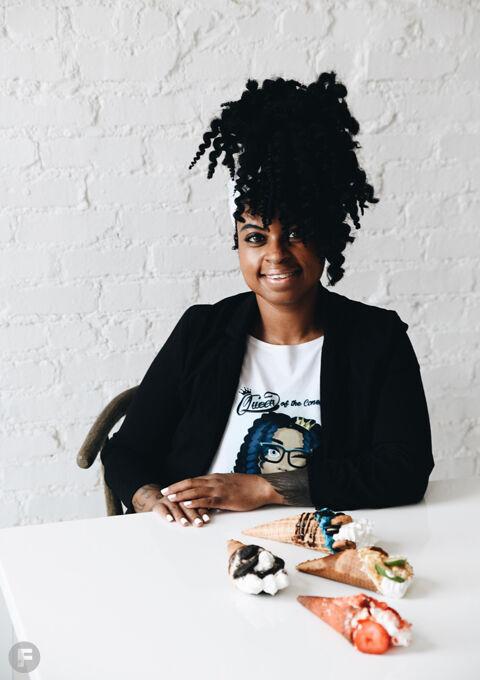 Kansas City baker Deangeleia "Leia" Kennar, who previously owned a cake decorating business, started her new dessert business in April after being furloughed from her full-time job. A friend asked if Kennar could make a strawberry shortcake cheesecake-filled waffle cone after seeing the new novelty dessert online. Kennar accepted the challenge, and her new business was born.
Kennar starts with three from-scratch flavors of waffle cones – strawberry, brown sugar and chocolate – that rotate depending on the cheesecake flavor involved. She then dips the top of the cone in white or milk chocolate and a different crunchy cookie topping, like strawberry crunch, vanilla wafers, Oreos or graham crackers.
She fills the inside with a flavored cheesecake, and tops the cone off with the appropriate fruit, sauces and matching crumbles and whipped cream. The cones are each packaged in a clear plastic box and can be held in your hand to eat or enjoyed with a spoon straight from the box. They are almost too pretty to eat – almost.
As Kennar's creations quickly took off, friends of friends were soon calling to place their orders for her whimsical new sweet treat. Clients started asking for new flavors, especially chocolate and cookies and cream. It was time for her to name her business and expand her flavor offerings.
"The name Queen of the Cones came from my love of watching Game of Thrones," says Kennar. "I had originally said I would have 33 flavors of my cheesecake-filled waffle cones, but when I hit 13 flavors I decided that was plenty."  
Kennar's current flavor selections are Strawberry Crunch, Oreo, Banana Pudding, Crazy Pineapple, Maple Bacon, Peach Cobbler, Key Lime, Cookie Monster, Reese's, Fruity Pebbles, Chocolate Dream, German Chocolate and Celebration Cheesecake. So far, the Strawberry Crunch, Banana Pudding, Oreo and Crazy Pineapple are the best-sellers.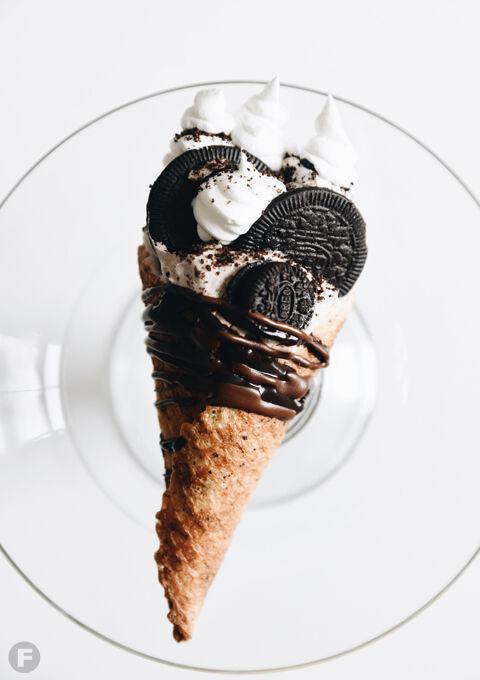 Her newest creation is the Twisted Banana Split Cheesecake Bubble Waffle Cone, which is served on an open-faced brown sugar bubble cone with three scoops of cheesecake: chocolate chip with chocolate sauce, chocolate-caramel-pretzel drizzled in caramel and strawberry with strawberry sauce. It all comes with a freshly sliced banana, whipped cream and a cherry.
Kennar sells her cones at two for $15, and customers can mix and match flavors. There's a lot of labor and cost involved in making just one cone, and Kennar feels the size does not make them shareable. If you love cheesecake, she says, you are not going to want to share this, so you might as well get one for you and one for a friend (or a second cone to enjoy later). The cones can be refrigerated for up to 3 days.  
Queen of the Cones gladly accepts pre-orders; you must pre-pay at the time of the order, with 48 hours advance notice needed. Kennar does not accept cash, preferring to use payment apps like CashApp, Paypal and Venmo.
Large party orders must be made 7 days in advance. If you want to order 8 or more cones, your order must be placed 72 hours in advance. With no storefront yet for her new business, Kennar offers pickup or delivery for $5-$15 extra, depending on the mileage.
Want to meet the Queen of the Cones in person and purchase cones from her directly? This weekend, Kennar will be participating in a pop-up shop (along with 24 other women entrepreneurs) on Sat., Aug. 15 starting at 3:30pm at the New Firelight Lounge (2046 N. 18th St., Kansas City, Kansas).
Queen of the Cones, facebook.com/QueenoftheCones