Every time a bag of wheat from Japan was delivered to the back door of Ramen Bowls, the restaurant I co-own in Lawrence, Kansas, I had the same thought: Wouldn't it make more sense for my business – not to mention the planet – if I could get my hands on some local heirloom wheat to mill and use to make wheat noodles for the ramen shop? Up until this point, we'd been making all of our ramen noodles in-house using our own Japanese noodle maker, and we were having to pay for bags and bags of wheat flour to be shipped to Lawrence each month. This was wheat that was grown in Canada, then shipped to Japan, then shipped from Japan to California and finally delivered to the restaurant, where it's made into fresh ramen noodles.
I knew there had to be a better way.
I picked up the phone and called my father, Glenn Ringler, and invited myself over for dinner. As the owner of a sixth-generation family farm in central Kansas, I felt as though he was the only person I knew who would listen to my idea with open ears.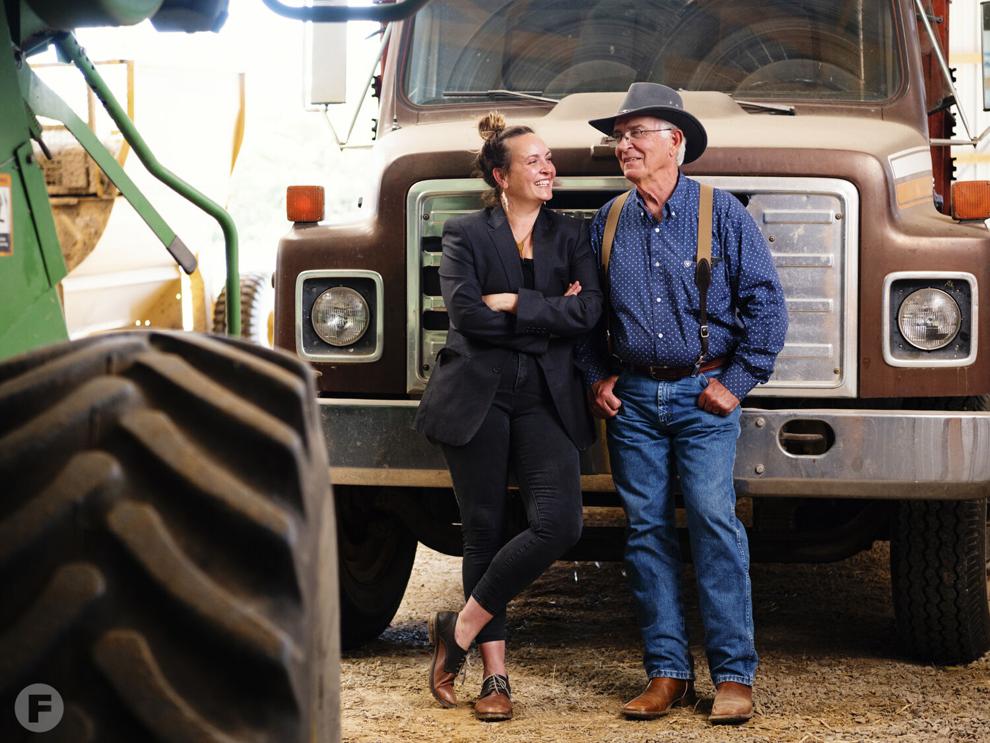 After a lovely dinner, we settled in for a talk. I decided it was time to broach the subject that I had driven three hours to discuss. I took a deep breath and said, "Dad, do you think it would be possible to grow heirloom wheat here on the farm so I could make ramen noodles out of the flour?"
Here I was, a wheat farmer's daughter, sitting with my 73-year-old father at the dinner table on our family farm in Sylvan Grove, Kansas, asking him to take this leap with me. Located between Salina and Hays, Sylvan Grove is 10 miles off Highway 70, an area of the state where the flat lands of Kansas turn into rolling green hills. It's the perfect place to raise cattle and grow wheat, and my family does both – my dad tends to the land and my brother, Justin, to the cattle.
From one entrepreneur to another, I made my case to Dad. I explained my frustration in being a restaurateur, proudly born into a Kansas wheat farming family, but not having access to desirable heirloom wheat.
If my dad was willing to test my theory by helping me source, plant, grow and harvest this heirloom wheat on our family farm, then I proposed that I would buy it from him, use what I needed at the ramen shop and sell the rest to local bakeries and restaurants. There are so many of us in the restaurant and bakery scene here in Lawrence who want to work with Kansas-grown wheat for our recipes, but it's almost impossible to get it in large enough quantities. Talk about irony: We live in Kansas, the Wheat State, and yet we can't get our hands on local wheat to work with.
Today, on many family farms like mine, modern commodity wheat is grown and sold to futures markets, but heirloom wheat is typically sold directly to pizza makers, bread bakers and brewers – people who prize its complex flavor and high protein content.
From there, my dad and I began talking about the "what if" scenarios of my proposition. What would the cost be? What would this look like? What type of heirloom wheat would we grow? What if it was a flop? What if I couldn't pay for it? What if I couldn't sell it?
Growing up on the farm, I watched year after year as my father had his wheat taken out by things out of his control such as the weather or even market prices. I used to wonder how he could face that kind of despair each year, hanging on for just that one year when he might finally make enough money to keep the operation going.
Our family would frequently talk about the price of wheat at the dinner table. My dad grew up raising wheat, and my sister worked at the local grain elevator in high school. At the time, the price was $5 per bushel, then up to $7 or $8 in the 1970s. Now, it's dipped back down to $4 or $5 per bushel again. It's heartbreaking to see the work that goes into it with so little payoff.
This is all to say that I was acutely aware of the amount of risk I was asking my dad to take on for me and my idea. At that point, I also wasn't sure if we could even grow the type of wheat that I would need here in the Midwest. But the more I researched, the more confident I became, and I just knew in my gut that this was a risk worth taking.
With 50 years of farming experience, Dad, on the other hand, was a little more apprehensive about the process of planting and growing a type of heirloom wheat he had never grown before. I listened closely as he wondered aloud how this type of wheat would handle the winter weather, what the yield would be and how much work it would be to harvest.
In the end, as father and daughter, one entrepreneur to another, we shook on it and decided to take the leap together.
We settled on Turkey Red winter wheat mostly because of its desirable flavor profile and high protein content – protein in the wheat absorbs water to form gluten, which acts as a glue to hold dough together. But I was also drawn to the historical tie: Turkey Red winter wheat was planted and grown all around this part of central Kansas by German Mennonites from Russia's Volga River who came and settled in Kansas in 1876. This experiment was already taking us full circle with our land and our food systems and that felt really meaningful, too.
But we initially had a hard time tracking down the wheat we wanted to plant. Dad ended up calling Kansas State University looking for Turkey Red, and they pointed him to a man in Healy, Kansas, who owns Ehmke Seed. He collects heirloom varieties and had been preserving Turkey Red wheat berries for the university. We purchased enough wheat berries from him to plant 30 acres; that fall, we turned around and planted it all.
The first thing we noticed was how crazy the heirloom wheat looked coming up out of the ground compared to the commercial wheat growing right next to it. The Turkey Red wheat was robust and beautiful, with its golden bearded heads drooping toward the ground, unlike its stately, shorter neighbors that grew upright. It also came up sparse compared to other wheat crops my dad was used to growing. It was delicate and wispy, but full of perseverance and determination. We were all nervous. Wind, rain and hail are always a worry, but not as much as it was that first year.
My dad's neighbors must have seen this sparse-looking wheat field with all the plants bent over and wondered, "What has Glenn gotten himself into over there?" In late June, we had to ask a friend with a vintage combine to come and harvest the wheat for us because my dad's modern combine couldn't do the job, given the way the Turkey Red winter wheat bent down to the ground.
The good news was that we had a lot of leftover hay from the harvesting process. That first year, there was a shortage of hay, so after we fed our cattle, we sold the rest for a profit. The challenge? The yield was much smaller than what you'd get from a commodity crop – about half, in fact. We knew that would be the case, however, and while we hoped to get at least 20 bushels an acre, we actually harvested 30 bushels an acre, so we did much better than we expected.
For the next step, we needed to get it milled and start working with it to develop our wheat noodle recipe. Ramen Bowls chef Rozz Petrozz bought a grain mill and put it in their garage. Once the flour was milled, we tried one recipe after another as chef Brian Chambers helped us come up with a recipe that would not only taste good but would work with our Japanese noodle maker.
No matter how many times we tweaked it, we kept getting the wrong consistency: an overly crumbly noodle that didn't work in the noodle maker or hold up when boiled in the broth. Brian finally figured it out. The secret was to make the noodles using two-thirds Turkey Red winter wheat, one-third cake flour, salt, baking soda and water. I felt pure pride and elation when Brian brought me the most perfect bowl of fresh wheat noodles that soaked up broth beautifully and tasted subtle but smelled so fragrant. After weeks of trying, we had finally cracked the code.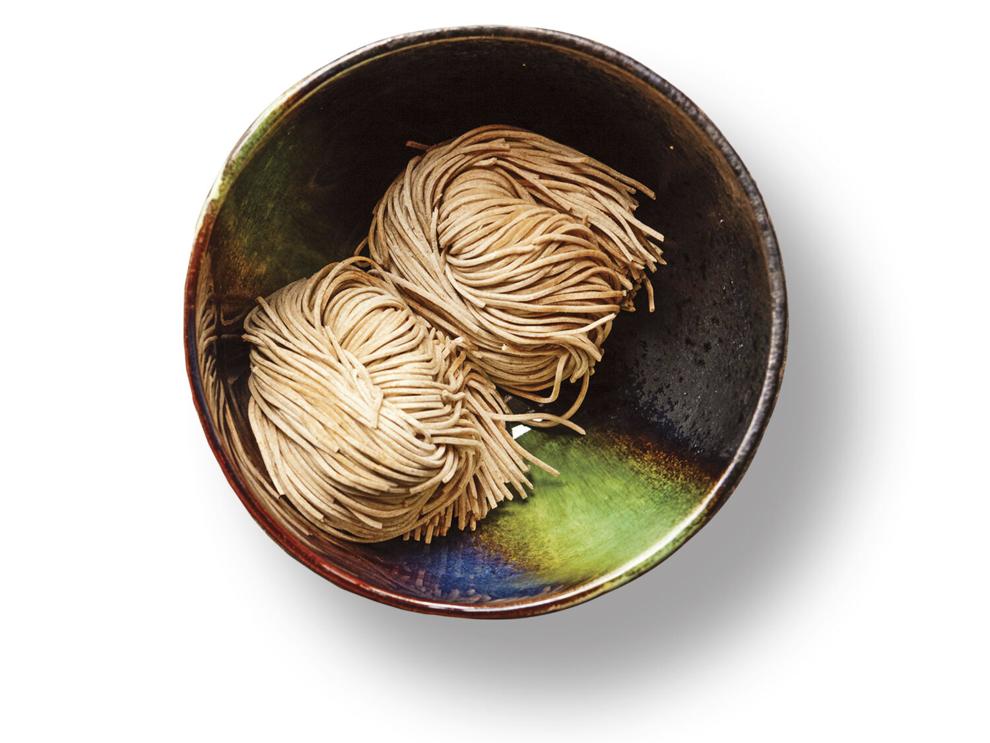 We proudly launched the 1876 Heirloom Ramen Bowl at Ramen Bowls in February of this year. Our new signature bowl is named for the year the German Mennonites settled in Kansas with their Turkey Red wheat berries. Wanting the bowl to be something that represented my family, we also use beef raised on my family's farm whenever possible. The tonkotsu-style ramen bowl features a rich, beefy bone broth, wheat noodles, slices of pot roast and a sprinkle of cilantro – it's simple and delicious.
I've had many bowls of ramen before and sometimes wondered if our ramen could compete among the best. This bowl absolutely could – it represents the most authentic version of who I am and what I have to offer.
Right now, I see a big future for what we are doing, both in growing heirloom wheat and making delicious noodles with it. Currently, we sell our wheat noodles at The Merc Co+op in Lawrence, Hy-Vee and a few other grocery stores. I want to continue to grow heritage wheat not just for my own ramen noodles but for other kinds of fresh pasta as well. Dad is planning to grow 1,000 bushels of Turkey Red winter wheat each year, with the hope to expand to several thousand bushels in the next three years.
When I look back at all the work that my dad and I have done to get here, I feel a tremendous sense of love and pride. I have often found myself feeling disconnected to where I come from, but this process has brought me closer to my family and the community of hardworking people who live much different lives than me just three hours away. I understand what it feels like to pray for rain, to hope for good crop and the comfort of knowing you can rely on your neighbors for help when you need it, knowing it will be your turn to return the favor one day.
Our 1876 Heirloom Ramen Bowl represents who I am: a farm girl from the Midwest. I suppose you could say that this bowl is everything I love and believe in: rural families with a complex farming lineage. Cultural-culinary fusion, respect and rustic simplicity. Kansas. The Midwest. The breadbasket. Ancestry. Ancient grains. Farmland. Untouched seeds. Descendants who fled persecution and starvation for a better life. A vision rooted in historical significance. Distinguishable sweetness and puzzles.
I hope Dad and I inspire other farmers who might feel like they are being held hostage by either the weather or market prices to consider making the leap to grow heirloom grains in Kansas. If we grow big enough to start a new business together, we already have a name: Dad and Daughter Heirloom.
918 Massachusetts St., Lawrence, Kansas, ramenbowls.com