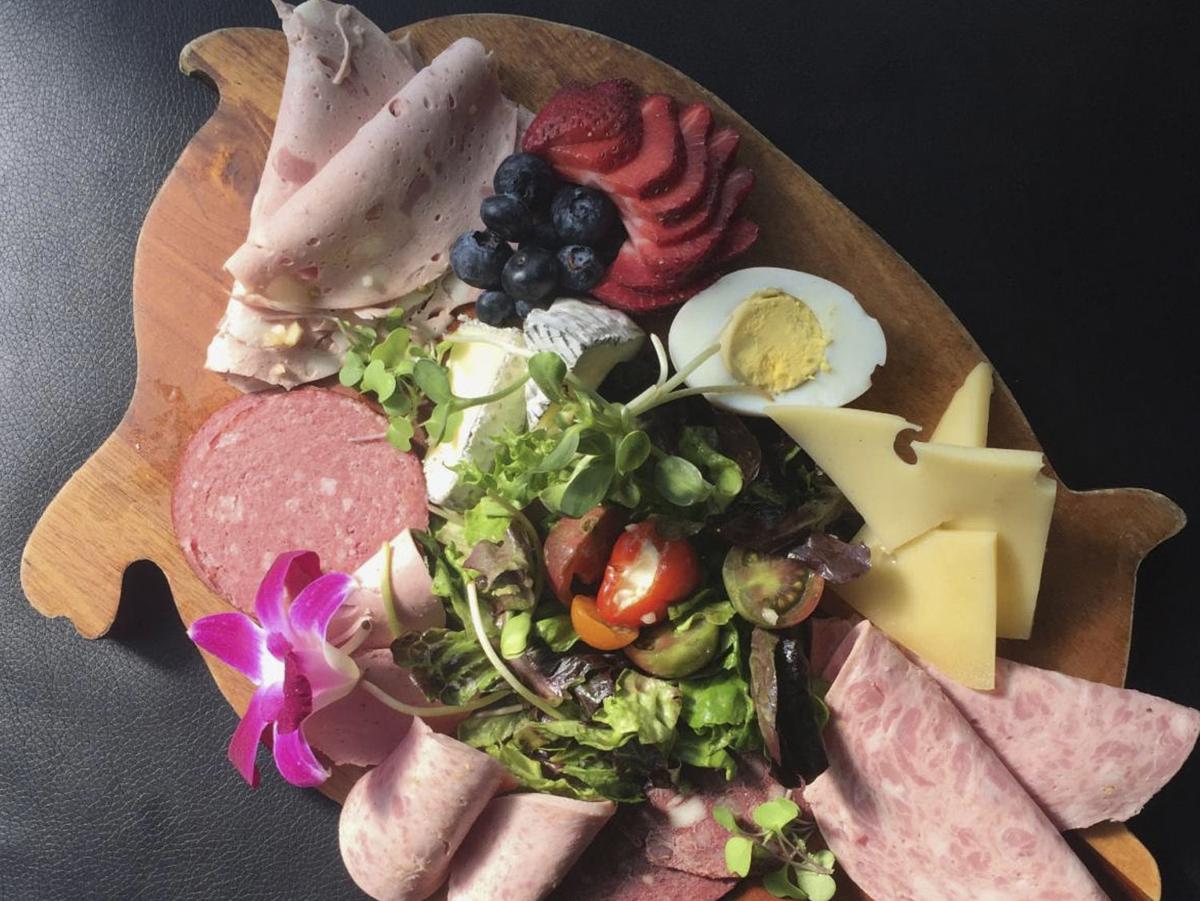 Necessity is the mother of invention. The old proverb rings true, especially as local restaurants and other service-based businesses adapt services and offerings during uncertain times.
Restaurants are adding a mercantile component, pop-up wine shop and other ways to generate revenue after a citywide mandatory shutdown to prevent the spread of COVID-19 required businesses to close for dine-in business. 
Fox and Pearl not only shifted to carryout and curbside delivery of hot meals, but also added an online mercantile. "We basically set it up like a neighborhood bodega with some basics," says co-owner Kristine Hull. "Prepared meals, produce, provisions, proteins and natural wine. The prepared meals are re-heat or freezer ready, and are meant to serve four to eight people."
Produce is sourced direct from local farmers. Provisions include housemade sauces, pickles and eggs. Fox and Pearl also sells house-made sausage, bacon and whole chickens. Inventory and items change as the restaurant sells through existing stock and responds to people's needs.
Fox and Pearl, 2143 Summit St., 816.437.7001, foxandpearlkc.com
The Antler Room set up a retail wine shop in the bar and began selling bottled cocktails and bottled cold-brew coffee concentrate. The restaurant also switched to selling chef-prepared sandwiches and other foods as a temporary departure from its small plates focus. 
"We are trying to do everything that we can to make this work for the next 30 days or more potentially," says Leslie Newsam Goellner, who co-owns the restaurant and wine bar with her husband, Nick Goellner. "I have curated wine flights to get people more excited and will be changing the flight options every week. We are bringing in Tyler Harp from Harp Barbecue to do food at least once a week."
Nick's sister and the restaurant's pastry chef, Tasha Goellner, also prepares French macarons, cookies and ice cream for sale. The Antler Room also plans to change its menu weekly. "We will be adding more full meals to go and starting some prepared food and dry pasta, our Georgian dumplings and other options for cooking more items at home," Goellner says.
The Antler Room, 2506 Holmes St., 816.605.1967, theantlerroomkc.com
Affäre has adapted by highlighting chef Martin Heuser's charcuterie-making skills. The modern German restaurant offers a make-your-own charcuterie platter for curbside pickup. Guests may order from assorted charcuterie and assemble a savory platter at home. Additional add-on items available include a bacon burger, pretzel bread, jagerschnitzel and more. Guests may also order dinner packages that include soup, vegetables, and a side of house mac-and-cheese; discounted wine (from retail prices) and dessert.
Affäre, 1911 Main St., Crossroads Arts District, Kansas City, Missouri, affarekc.com
Business at Screenland Armour took a blow when city officials mandated gatherings of less than 10 people even before the citywide shutdown of nonessential businesses. Unable to screen films as a core part of the business, co-owners Adam Roberts and Brent Miller initially established options for online donations and gift card purchases. 
"We had roughly 100 people purchase them in the first 48 hours," Roberts says. "However, that came grinding to a halt. We began discussing how we can keep our film community and prospering; we landed on Patreon. As a multimedia business we thought this would be a great way to bring in additional revenue while giving our customers (or potential ones) something unique at home to enjoy."
Patreon supporters subscribe to a membership level ($5-30 monthly, and gain access to live watch parties, film discussions, podcasts, short film showcases with filmmaker chats, trivia and more. "This has become a full-time job supplying content for our Patreon members," Roberts says. "It doesn't bring in a lot of revenue, but we are hoping that changes and people see a benefit in keeping the historic Screenland Armour Theatre healthy and ready to open."
Meanwhile, Screenland continues to deliver "great, heavily interactive content for people at home looking to join in our conversations and love of film."
Screenland, screenland.com
"We were supposed to re-open the first weekend of spring and serve as an incubator for not only our restaurant vendors, but also for retailers trying to prove their concept," says Rachel Kennedy, owner and operator of Plantain District and co-developer of Iron District, a shipping container-based food hub in North Kansas City.
That plan may not manifest until mid-May or later. Until then, Kennedy announced the Container Club Membership program. The program is designed "to help our vendors offset some of the costs and provide an influx of support," Kennedy says. "People can contribute now, choosing from three different options and helping our vendors, with the promise of a great experience once we're able to come back together physically as a community."
The program has three different offerings. Very Important Iron Districter ($125) offers access to a 2020 private party featuring a "taste of the Iron District," craft cocktails and entertainment. Membership includes exclusive merchandise, ongoing discounts and invites to monthly happy hours. The Big Deck Happy Hour Club ($90) offers complimentary drinks, invites to monthly happy hours, exclusive merchandise and ongoing bar and vendor discounts. Courtyard Club ($60) membership offers similar incentives.
Several Iron District food vendors are now open and offer traditional delivery to nearby neighborhoods and curbside delivery. Some vendors will offer family-sized meal packages during select days and times.
Iron District, irondistrictnorthkc.com/shop
Happy Gillis Cafe and Hangout opened an online shop so guests may order meals including vegetarian options, soup, cookies and provisions such as raw bacon, Campo Lindo eggs and even coveted toilet paper. Customers may also order Garden Bags full of four-six types of vegetables.
Happy Gillis, 549 Gillis St., Columbus Park, Kansas City, 816.471.3663, happygillis.com