Scratch-made flour and corn tortillas, a rotisserie spit grill for al pastor pork and housemade salsas are the beginning of what sets the brand-new South of Summit apart from anything else you can find in the heart of Waldo. Add to that unique recipes inspired by Oaxaca and Mexico City and a wide selection of tequila, mezcal and tacos, and it seems likely that South of Summit may prove as popular as the other restaurants in the Summit Restaurant Group's family.
South of Summit is the seventh restaurant for restaurateurs Andy Lock, Domhnall Molloy and culinary director Po Wang (Summit Grill, Boru Ramen, Pearl Tavern and Third Street Social). The space at 75th Street and Wornall Road formerly was designated as Summit Waldo's private event space, yet the room wasn't performing as well as Lock and Molloy had hoped. With two restaurants already on the block, it ultimately seemed a natural move to add a third. Lock, Molloy and Wang took several trips to Mexico to research items for their menu. Simple, well-made and flavorful items captured their imaginations.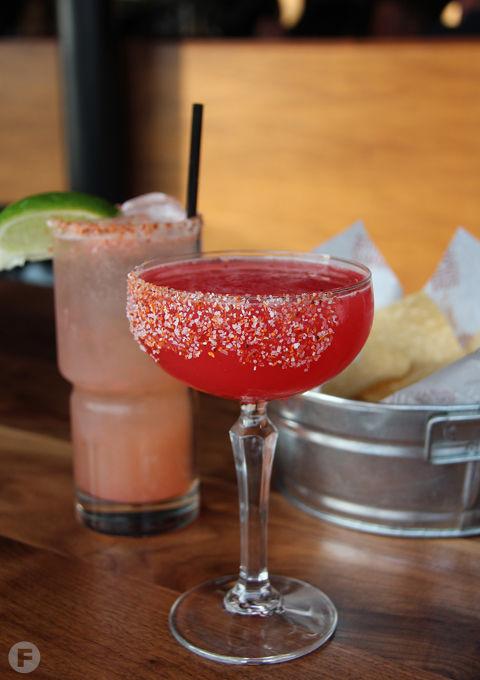 Tacos at South of Summit are available a la carte, and each starts with housemade tortillas that are made fresh every day in view of the customers, using locally-sourced masa. At the top of the menu are tacos al pastor, featuring pork marinated for 24 hours in adobo seasoning and orange juice, then cooked on a spit grill, leaving a flavorful char on the meat before it is sliced directly onto the fresh tortillas, and served with chopped pineapple, fresh cilantro and diced onion. Also available are tacos with slow-cooked beef barbacoa on blue corn tortillas; mushroom with roasted poblanos, roasted onions and guacamole; and even crispy fried cheese curds with jicama slaw, ancho mayo and cotija cheese, among others ($3-$3.75 each).
South of Summit's starter menu features fresh-made ceviche, guacamole and queso fundido, served in a small cast-iron pan and made with housemade chorizo, roasted poblano peppers and melty Oaxacan cheese. One dish unique to South of Summit is a Oaxacan-inspired tlayuda, a large, thin crispy tortilla topped with a black bean spread, Oaxacan cheese and cilantro with a choice of slow-cooked barbacoa, carne asada (steak), chicken, al pastor pork, chorizo or mushrooms ($9.75-$13.75). Also available are entrees including steak tampiquena, a flame-grilled rib eye served with poblanos, onions, tomatoes and rice, as well as enchiladas made with tangy chicken tinga, roasted poblanos, Oaxacan cheese and flour tortillas ($10.50-$19.75). If you're hungry after all of that, housemade churros coated in cinnamon sugar with chocolate dipping sauce, and Pastel de Tres Leches (an airy sponge cake served with whipped cream and cinnamon) are available to cap off your meal ($6.50-$7.50).
South of Summit features a tequila and mezcal selection available in .75- and 1.5-ounce pours, including options from brands like Alipus, Nuestra Soledad and Espolon. Guests can opt for tequila or mezcal flights in addition to individual selections. Cocktails are also a core aspect of the restaurant's offerings, including a selection of house Margaritas made with fresh-squeezed lime juice, agave nectar and tequila. These are available in four flavors: classic, strawberry, mango and prickly pear. Micheladas, Bloody Marys and sangria are also available every day. Alcohol-free options include Topo Chico, Mexican Coke (which is made with cane sugar instead of high-fructose corn syrup) and Jarritos.
Like the other Summit Concepts restaurants, happy hour will run every day from 3 to 6pm, during which house Margaritas are $4, select beers are $3 and select appetizers are half price.
South of Summit is open Monday through Thursday from 11am to 10pm, Friday and Saturday from 11am to 11pm and Sunday from 11am to 9pm.
South of Summit, 516 W. 75th St, Kansas City, Missouri, 816.491.8001, southofsummit.com