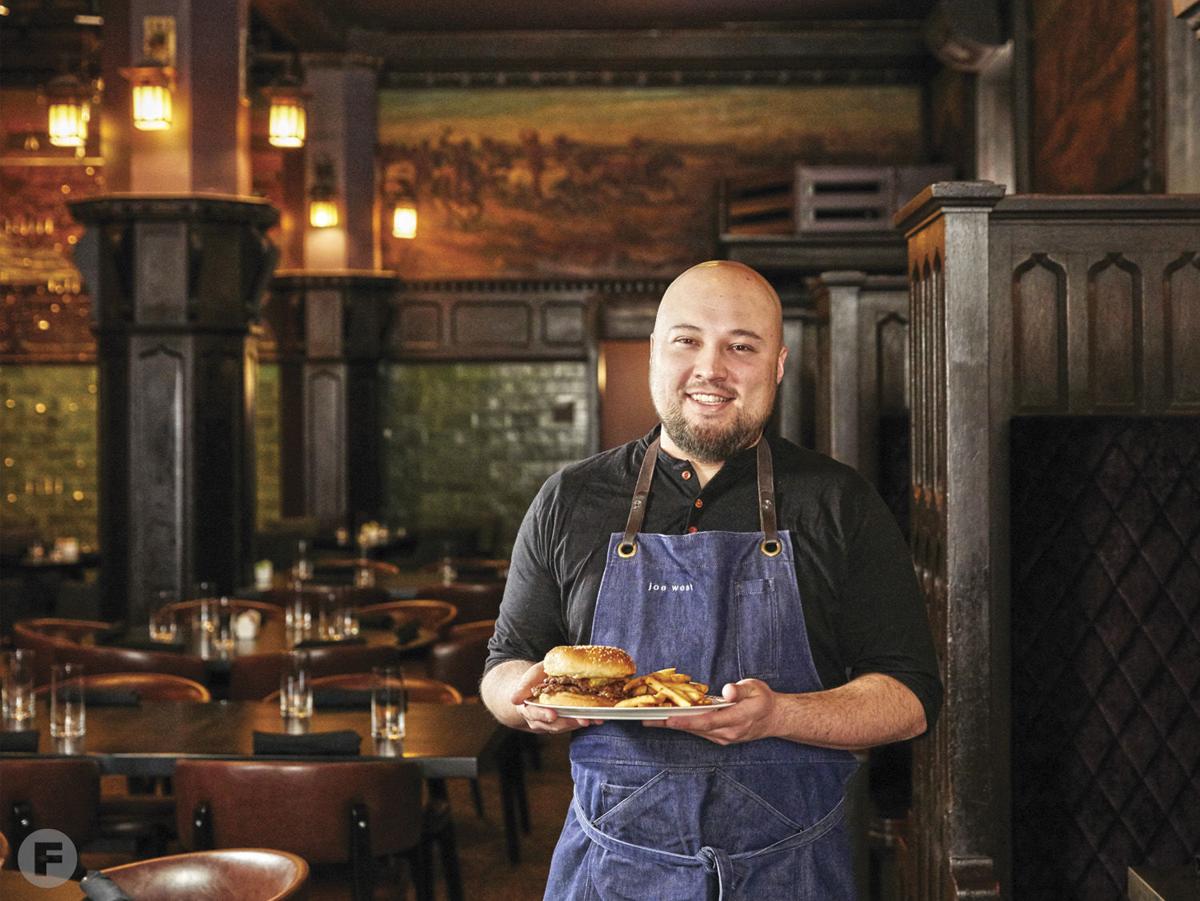 In July 2018, 21c Museum Hotels, the award-winning Louisville-based boutique hotel, contemporary art museum and restaurant group, opened its eight hotel and restaurant, The Savoy, located in downtown Kansas City's iconic Savoy building.
Joe West, a lauded local chef who had most recently been the executive chef at Stock Hill, was tapped to steer the menu, and he drew on The Savoy's classic menu for inspiration. Within six months of opening, West reevaluated the message his menu was sending and began incorporating more modern dishes.
We sat down to chat with West about carrying on the legacy of the Savoy.
Tell me about what you first thought when you were approached about the Savoy. At that time, I was contemplating just stopping cooking. I was looking at jobs outside of the restaurant industry. I was in between jobs at the time, doing some pop-ups here and there, and I was pretty burnt out on the industry for sure. I was really debating stepping away and doing something else. But when 21c Museum Hotels approached me, I was interested. A few years before, I went to a 21c and really enjoyed it.
When I lived in Cincinnati, I worked at a hotel called the Cincinnatian Hotel, and our main competition was the 21c down the street from us. I remember being really jealous of what they were doing and was always really impressed with their program. And I remember seeing that they were going to open one in Kansas City and thinking, "Wouldn't that be cool, to be the chef in Kansas City at the 21c." I forgot about it until a few years later when they opened the Savoy.
The Savoy is historic. Presidents have dined here! What is it like to be at the helm of a restaurant with such a storied past? They had saved a lot of things from the old Savoy and had menus and advertisements. I kept a box of old recipe cards, and there was a lot of random items from the restaurant that they had saved and thought were important to keep. Seeing the verbiage from old menus and reading how lobster might only cost five bucks was fun.
Some of the classic dishes Savoy was serving even right before 21c took over were outdated. There were things you might have learned at culinary school and things you didn't see done very often anymore, like lobster humidor. I didn't want to be a typical hotel restaurant where we served these typical dishes without any heart or intent to make it better.
Where did you find the inspiration for the Savoy's new menu? We went to New York City for an R&D field trip, and one of the restaurants we went to was called the Grill at the old Four Seasons. It was like walking into the 1950s – I felt like I was on the show Mad Men. The menu itself is super classic, midcentury modern. Just looking at the menu, you don't know what to expect. But when you get the food, everything was plated in a sophisticated way. It wasn't overdone. It was about the pristine ingredients.
So I had this epiphany. I was so inspired and so happy at that moment, and I came in with a focus on looking for dishes like steak Diane and lobster Newberg and a crab Louis salad. We had these dishes that were like symbols of this era, and I wanted people to be really excited by them and think of them as being so old they're new again. We were taking this approach of presenting this food in a very clean and straightforward way. I didn't want to do twists on anything, I wanted it to be, like, the purest form of lobster Newberg.
But we didn't get the feedback I was expecting from that. Either people didn't recognize them because they'd never heard of these dishes, or they'd had these dishes in the past and they didn't taste the same. It was frustrating for that first year to get that feedback, because we were putting so much effort into every little thing. That's when I decided to just start cooking food in real time, and I started talking about how we feel nowadays and what we want to eat now and what sounds good. That's when the transformation started, less than a year in.
What message does the menu send today? This menu is more like a story of what the Midwest has become. I feel like the food that we eat in the Midwest has shifted through the years. It's not just steak and potatoes and apple pie anymore. We have a lot more influences around us, and we pull influences from all across the country. And the people that live here are different, we're multicultural and there are diverse populations and everyone has their own point of view. Mine is that I grew up here, and my mom is Japanese and I'm half Japanese, and I have a unique story. I grew up eating tuna casserole and Hamburger Helper and going out to eat at Olive Garden, but my mom would also cook Japanese food, and I traveled to Japan a couple times when I was younger. Going to Asian markets was something I did weekly with my mom.
The menu that we have now reflects some of those personal stories that I have. There's a lot of Asian influence in the menu. I've embraced the things I've learned and experienced, and I also want to incorporate the viewpoints from the rest of my team. My chef de cuisine, Nick TK, spent several years cooking in New Orleans, and he brings a lot of that cuisine to the kitchen.
We take a lot of things into consideration. Seasonality is the most important part of the menu, and how we represent Midwest in a unique way. We don't want to pull ingredients from too far out of our area, but we also want to embrace that aesthetic of the Midwest that's all about pulling the outside inward.
How does running a restaurant in a hotel differ from what you would be doing outside of 21c? How does having hotel clientele impact the menu? We have to consider the hotel guests and consider that there's going to be lots of people coming in, but we don't look at ourselves as a hotel restaurant. We're a restaurant that's in a hotel. The team itself in the restaurant thinks: Restaurant first. If this was a standalone restaurant and I owned this place and was running it as if it was my own in KC, that's how we run it. We have a space we had to work with and tables to fill, so we had to have a menu that worked with the guests we get in, of course. If we were a thirty-seat restaurant doing 50 covers a night, the menu would be different and more tasting forward, probably.
But I look at the space now, and it's dark at nighttime and the bar is flowing and it's sexy and sophisticated, but there are also some components of the restaurant that are rustic and storied and there's a lot going on. I feel like it's a really cool place to go with groups of people, you can have a party here and the menu is flexible. The hotel doesn't give me any restrictions – I could change the menu in the middle of service if I wanted to. I have a lot of autonomy.
Earlier you talked about how you were burnt out the restaurant industry. How has working at the Savoy changed that? Nothing is ever going to be perfect, and I have bad days and good days. I get frustrated often and I'm excited about things often. There's a lot of things in the industry that I don't like, and it has nothing to do with the company or hotel or restaurant. But here, I feel like I actually have a home for myself. When people think about the Savoy, I hope they think of me, and when they think of me, I hope they think of Savoy. This is my two-year anniversary with the company, and I hope to stick around for a long time. I hope that guests come back and build a relationship and that I continue to cook for them and that they enjoy the experience.
The Savoy at 21c Hotel, 219 W. Ninth St., Kansas City, Missouri, 816.443.4260, thesavoykc.com