As evenings grow colder and winter approaches, The Campground has adapted its operations during the year of COVID-19. Co-owners Christopher Ciesiel and Cristin Llewellyn have transformed the craft cocktail bar's parking lot into a setting for Chriskindlmarkt, a festive outdoor holiday market featuring cozy shopping cabins, bar service and food suitable for a cold-weather street fair.
Growing up in Chicago, Ciesiel and his parents regularly attended the annual downtown Chriskindlmarkt in the Windy City. Even after Ciesiel moved to Kansas City and started a family of his own, his family continued the holiday tradition with an annual trip to Chicago over the past 10 years. This year, he and Llewellyn decided to bring the experience to Kansas City's Stockyard District in the West Bottoms.
"Our goal line stand to get us through the next several months was to host our very own traditional European open-air holiday market, where the cabins act as vendor booths, a private guest house and a bar," Ciesiel says. Guests can browse and purchase holiday gifts from The Campground along with Fetch, Jack's Daughters, Coveted Home and other vendors.
But this business transformation isn't the first for Ciesiel, Llewellyn and their team. The Campground reconfigured its food and drink service earlier in 2020 to comply with citywide mandates in response to the pandemic. 
"Since the beginning of the pandemic, we vowed to suspend indoor dining for the foreseeable future," Ciesiel says. "We've been fortunate to have such a large parking lot. In June, we were granted approval by the city to utilize said lot for dining purposes as an extension of our patio."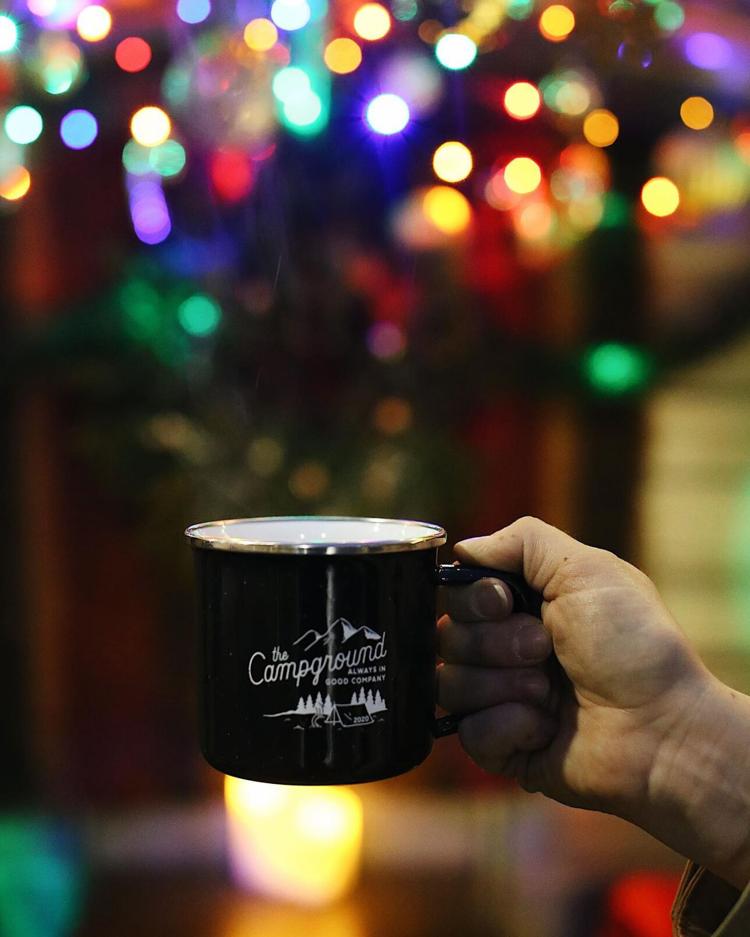 The owners purchased fire pits for the parking lot in advance of colder weather. Although they realized that providing outdoor shelter for guests would be costly up front, they knew it was essential. "We knew we needed a solution to keep guests safe from the elements. Enter the cabins," Ciesiel says. "Cristin found the sheds from a regional retailer. We knew if we were to survive the impending Midwest winter, they were a necessity."
For dinner service in the fall, Llewellyn decorated each cabin with themed items from the family home and personal backyard shed where the idea for The Campground began in 2013. "Now that the market is open, the vendors have carte blanche to decorate however they see fit," Ciesiel says.
Besides fire pits in the parking lot, The Campground offers fun, casual food and drink to keep guests warm as they congregate and shop for the holidays. Social distancing measures continue to be observed. The kitchen serves hand pies stuffed with chicken or broccoli and Cheddar, as well as chili, sweet and savory popcorn and Bavarian pretzels from Heirloom Bakery & Hearth. Other snackable fare includes cheese and charcuterie boards, chili-cheese fries and housemade s'mores kits to roast over the fire.
For thirsty guests, the bar offers mulled wine, Alpine Hot Toddies, Mexican hot chocolate with mezcal, a selection of European beers and natural wines. For flair, order the Blue Blazers, a flaming cocktail that Ciesiel prepares with understated parking lot showmanship.
The Campground remains determined to adapt through the winter months by offering locally-driven events, creative food and drinks and a safe setting for all. "Nothing about operating a small business or existing during a global pandemic is 'fun,' per se, but we're trying to do our best," Ciesiel says. "As long as we can keep creating an inclusive environment and keep both our guests and staff safe, then we'll take that as a success."
Chriskindlmarkt operates Thursday through Saturday from 5 to 10pm through December. The last day for the market will be Sun., Dec. 20 from noon to 4pm. Food and drink may also be pre-ordered for carryout via the website.
The Campground, 1531 Gennesee St., West Bottoms, Kansas City, Missouri, 816.612.3434, thecampgroundkc.com