Chef Michael Foust, owner of Black Sheep & Market, has decided to follow the lead of his friend chef Howard Hanna, who has mobilized his team to open the donation-based Crossroads Community Kitchen inside The Rieger.
This week, Foust converted Black Sheep & Market from a carryout restaurant model into the Black Sheep Community Kitchen & Market located on 39th Street in midtown Kansas City.
Chef-owner Howard Hanna was inspired by the work of José Andrés.
Both chefs give credit to José Andrés, the James Beard award-winning chef, restaurateur and founder of the World Central Kitchen, for giving them the idea and inspiration to create their own hybrid model based on his mobilized kitchen meal delivery system.
During 9/11, Foust was working at Union Square Café in New York City. He saw the toll that event took on the people of New York, and he predicts the effect of the pandemic on the national psyche will be even greater because of the global scale. With many out of work due to the coronavirus, it is times like these that a warm comforting meal can be a weight off a person's shoulders.
Foust has established two separate meal times. Lunch is served from 11am to 1pm, featuring a grilled cheese sandwich, cup of tomato soup, salad and a dessert daily. Dinner will be served from 5 to 7pm and will featuring a rotating blue-plate special, such as meatloaf, mashed potatoes and a vegetable.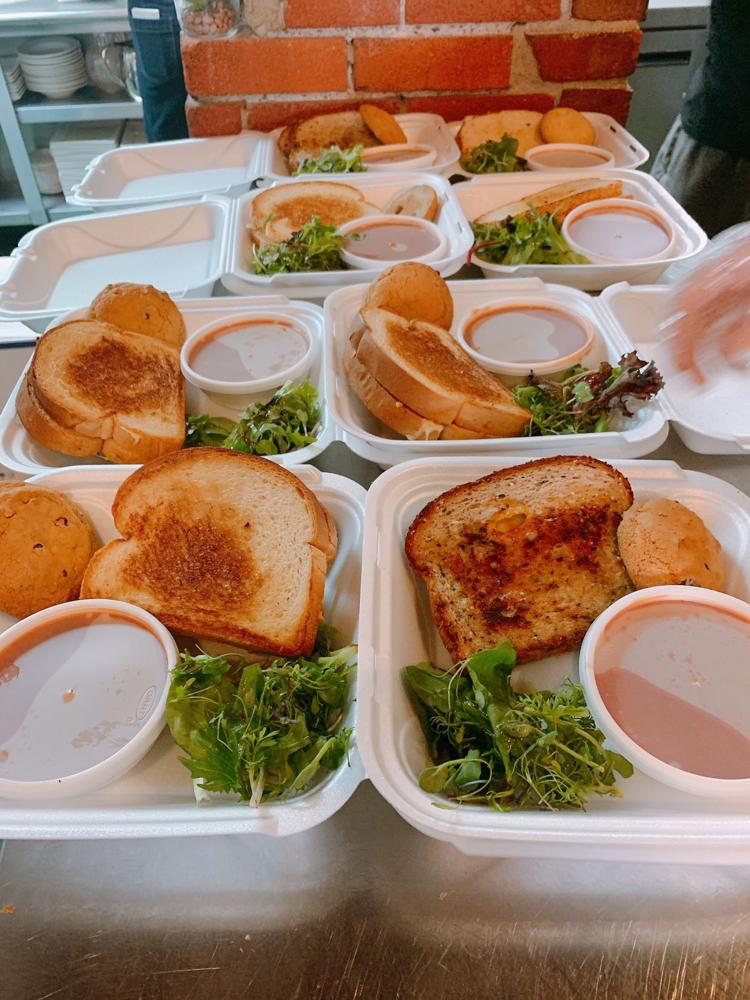 "We're really starting to see where the needs are now, and where we think they will be in the future," Foust says. "We're in the process of trying to figure out how to support organizations that will need it, but not reinvent the wheel."
With his location on 39th Street, Foust is in the unique position to provide meals, not only to the doctors and nurses at Kansas University Medical Center, but also to the large number of unemployed service industry and retail workers that happen to live in the surrounding neighborhoods.
"We're trying to figure out where we fit into the city's feeding efforts," Foust says. "We're small and we realize this, so you can look at us like acupuncture. Where can we go in to alleviate some of that stress that will hit our communities?"
With generous donations of food from Kanbe's Market, Liberty Fruit Co., Bloom Bakery, Tavernonna and CityBittyFarm, Foust was able to stock his walk-in immediately to open Black Sheep Community Kitchen & Market. He is still in need of to-go containers, plasticware and cash donations to keep fresh produce and proteins rolling in to keep his operation going as long as it is needed.
Having laid off most of his restaurant staff last week, the few employees working are doing so on "donated hours," so they can help him feed the community. With that in mind, Foust is also encouraging tips to help support his staff.
Those in need can come in and pay what they can for a meal for themselves or their family, and those who can afford to do so are encouraged to pay it forward or make a cash donation to the Black Sheep Community Kitchen, which will help to sustain the life of the program.
To make a donation to Black Sheep Community Kitchen & Market, visit the Paypal account at @BlackSheepKCCK or Venmo @blacksheepkcmo.
Black Sheep Community Kitchen & Market, 1815 W. 39th St., Kansas City, Missouri, 816.541.3929, blacksheepkcmo.com