As Lenexa Public Market celebrates its three-year anniversary this month, Red Kitchen Tamales is celebrating its own ongoing success right along with it.
Within just a few months of the market opening, chef-owner Alejandra de la Fuente went from working full-time and hosting a once-a-week tamale pop up inside the market to quitting her job to become a permanent fixture with her own stall. Now, she makes her red hot-breakfast burritos and lunch spreads for guests six days a week at Red Kitchen Tamales.
Although the handmade tamales are the signature item from de la Fuente, who hails from Guadalajara, Mexico, they're not the only thing on offer. Red Kitchen Tamales offers a true Mexican-style street food stand experience inside the market.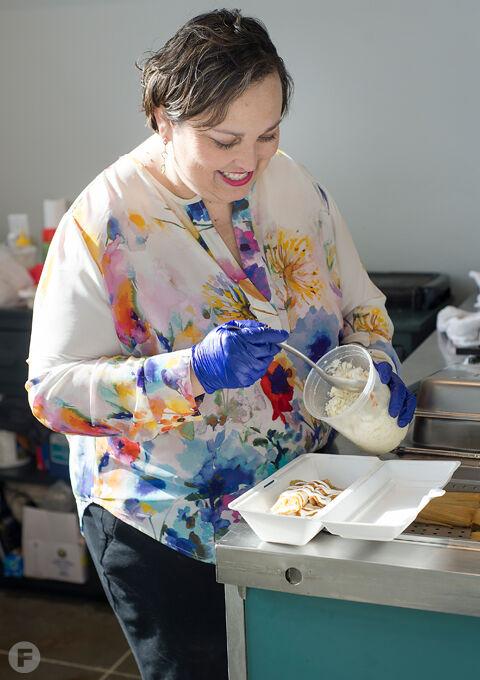 Starting at 7am, fans line up for her breakfast burritos made with Caramelo's Sonoran-style flour tortillas that are griddled and stuffed with fluffy scrambled eggs, potato and cheese, along with your choice of chorizo, sausage or bacon. Every breakfast burrito is made to order by de la Fuente, so you are always getting a hot, fresh-off-the-griddle handheld treat each time. 
For lunch, depending on the day, de la Fuente is either serving her namesake tamales filled with pork, chicken or vegetables along with rice and beans, or  some combination of tacos, burritos and tortas. The chicken Milanesa sandwich, for instance, is served on a crusty telera roll, griddled and then stuffed with beans, avocado, onion, tomato and house-pickled carrots and jalapeños.
Sundays are the only day de la Fuente offers her chilaquiles with salsa verde, shredded chicken, Mexican crema and cheese. It is a dish that is worth a special trip to the market.
The tamales are traditionally sold all day on Tuesdays and Saturdays only. And de la Fuente has also added a refrigerated case next to her stand where folks can pick up jars of homemade salsa, packages of tamales and Caramelo's flour tortillas to take home.
Amid the COVID-19 pandemic, de la Fuente has also started bringing in beautiful handmade masks for adults and kids from Mexico that she sells in her stall. Each mask features a breathtakingly colorful design, such as butterflies, birds, flowers and even Frida Kahlo.
Red Kitchen Tamales is now open Tuesday through Saturday from 7am to 1pm and Sunday from 8 to 11am; the restaurant is closed on Mondays. Breakfast is served from 7 to 11am and lunch is served from 11am to 1pm.
Red Kitchen Tamales inside Lenexa Public Market, 8750 Penrose Lane, Lenexa, Kansas, 816.872.6331, burritoskc.com