It's hard to keep up with Max Kaniger.
The 31-year-old founder and CEO of Kanbe's Markets, a five-year-old nonprofit dedicated to eliminating food waste and food insecurity, talks quickly. As he provides a tour of the company's new 27,000-square-foot warehouse located in Kansas City's Coleman Highlands neighborhood, he tosses out facts and anecdotes as casually as he greets Edgar Contreras, the driver who has just ended his shift for the day, and the assembly line of volunteers sorting fruit.
At its core, Kanbe's is a food delivery service. There are several branches of the business model, but when it launched, its focus was the Healthy Corner Store program, which to this day continues to deliver fresh fruits and vegetables to participating convenience stores and gas stations located in neighborhoods that the USDA had deemed food deserts. The mission was to provide access to fresh, healthy and affordable food to populations that don't have convenient access to it, for whom a trip to the nearest grocery store requires transportation that might not be readily available.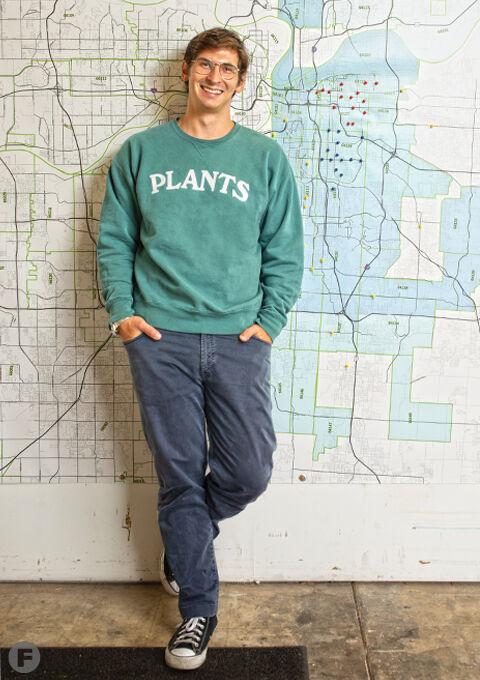 "The average time to get to the grocery store is 45 minutes, and if I've worked all day – maybe at more than one job – I couldn't spend an extra 45 minutes getting to the grocery store, let alone cooking," Kaniger says. "I would much rather walk to the corner store, grab a frozen pizza and throw it in the oven. Over time, that repeated behavior becomes an issue and has significant health repercussions. Rather than vilifying people for making those choices or the suppliers for not getting to those stores, we can create a solution that's more equitable."
Shops participating in the Healthy Corner Store program receive a refrigerated cooler and standing basket rack at no cost. There is also no upfront cost for the produce, which includes an assortment of 20 to 30 whole, uncut fruits and vegetables (you can regularly find apples, oranges, bananas, strawberries, broccoli, potatoes, onions, tomatoes, carrots, corn, a rotation of lettuce and leafy greens).
The Fav Trip on West 23rd Street in Independence, Missouri, was among the first to sign up for the Healthy Corner Store program, largely because Babir Sultan, the company's president and CEO, recognized that without a grocery store in the area, his customers were going without access to healthy food.
"It's about empowering people to make better choices, and we hear that from customers all the time," Sultan says. "If the healthy alternative is there, it makes the decision-making process easier, and it goes on from there. A ton of stores don't even have that healthy alternative."
Kanbe's delivers daily, taking back any inventory that has passed its prime (it becomes feed for livestock or compost), and the shops keep 30 percent of the sales profit (the rest is routed back to Kanbe's to cover operating costs). The goal of the stores in the program is to report an annual profit margin increase upwards of $10,000.
"They bring a variety, and they switch it up seasonally, so we're offering fresh produce that changes, and people get excited to see that," Sultan says. "They come in every day to stock us up, and the things that we don't sell, they take back – that's big for us. Normally, if fresh produce goes bad, you eat the cost."
Kanbe's manages the inventory, too. Each year, up to 40 percent of the nation's food supply is wasted, and most of that is fruits and vegetables. Rather than sending their imperfect produce – the stuff they can't sell to retailers – to a landfill, wholesalers make a tax-deductible donation to Kanbe's, which can load up to 10 pallets (approximately 800 pounds each) into a refrigerated truck. Kaniger's staff then triages the food as it comes in.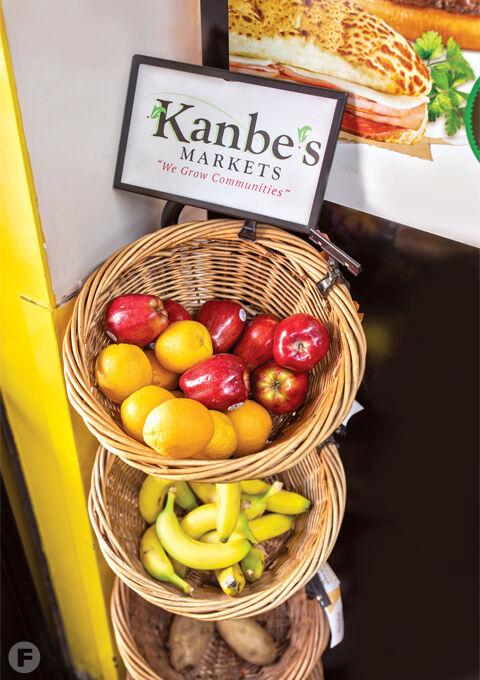 "The wholesalers we work with move a lot of food really, really quickly, and if they are looking at a pallet [of produce] and see one apple on top that doesn't meet their standards, they don't have the time or the manpower to go through the entire thing," Kaniger says. "It's OK for them to move that food out if there is an organization like us to receive it. We can have volunteers sort through it and say, 'This is grocery store-quality food,' and we can send it to our corner stores. If it's something I could still eat but not sell – something like bruised apples, brown bananas, cucumbers or mushrooms – we send it to After the Harvest."
Kansas City-based nonprofit After the Harvest accepts fruits and vegetables that aren't suitable for retail but are still edible and distributes them to agencies that serve hungry people, including Harvesters. If the produce isn't suitable for human consumption, Kanbe's sends it to area farmers, such as Josh Anderson, owner and operator at Boss Farm Industries, who turn it into feed for livestock. Everything else is composted and distributed to local grower partners, such as Anderson, who is also the farm manager at BoysGrow, who transform what would have been waste into nutrient-dense soil.
"We track everything," Kaniger says, gesturing to a whiteboard behind the assembly line. "We weigh the produce so that we can send donation receipts to the wholesalers, and we track where the produce is going – whether we're sending it to stores or farmers, if it's being composted, everything." This information is tallied each month in a Google spreadsheet that surpasses 700,000 rows of data.
Kanbe's doesn't rely solely on food donations: They also purchase – sometimes discounted, sometimes at full price – from wholesalers and local farms, taking whatever the growers couldn't sell to restaurants or at farmers' markets. This summer, the Kanbe's coolers were stocked with vibrant jalapeño, cayenne and habanero peppers from BoysGrow and microgreens from City Bitty Farm in southeast Kansas City.
"There are people who are food- and health-rich, and there are people who struggle every day with health and food resources. And there are people like Max and [organizations like] Kanbe's, working to bring food resources to people who need them," says City Bitty owner Greg Garbos. "The last 18 months have taught us so much about food, water, shelter and health. The future of food needs agents of change – it's that simple. And Max is an agent of change."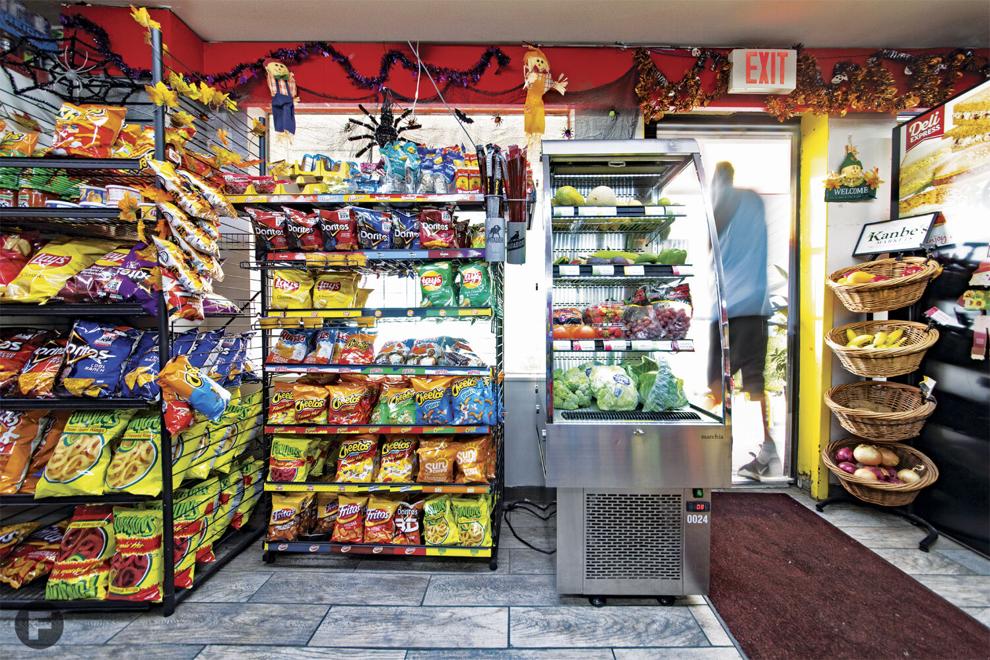 In 2021, Kanbe's will spend more than a quarter million dollars on food, the majority of which goes back into the local community. Kaniger's dream, he says, is to offer a "safety net" to farmers and community growers – to provide a reliable way for them to get top dollar for what they're selling. He's got a plan for that, too, and much more. Today, there are 43 participating locations in the Healthy Corner Store program, giving more than 200,000 people access to fresh produce within a half mile of their residence – and that's just the beginning.
"There's that connection to a place that, when you're from there, you can see it differently than someone else ever could," Kaniger says. "It's the same here in the east side of Kansas City. People who live there, who were born there, can remake their own neighborhoods. The privilege I've been given allows me to create a system that helps them thrive – or at least isn't stopping them. The people we're helping don't need our help – they need a fair playing field so they can help themselves."
Of course, the pandemic changed everything.
"All the issues that COVID brought already existed – they just became harder for us to ignore," Kaniger says. "My phone was blowing up from all different places wanting and needing help. People were supposed to be in lockdown, so there was more of a need for us to have corner stores with healthy food options, and there was a need for us to grow that program quickly."
To meet demand, Kanbe's Healthy Corner Store program jumped from 12 participating stores to 40 in 2020. That meant hiring more staff: Between March and April last year, Kanbe's went from five employees to 15. And there was plenty of work.
"We took 10 pallets' worth of food to [an east Kansas City] church, and it was gone in 15 minutes. You couldn't move fast enough, and when it was gone, there was still a line of hungry people," Kaniger recalls. "Knowing that we're part of the solution is great, but seeing how much help is still needed is hard. We're a small team. No matter how much we did, more help was needed."
When the USDA introduced the Farmers to Family Food Box Program – where wholesalers receive funding for every box donated to a nonprofit – Kanbe's went from processing 20,000 pounds of produce a month to sometimes processing that much in a single day on days when volunteers were plenty.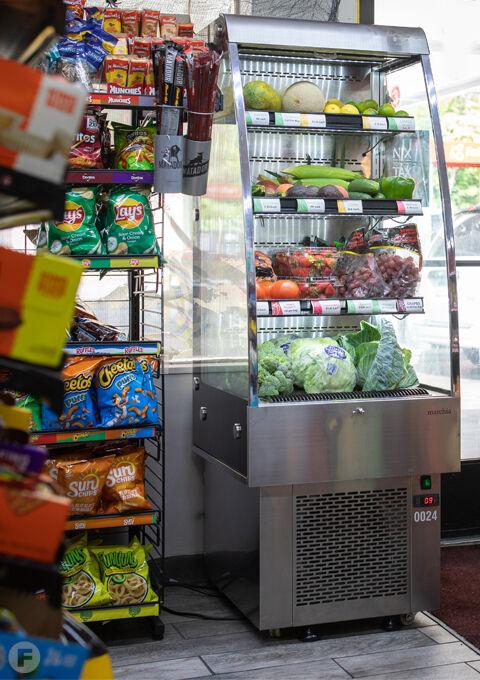 "The nonprofits that they were trying to donate to didn't have the ability to receive the same amounts as big-box stores, so we started working with them as a drop point, as the middle man," Kaniger explains. "Instead of worrying about getting one pallet of food to a place, wholesalers could come here and drop 26 pallets. That meant we were partnering with more organizations."
One such organization was Chef Collective KC, a COVID-19 effect that converted local restaurants into community kitchens. Those kitchens received produce from Kanbe's and created nutritious, affordable boxed meals that were then distributed to local nonprofit agencies. Michael Foust, the former chef and co-owner of The Farmhouse and Black Sheep + Market in Kansas City, parked Ethel – the vintage airstream that he converted into a food truck – in the Kanbe's lot, and during the pandemic, he'd make upwards of 500 meals a day and donate them to local organizations.
And Chef Collective was just one of almost 60 organizations that were on Kanbe's delivery list. Kaniger was also approached by the Mid-America Regional Council to assist with distribution of their frozen meals, along with fresh fruits and vegetables.
A home delivery meal program is Kaniger's next idea. The Kanbe's warehouse space has the bones – and plenty equipment – for a commercial kitchen; Kaniger is exploring what it will take to make it functional again. He'd like to hire a chef, train a staff and see if Kanbe's could create up to 100,000 nutritious, high-quality meals a month. Gesturing toward the empty spaces, walls and storage piles, Kaniger outlines a prep room, a dishwashing area, a space for repackaging.
In the meantime, he has Ethel, on loan from Foust, who has since relocated to Pittsburgh. When she's not in use, Ethel is parked in an area of the warehouse that Kaniger has temporarily sublet to another company, surrounded by filing cabinets and boxes. "For now, it helps keep the lights on," Kaniger says.
By 2026, Kaniger believes that Kansas City could be the first city in the country to eliminate food deserts, and he's well on track to see that goal through. He has a growth expansion model in mind, and at the moment, he's thinking through what a partnership with Kansas City Public Schools or other regional agencies could look like. Why not serve meals at bus stops?
"Over the years, we've built this centralized – but fragile – food system that has made some things affordable for some people," Kaniger says. "I think people are ready to build a more robust and resilient food system, and I think we're the missing piece. We're the thing wholesalers can donate to in volume, which is what they're looking for, and we can then get that produce to the neighborhood mom-and-pop shops that can't afford to purchase in bulk. We don't need to build new stores or a customer base – the food is there, the infrastructure is there. At the end of the day, the people we are trying to serve are the solution. All the pieces of the puzzle are in place."
And Kaniger loves puzzles.
Kanbe's Markets, kanbesmarkets.org