When Nolan and Susan Dees were first dating, they daydreamed about someday owning a business together. Now retired empty nesters, the couple made that dream come true a year ago by moving from Texas to Kansas City to open the stylish Vested Coffee in the former Scratch Bakery space downtown.
Vested serves beans from Onyx Coffee Labs, a popular roaster out of Northwest Arkansas where their daughter went to school and their son-in-law worked while he attended college. They had an immediate connection to the brand and the owners.
"We felt like we had family ties to Onyx Coffee Labs because of our son-in-law, who made the first phone call to them on our behalf, but honestly the folks at Onyx treated us like family right from the start, teaching us all about the coffee industry and how to work all of the equipment to ensure quality and consistency," explains Susan. "Now, we send every member of our team to their office in Arkansas to be trained on the how to make the perfect cup every time."
Soon after they celebrated their one-year anniversary at Vested Coffee, the Dees decided to temporarily close their shop to keep their employees and customers safe during the COVID-19 pandemic. With most of their clientele coming from surrounding office buildings and businesses downtown, they also didn't see the point of staying open while many were working from home.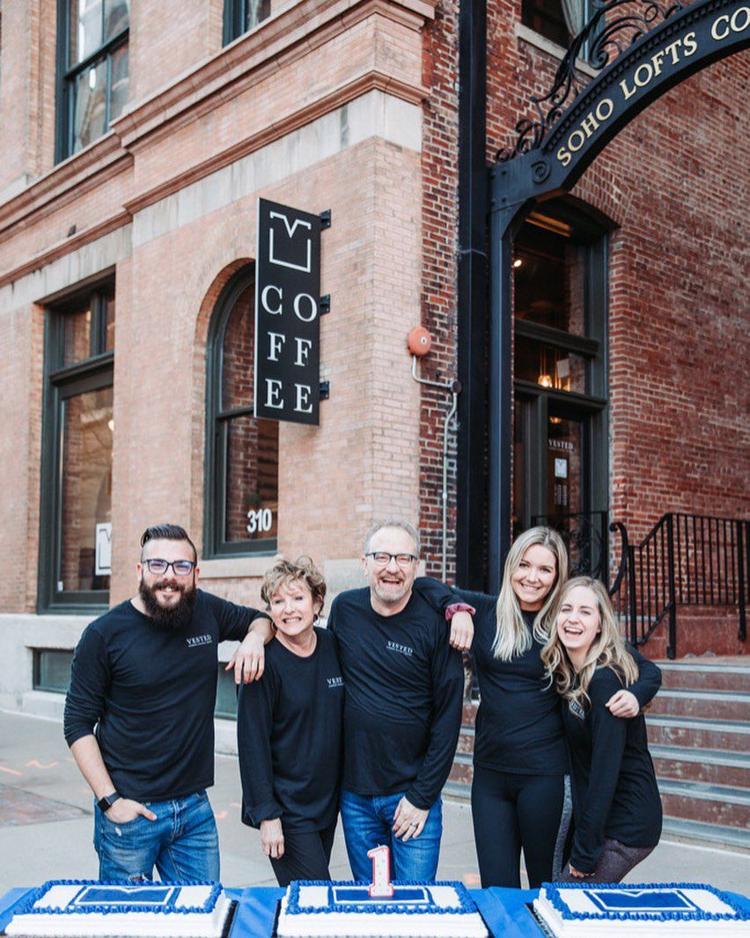 After three weeks, Susan received a called from the owners of Onyx Coffee who told her they were managing to keep their own coffee shop open for carryout only by turning an old window into a walk-up window. That simple idea stuck with her and, as of last weekend, Vested Coffee is back open for carryout-only business serviced through a window guests can access via the front patio.
"As soon as he mentioned using a front window as a walk-up window, I knew that would be our ticket to reopening and being able to safely serve our guests our full array of coffee drinks and some of our food offerings too," Susan says. "It took some doing; our coffee shop is in a 130-year-old building, and we must have scraped off hundreds of layers of paint to get the window to open, but now our patio is now home to our walk-up window and business has picked right back up."
Susan and Nolan soon discovered that many of the people who work downtown also live downtown; as soon as their regulars realized they had reopened, plenty of familiar faces returned. They have also seen some new ones from people who live downtown who are just discovering Vested Coffee. Most mornings there is a perfectly spaced line of happy customers social distancing for a cup of caffeine.
The Dees chose the location  because of the area's history – it was once one of the largest garment manufacturing areas in the country, second only to New York in the early 1900s.
Even the name they chose for their shop is also a nod to the clothing that was once manufactured in the blocks surrounding their location. The couple also opened their business with the intent to literally invest, furnish or endow – the very definition of the word "vested" – the neighborhood with a warm, welcoming spot to get a great cup of coffee and a smile from Susan.
Vested Coffee is also committed to giving 10 percent of its earnings back to various nonprofits and organizations in an effort to invest in the city Nolan and Susan now love and call home. Check the shop's social media pages to see where that donation is going week to week.
Vested is currently open temporary hours from 7am to 1pm seven days a week, serving everything from pour-overs to favorite barista specialty coffee drinks. The shop continues to offer a fine selection of baked goods from Scratch Bakery along with a breakfast burrito to-go. When the dining room officially reopens and the shop is staffed back up, Vested will resume carrying Overland Park's Geo Pressed Juice and its popular panini sandwiches, which have been put on hold for now.
"The hardest part for me has been learning to provide hospitality without the hugs, as I am a hugger," says Susan. "When I ask my guests how they are doing, I really mean it, and I hope they are truly doing well during this time."
Vested Coffee, 310 W. Eighth St., Downtown, Kansas City, Missouri, vested.coffee