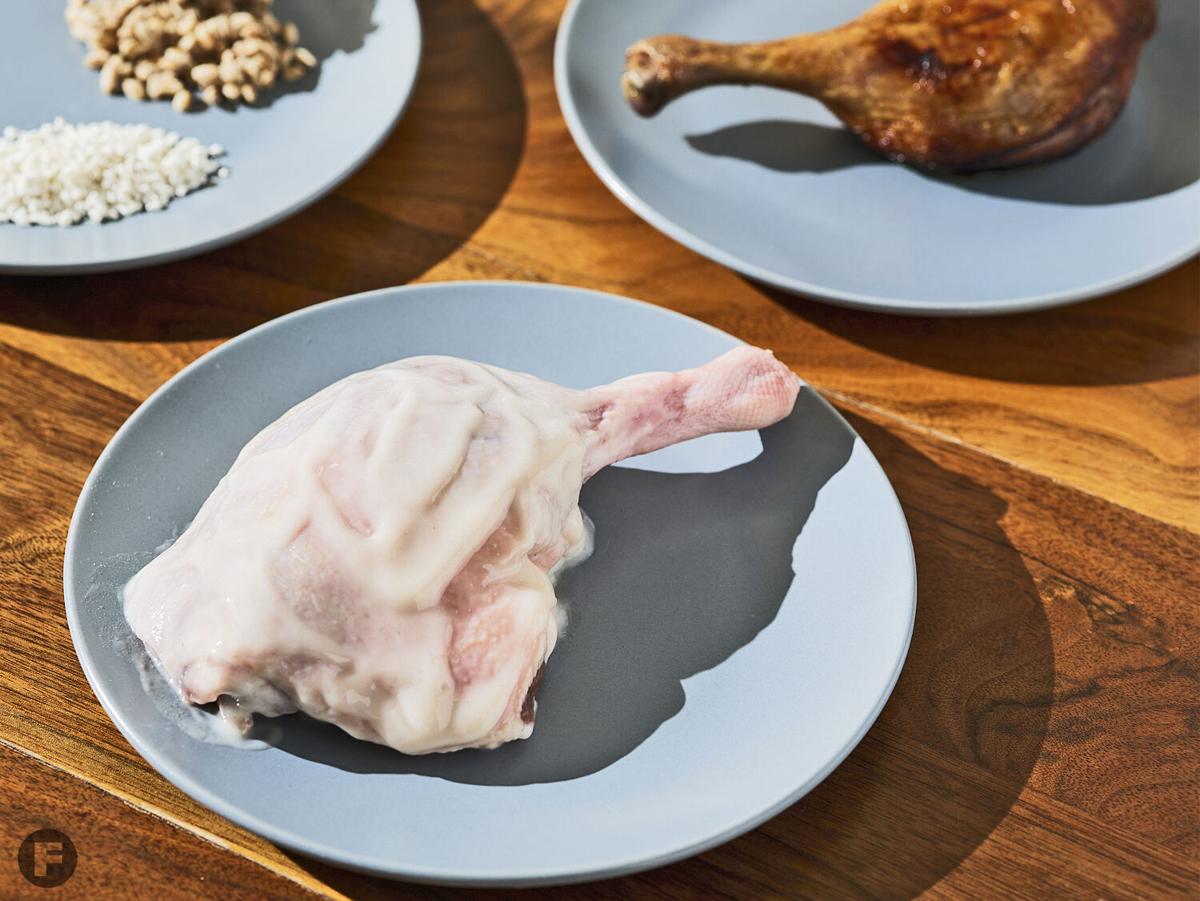 You might not want to think about mold when you sit down to eat, but it's an important part of items you likely enjoy on a regular basis, including cheese, pickles, smoked meats, ketchup, soy sauce, beer and wine.
Koji, Japan's national mold, has been used for centuries to add a unique umami flavor to sauces and dishes. Mold spores are grown on a grain – often barley or rice – and break down the grain's enzymes as it ferments; this is how soybeans become soy sauce and rice becomes sake.
Today, chefs across the globe continue to push the limits of fermentation in fine dining, and these four are increasingly using koji to pump up savory dishes at their reputable restaurants right here in Missouri.
The Antler Room 
Nick Goellner, chef-owner of The Antler Room in Kansas City, first worked with koji at a restaurant in San Francisco. Later, as an intern at Noma in Copenhagen, he learned how to grow it. "If you make sure that you're doing everything properly, it's actually not that complicated," he says. "You just need to make sure that you have the right environment for what you're making." When he returned to Kansas City a few years ago, Goellner used koji to cure Aylesbury duck, paired with a fermented plum sauce, and he says guests can recall that dish to this day. He often uses shio koji, which is a liquid application, as well. More recently, The Antler Room served a dry green pea miso and used koji to "age" lamb. "You can't come into this restaurant over the course of three months without [experiencing] koji [in some form]," Goellner says. "I have some shio koji in the fridge right now; I have rice koji and corn koji in the freezer. We're never far away from using koji on something."
The Antler Room, 2506 Holmes St., Longfellow, Kansas City, Missouri, 816.605.1967, theantlerroomkc.com
The Town Company
At The Town Company inside Hotel Kansas City, executive chef Johnny Leach offers a decidedly Midwestern take on traditional koji. Leach smokes local sunflower seeds before inoculating them with koji spores and leaves them to ferment for a month; the fermented seeds then become the base for the sunflower miso dressing on The Town Company's spinach salad. "It's a creative way of getting the same umami flavor from an ingredient that's really local and readily available," Leach says. "It's listed as just a green salad, which I think people don't look at as the most enticing dish to order off the menu, but when they do, they're incredibly pleased." Leach has also experimented with peanut miso and chickpea miso using a similar process.
The Town Company (inside Hotel Kansas City), 128 W. 13th St., Kansas City, Missouri, hotelkc.com/dine/the-town-company
Indo
In St. Louis' Botanical Heights neighborhood, Indo is known for its exquisite seafood-focused menu with both Japanese and Thai influences, but chef-owner Nick Bognar has also created a steakhouse-worthy rib eye using koji. By marinating the meat in a koji mixture, Bognar is able to mimic the flavor of a 60-day dry-aged steak in two or three weeks. "Koji accelerates the dry-aging process and offers this really wonderful, interesting umami flavor to make this awesome product," he says. Bognar paired the koji-aged steak with mushrooms and katsuobushi (dried bonito flakes) to complement the subtle funkiness of the beef. During the COVID-19 pandemic, Indo has switched its menu to approximately 85 percent seafood, but Bognar knows he'll use koji in the future – perhaps to brine scallops. "[Koji] dries out the scallops, taking away some of their water content," he says, "so you get a denser, more delicious scallop that caramelizes really well."
Indo, 1641 Tower Grove Ave., Botanical Heights, St. Louis, Missouri, indo-stl.com
Progress
In 2017, Daniel Ernce, chef and co-owner of Progress, gained a deep understanding of koji while working at Restaurant 108, a now-shuttered sister restaurant of the legendary Noma, in Copenhagen, Denmark. "Having access to some really smart people and techniques and seeing the process of making koji was enlightening," Ernce says. On Progress' current menu, Ernce uses koji to marinate a 2-pound Newman Farm pork collar. "When we started building the rub for it, we really tried to avoid traditional barbecue rub [flavor] profiles," he says. The koji is combined with fennel, black pepper, orange, coriander, cinnamon, bay leaf and ground chives to dial up the umami flavor. "We're not trying to be super heavy-handed about it," Ernce says about using koji in his kitchen. "We're just trying to use it in ways that make sense and in ways that contribute to the dishes themselves. It's just another tool in our toolbox."
Progress, 2144 E. Republic Road, Springfield, Missouri, 417.799.9388, springfieldprogress.com