After a year spent grounded from vacations due to a global pandemic, it's hard not to fantasize about traveling again and all of the good meals that lay ahead.
Blu Hwy, a new restaurant, bar and patio opening this summer in the former Black Dirt space on south Main Street in Kansas City, will help scratch that travel itch. The culinary experience is meant to evoke the collective love and nostalgia for the food and freedom found on an American road trip.
The pandemic may have slowed activity to a crawl outside the corner restaurant that had been sitting empty on the ground floor of 51Main – the $40 million apartment and retail development located on south Main Street – but inside, a small team of construction workers, architects, developers and operators have been quietly taking the interior down to the studs. They're ready to re-create a new legacy for a restaurant, bar and patio that promises to serve as an exciting new escape this summer.
Kansas City-based restaurateur James Taylor, who owns and operates La Bodega on Southwest Boulevard and El Royale, the taco pub soon-to-open next door, is behind the new indoor/outdoor restaurant concept. 
An American culture buff at heart, Taylor loosely based the idea for his road-tripping restaurant on the 1982 book Blue Highways: A Journey Into America. He pulls from the book – along with his own travels – to serve as his road map for not only the look and feel of the restaurant, but also how it will operate and what it will serve in this new world order.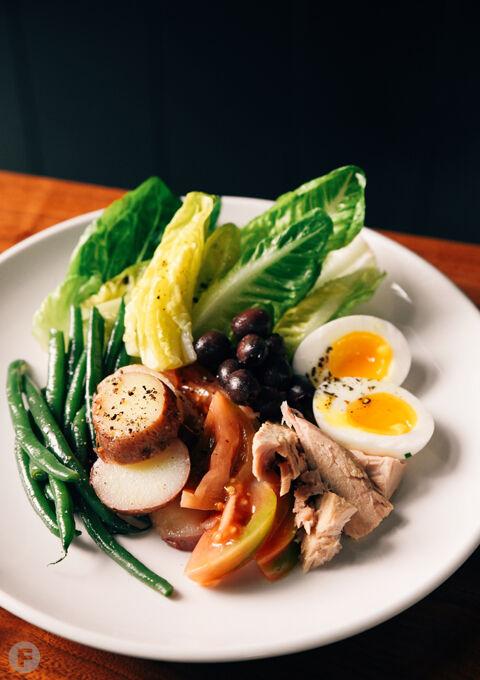 "Blu Hwy is about the familiar food you enjoyed eating on a long family car trip while on vacation, but it is going to be more than just the cozy truck stop diner food," says Taylor. "Blu Hwy, at its core, is meant to represent American cuisine as it exists today – not as a single, unmoving, defined thing, but as a seasonal, ever-changing melting pot of influences and flavors." 
Chef Dan Swinney, culinary director for Taylor's restaurant group, and executive chef Daniel Walker have been busy creating a menu that takes you from one side of the country to the other, using only the secondary roads, or blue highways, as the inspiration for the mashup of dishes.
Taking culinary cues from regional American specialties, the menu moves from Southern-style biscuits with honey-chile butter to East Coast corn chowder and lobster bisque to nostalgic hotel-inspired dishes like crab Louie toast, jumbo shrimp cocktail and Caesar salad. You'll also find truck stop diner specials like a suspiciously familiar take on a fast food burger that comes with two all-beef patties, special sauce, lettuce, cheese, pickles and onions on a sesame seed bun, plus fries, milkshakes and a good old-fashioned Monte Cristo sandwich.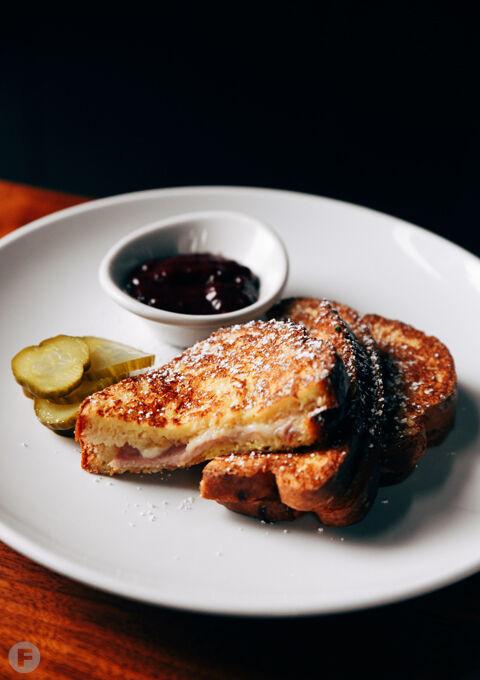 Those looking to make a family meal can opt for the whole roasted chicken or trout, salmon or short ribs. Paired with a selection of fresh, craveable vegetable sides, these large-format dishes are enough to feed two to four people.
The menu may seem a little all over the map, but Taylor explains that there are purposeful continental influences on the menu at Blu Hwy as well.
"The way I describe the menu is a Frenchman, an Italian and a Spaniard decide to go on a road trip across America, stopping to shop in each town for local produce and protein to prepare simple but delicious American dishes using only a few ingredients along with some 'must-have' spices they brought along to flavor each dish," he says.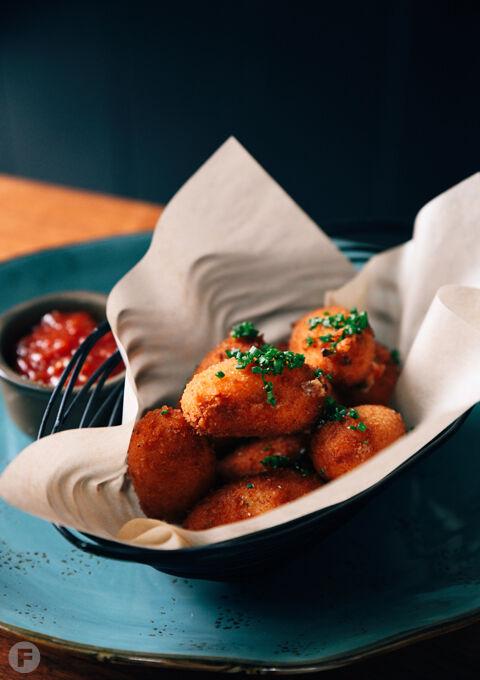 North American and European food traditions do come together on the menu in dishes like ham and cheese croquettes, fried chicken drummies with chimichurri sauce, tuna niçoise salad, French-inspired confit duck leg – cooked until crispy then brushed with Nashville-style hot sauce – Italian gnocchi with sausage and fennel, Spanish octopus with chickpeas and roasted quail stuffed with pimento cheese. It all makes for an approachable menu that sounds like it has something for everyone to enjoy.
On the drinks side, expect to see a cocktail list of about 10 drinks currently in the works now. Guests can look for a few classics, like an Old Fashioned and an infused vodka Martini, alongside some patio pounders perfect to enjoy on a warm summer day – think an adult version of a cherry coke, served with a small bottle of Mexican coke to top it off.
There will also be a selection of beers from across the country in addition to a 100-bottle wine list that will float between European old vine selections and those produced by boutique American vineyards.
As for the restaurant space itself, the dining room and bar area inside of the original Black Dirt restaurant never captured the total vision owners Camille Eklof and Jonathan Justus had for the space – except for when it came to the spacious kitchen, which Taylor plans to leave as is.
The rest of the restaurant has been scrapped, and the walls have all come down to reveal a completely open floor plan, with only a short wall separating the bar area from the dining room. The U-shaped bar will be turned to face east and west instead of its original north and south orientation. This will allow for a sliding glass wall to open up, creating a walk-up outdoor bar on one end to service the outdoor patio. There will also be a walk-up window for carryout and delivery drivers to collect food to-go.
Décor-wise, guests can expect to find various shades of blue as the dominate color with a sassy retro-style sign outside that has a cheeky mid-century Holiday Inn feel to it. Inside the dining room, on one wall Taylor plans to recreate a graphic used to promote the Blue Highways book, which features a yellow map of the U.S. with blue highways criss-crossing it as seen through the windshield of a car. Continuing the theme, in the bar area, the curved wall is being kept and on it will go donated old photographs of family road trips that Taylor is currently collecting and curating.
The patio itself is being expanded, bringing some much-needed energy to that corner. There will be additional seating in front of the restaurant on the patio and down the side of the restaurant on the sidewalk. After all, if there is one thing Taylor knows, it's the power of making a sidewalk patio work for you – especially during a pandemic. He is also considering eventually adding a food truck-style walk-up window on the Main Street side of the restaurant, with a bar height rail where people on their lunch break could pick up something quick.
There are a lot of moving pieces to this restaurant, but with as much outdoor seating as indoor seating, and a food and drink menu where guests will be able to choose their own adventure, the proof of concept will be in the execution. After years of running restaurants, it is safe to say Taylor knows what people want when they go out to eat. 
"At their best, restaurants are supposed to restore the soul, while at the same time transporting you to a different place. They are places where you should feel cared for and looked after, a place where you can kick back, talk with friends, eat a little, drink a little and just enjoy yourself," says Taylor. "With La Bodega, we created the opportunity for people to take a mini vacation to Spain. With Blu Hwy, we want to take people on a mini American road trip, picking up culinary influences along the way and mixing them together into creative and inventive dishes that are approachable and comforting but still sound delicious to all."
Blu Hwy will initially open for carryout and delivery, then quickly move to offering a happy hour bar menu from 2 to 5pm. Dinner will be available Wednesday to Sunday from 5 to 10pm, with extended hours until midnight on weekends. If that goes well, two weeks later Blu Hwy will open seven days a week. Eventually, Saturday and Sunday brunch will be available from 10am to 2pm.
Blu Hwy, 5070 Main St., South Plaza, Kansas City, Missouri, facebook.com/bluhwy