After almost a year operating their cozy East Crossroads tasting room, bar and distillery, Mean Mule Distilling Co. owners Jeff and Meg Evans and Patrick Little have added some serious elbow room to the operation. The Crossroads distillery has expanded into the space next door, adding a larger event space to its offerings with Agave Lounge.
The couple was offered the space by their landlord in the fall when Hutch, a retail furniture store out of Omaha, Nebraska, closed its doors, leaving the space next door to their tasting room vacant.  
"We were originally offered both spaces when we were first looking for a home for Mean Mule, but at the time we knew there was no way we needed that much space for our distillery and tasting room," explains Meg. "It seemed like way too much space to take on all at once, but now we can see the need for having a larger, more flexible space to host private events."
Try the Agroni, a Negroni made with the agave spirit.
The team got creative in figuring out ways to create different social areas within the space. Meg had her brother make some decorative moveable walls on wheels that help break up the space, and huge canvas curtains have been hung to help soften the room, which already has an open loft-like feel to it with cement floors and painted brick walls.
With room to host 120-person standing cocktail events, Agave Lounge has been booking events since the beginning of the year, adding designer elements to their new event space during the winter.
"We found this awesome cocktail bar online that had been placed in a barn on a farm in Missouri, and when we went to see it in person, I had to have it," Meg says. "It has these amazing brass rails with horse heads holding the rail in their mouths, a detail that took a lot of work to clean up but was so worth it now that it is sitting in the lounge."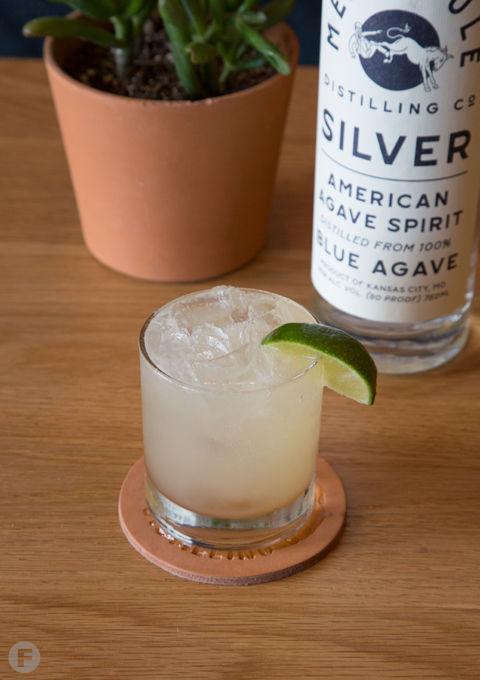 The front of the space has a mural painted on the wall, along with cocktail tables, low lighting and booth seating that is similar to the décor in the tasting room next door. The middle of the space features two large farm tables (a perfect spot to arrange catered appetizers) and the bar is located toward the back of the space. Mean Mule staff can batch cocktails next door in the tasting room and then serve them on tap for large parties in the lounge next door.
There is a small patio located in the back of the space where an outdoor firepit and chairs will eventually be placed, as it sits on one of the most unique and colorful alleys in the East Crossroads, full of amazing graffiti art.
"We can fit twice as many people in the Agave Lounge as we can in the Mean Mule tasting room next door," says Meg. "My goal is to host, in addition to private parties, more community events, art and craft shows featuring local artists in the space."
Coming up on March 7 from 11am to 2pm, the Agave Lounge will host a wellness-centered bridal party. Designed for brides and their bridal party, the event will bring together an amazing collection of Kansas City bridal vendors for a day of pampering. The event is totally free to attend, but guests will need to register ahead of time at Eventbrite. 
The morning will start with a little sweat with a class from Pure Barre Zona Rosa, followed by tasting tonics and treats while speakers discuss mental health in the midst of transition. There will be floral arrangers and bridal gowns in addition to a host of other wedding vendors, all with their products and services on display.
More information about booking the Agave Lounge can be found on the Mean Mule Distilling Co. website.
Agave Lounge, 1735 Locust St. Crossroads Arts District, Kansas City, Missouri, 816.787.1846, meanmuledistilling.co/the-agave-lounge