For Taylor Petrehn, a three-time James Beard Award semifinalist for Outstanding Baker and owner of 1900 Barker Bakery and Café in Lawrence, Kansas, it's time to make the donuts.
The talented baker and pastry chef has announced his plans to convert the College Corner Laundromat located on the corner of 19th and Louisiana – across the street from Lawrence High School – into Taylor's Donuts this summer.
With both 1900 Barker and Taylor's Donuts, Petrehn has chosen to repurpose old laundromats to open his local pastry shops, which begs the question: What is it with this young chef and old laundromats?
"Contrary to many assumptions, laundromats really aren't my thing," says Petrehn. "It just happens that both places were buildings I wanted to preserve, in areas I enjoy and want to doing business in, and both have just happened to be laundromats."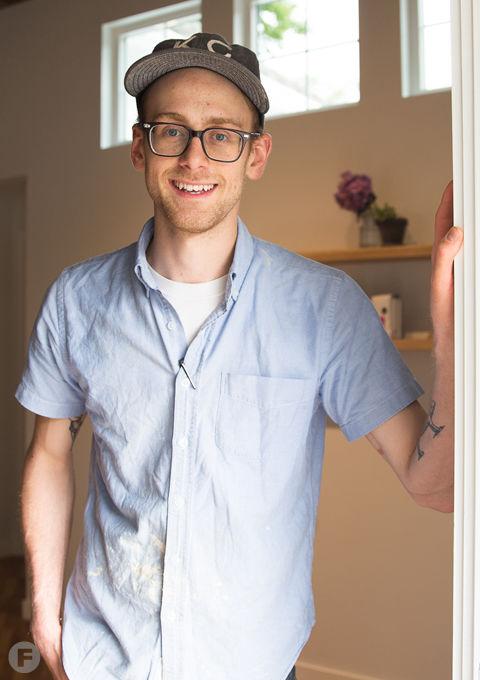 Petrehn says these spaces are typically the right size and located in desirable neighborhood locations. "Renovating laundromats has a lot of challenges that come with it – zoning, city regulations, extensive redesign and beefing up the building's infrastructure, and all of that is part of the process for me and it sort of glues my heart to the project in a way that a turn-key building just wouldn't," he says.
Petrehn says Taylor's Donuts will be very similar to 1900 Barker in that it will serve as a neighborhood corner store – just with hand-crafted donuts instead of heritage grain breads and pastries. Taylor's Donuts will also have a much larger kitchen, allowing more opportunities for his employees to stretch out into the new space and create new and exciting pastries for 1900 Barker in addition to the donuts they will make fresh daily to fill the shelves.
"A lot of the idea behind this project for me is to help create sustainability in what we have built at 1900 Barker," explains Petrehn. "I want to be able to promise my employees that they could thrive off the opportunities that we have here and 1900 Barker can't do that by itself – it's just a little too small. With Taylor's Donuts added to the mix, we'll be able to create new management positions and have opportunities for our team to grow with us."
As an avowed donut-lover himself, Petrehn says Taylor's Donuts will feature both cake donuts and sourdough, brioche-style donuts he calls "yeasties," made from identity preserved grains. Expect to see around a dozen different types of donuts daily, with a little over half being classic flavors. The rest will push out beyond the basics and will rotate depending on the seasons and the staff's creative whims.
As for coffee, Petrehn plans to to keep things simple and efficient with draft lattes on tap and classic batch-brewed coffee. Eventually, he plans to serve serve soft-serve ice cream, anticipating an after-school crowd in the fall.
For right now, the chef and his contractors are in a holding pattern on the donut shop. Petrehn has been here before and knows patience is his friend at this point in the process.
"We're currently waiting on a few things to pass at the City of Lawrence that are tying up our building permits at City Hall," he says. "After that, we will still have a fair amount of the buildout to finish on the space before we can start actually making the donuts."
As the process unfolds, Petrehn looks forward to discovering his new favorite donut.
"Our donuts will be revolving and always delicious," he says. "Just like at 1900 Barker, there will be a huge emphasis on quality and process and that will make what I anticipate will be my favorite donut."
Taylor's Donuts, 1827 Louisiana St., Lawrence, Kansas, facebook.com/taylorsdonuts