Perched atop the new Reverb Apartment complex located at 18th and Walnut Street sits The Mercury Room, a new otherworldly cocktail lounge ready to take Kansas City on a sensory trip.
The Mercury Room is owned by Exit Strategy, which includes David Manica, Christian Moscoso, Dominic Petrucci and Brock Schulte. The group famously brought Kansas City The Monarch Bar in the West Plaza and also owns Verdigris in Leawood's Park Place shopping center.
After being greeted in the apartment complex's lobby, guests take an elevator to the 14th floor to find an 800-square-foot space that can seat 28 guests (the space is currently seating just 14 in keeping with the city's current COVID-19 ordinances).
The main bar area as well as the small outdoor patio offer floor-to-ceiling sweeping views of the entire downtown skyline to the north. Although it is the group's smallest bar to date, it has a warmth and coziness that makes it completely inviting.
The décor starts with over 9,000 LED lightbulbs strung across the ceiling to dazzling effect far above the shiny black floors, which gives guests the feeling that they are floating in space. The visual impact is only enhanced with a combination of floor-to-ceiling windows and reflective mirrored walls, bar and table tops.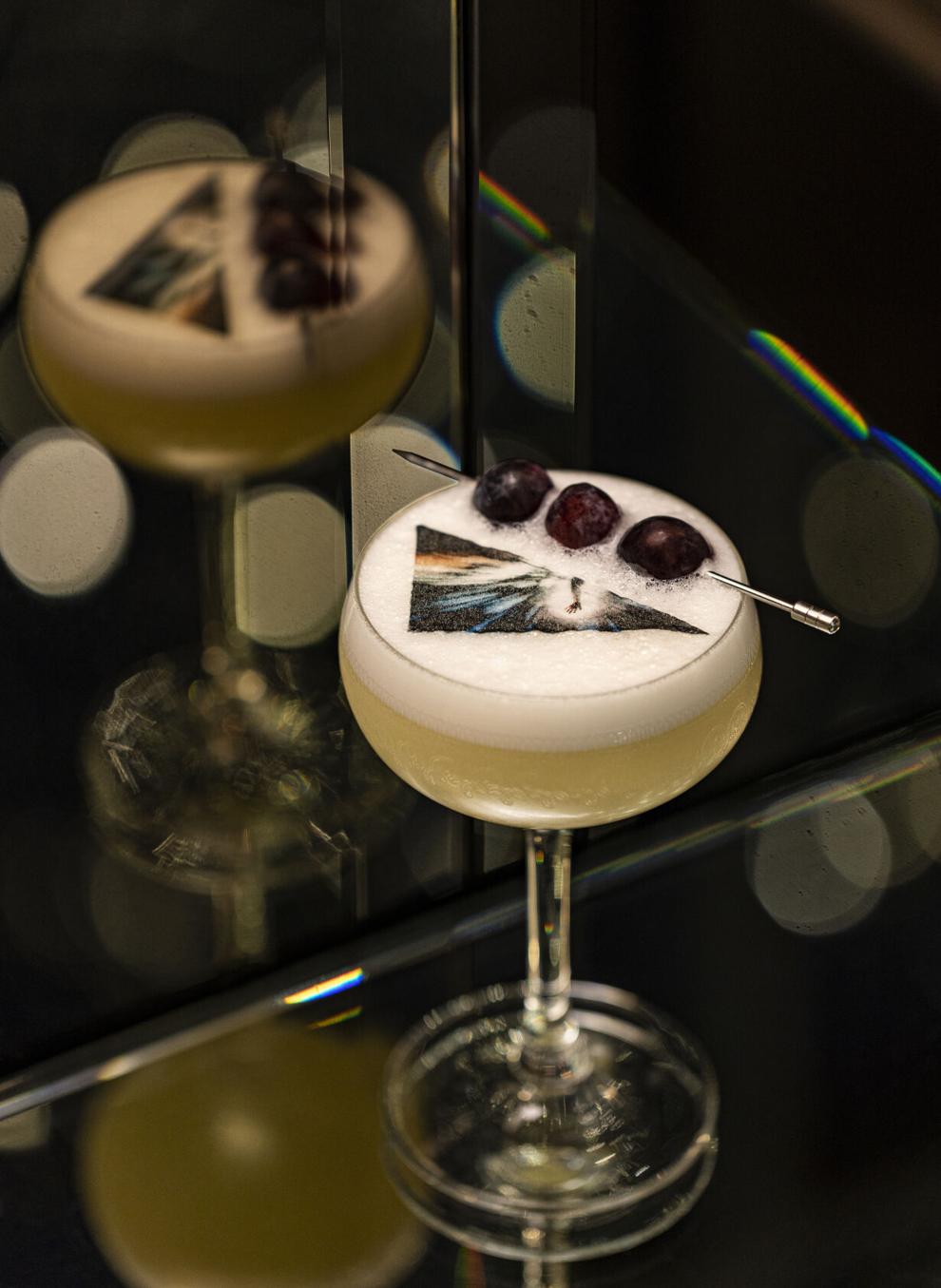 "With The Mercury Room, we took the color of liquid mercury – reflective metallic silver – and built our bar around shades of gray to keep the focus on the view," Schulte explains.
The team chose mercury as the theme for the bar as it is found in both chemistry and astronomy, and in ancient times was known as quicksilver, believed to be able to shift between liquid and solid states – which is exactly the experience their menu intends to deliver.
Every cocktail ordered at The Mercury Room cost $30 including tax and tip and starts with a nonalcoholic aperitif or elixir of fresh juice, followed by your choice of one of 10 to 12 creative cocktails on the menu. That is then followed by a small snack or bite of food created by chef Michael Covino of Corvino Supper Club & Tasting Room. Order another cocktail, and the whole process repeats again.
The only exception to the $30 drink menu is a single $52 drink, which also includes tax and tip. Lux Perpetua, the bar's highest of high-end experiences, is made with 18-year Japanese whiskey, oxidized Syrah, coconut sugar, mirin and bonito-infused Campari.
But this is not just another rooftop cocktail bar where you choose your own adventure. The Mercury Room takes guests on a cocktail experience that has a beginning, a middle and an end.
"We are purposefully creating an intimate, more tactile, cocktail experience for the guest," says Exit Strategy director of training Dominic Petrucci. "It is intended to be a slower and calmer cocktail experience, from the moment you are greeted in the lobby all the way through to the final toast. We are building a cocktail experience from the ground up for each guest, from our style of service to the way we craft and present each drink."
Dressed in striking white suits with white vests, the staff is discreet, quietly appearing and disappearing at your table ready to take an order or whisk away an empty glass. This level and style of cocktail service feels personal, and that, coupled with the views, makes the entire experience feel quite posh. But the combination of décor, drinks, food, service and views are definitely worth it for those who are looking for an experience and not just a drink.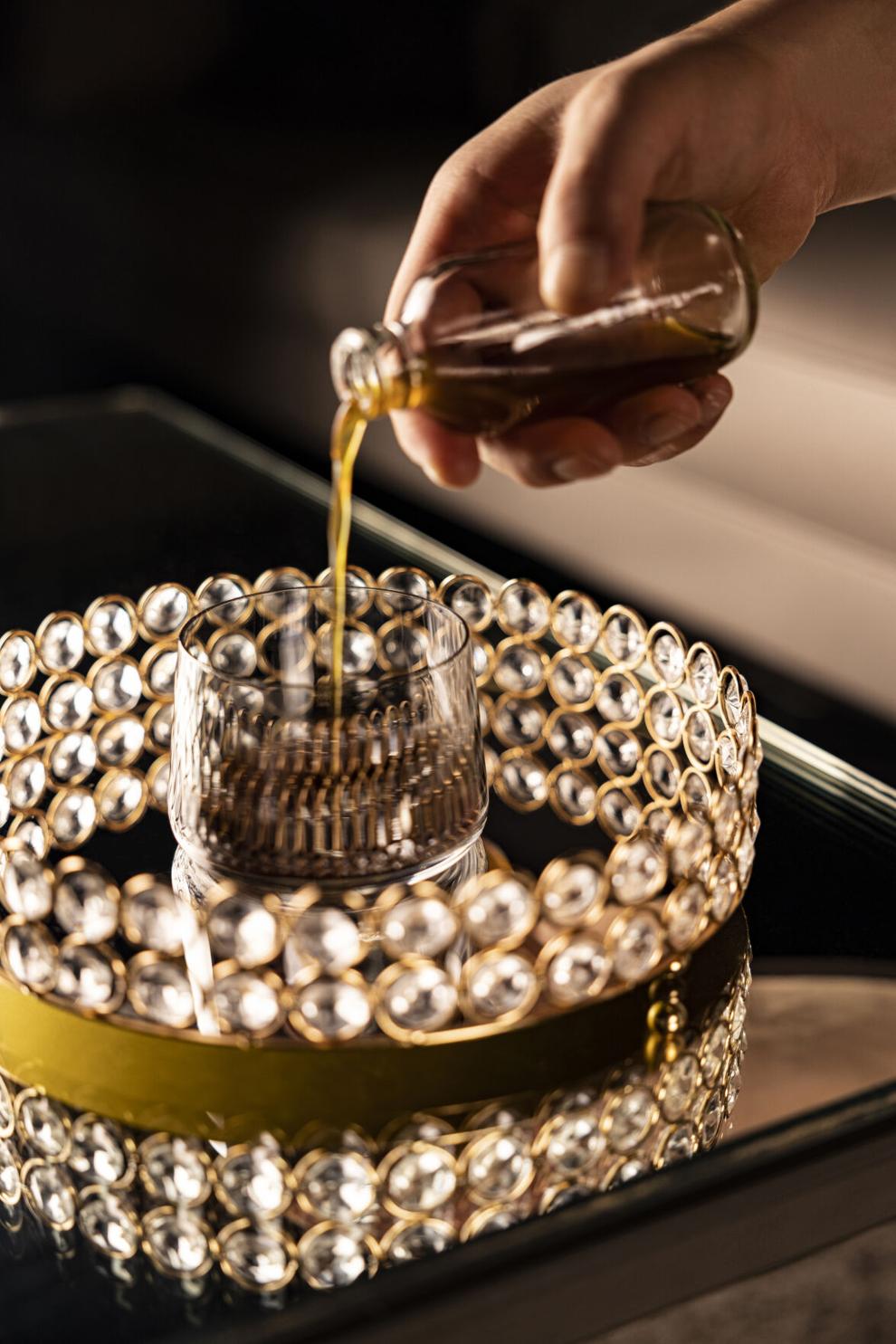 The elixir is the first thing served, and is made fresh depending on what is in season. This isn't just a juice shot to get you started, though; it is a mini flavor bomb. The first may be bright green, featuring flavors of celery, eucalyptus, star anise, Asian pear and fennel all in one shot. The next one might be electric orange made from delicious sea buckthorn (an orange seaberry that has been used for food and medicinal purposes for centuries) that has a creamy, sweet flavor.
The bites are served after each drink, and are not specifically paired with each cocktail, but are generally offered as an additional flavor enhancer and hospitality nod in your overall cocktail experience. You may be served a simple black garlic shortbread biscuit served on a silver skewer, or a pickled shiitake mushroom and a perfect square of nori brushed with caramel and sprinkled with bits of dehydrated apple. The bites are part of the overall experience and taste like something right out of Corvino's talented culinary mind.   
The cocktails may have intimidating names and ingredients, but simply quiz your server about the type of drinks you normally like and they can steer you to something on the menu that will be similar yet totally unique.
Through Sfumato, for instance, is made with private barrel whiskey, herbed Madeira, Spanish Fernet and acidulated demerara gomme served in a rocks glass over a big cube of clear ice, making for a satisfying slow sipper. By contrast, Rothko Palette, made with vodka, cane, lavender, honey-salted Galliano, burnt-clove molasses and rose quartz mist, is a flirty drink, bright greenish-yellow in color with a stripe of the molasses painted on the inside rim of glass that goes down way too easy.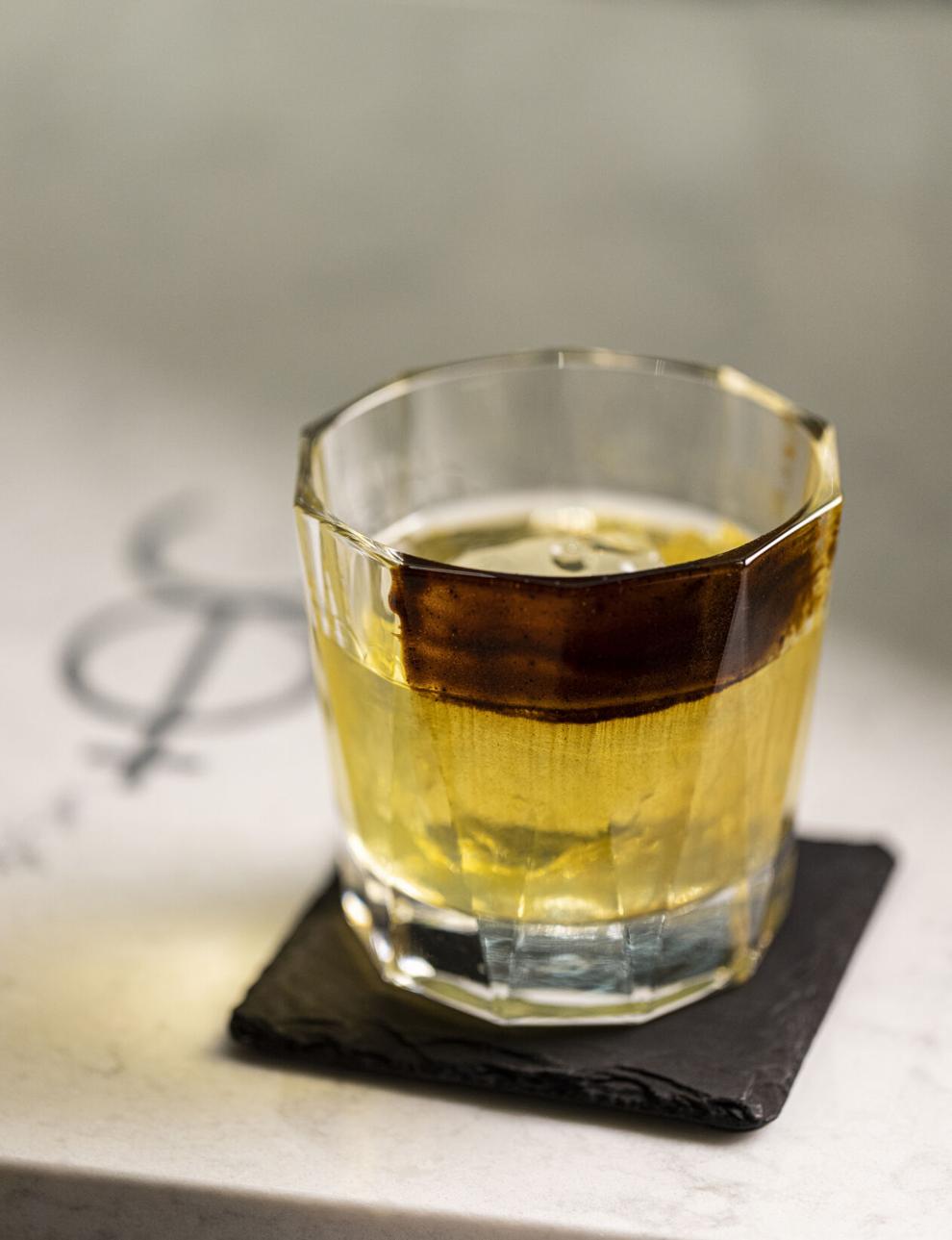 Bonbori tastes like a Martini that has been kissed by the sea, leaving a bit of pickled seaweed and an oyster behind as a gift. Sgrafitto, meanwhile, is a light, amber-colored fizzy affair made with reposado tequila, Oaxacan-spiced aperitivo, vermouth, epazote and grapefruit that is served in a tall Collins glass with a long stick of clear ice.  
One thing is clear: these are perfectly balanced, crafted cocktails made by professional bartenders at the top of their game who are having an awful lot of fun.
"We are playing a lot on this drink-first menu with texture and temperature of the cocktails we are serving, wanting to expand on those limitations," says Schulte. "The mouthfeel of our drinks is also something we want to explore."
That play on mouthfeel can be seen in the various garnishes found in the drinks and even in the housemade mineral water you are given to sip on in between drinks. It feels curiously heavy in your mouth, and because of that, never quite quenches your thirst.
However, things should feel different when you are floating among the stars, and that is definitely the experience intended at The Mercury Room.
The Mercury Room is open Tuesday through Saturday from 4 to 10pm. Reservations are mandatory and can be made via Tock. A $30 fee per person  must be paid to hold your reservation and will be applied to your total bill.  The dress code is "upscale smart, casual cocktail attire" with jackets required for men that is strictly enforced, so remember to come dressed to impress.
The Mercury Room, 1800 Walnut St., Suite 1400, Crossroads Arts District, Kansas City, Missouri, 816.896.8488, themercuryroom.com