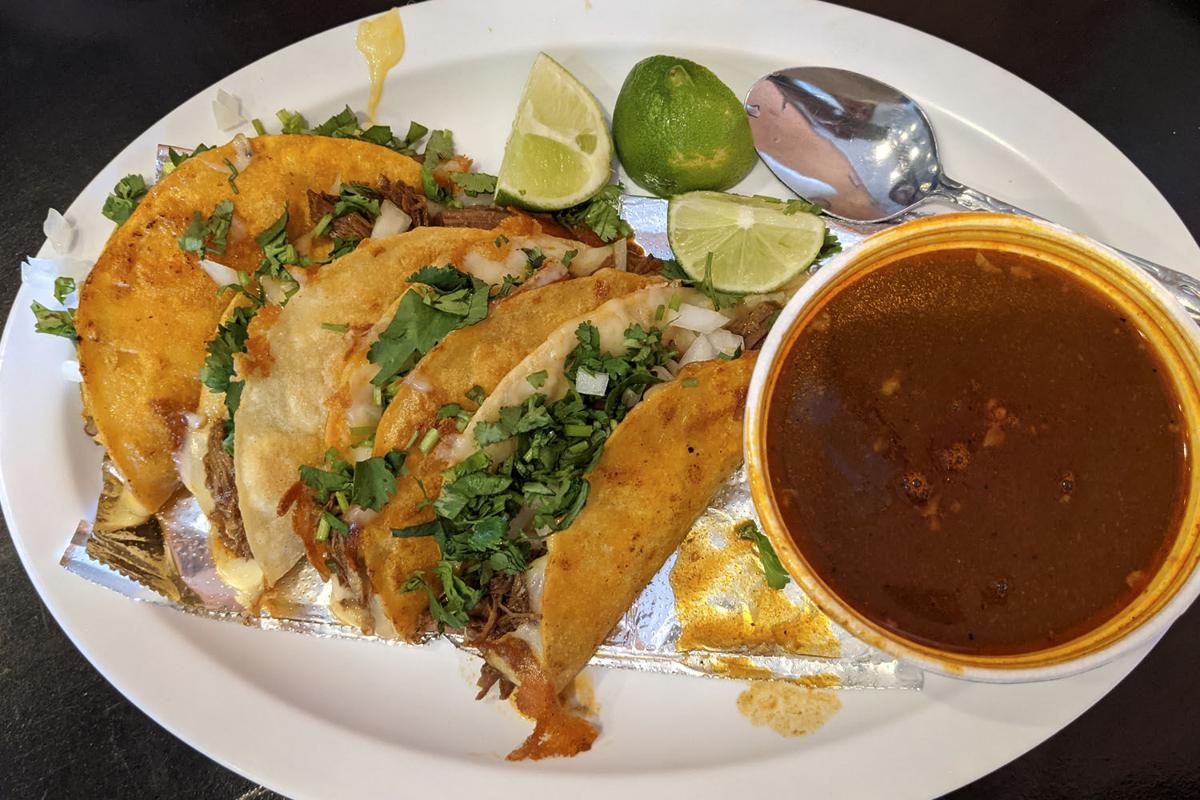 Quesabirria is taking the Kansas City taco scene by storm, bringing a traditional way of preparing meat together with something Midwesterners love: cheese. The irony of the term "birria" does not escape the many purveyors of the storied meat in the Kansas City metro area; while the term may translate roughly to "without value," the stewed meat will have diners feeling like royalty. The term "quesabirria" refers to traditional birria tacos stuffed with creamy white cheese, typically Oaxaca, Chihuahua or mozzarella. The tacos are then fried on a flat top to crisp up the corn tortillas – and the edges of your meat and cheese, too. Think of it as a cross between a quesadilla and a birria taco. Many times, the same juice the birria is stewed in is served on the side as a dipping sauce.
Here are just a few of the places you can hunt down this delectable Mexican dish in the Kansas City area.  
Cancun Fiesta Fresh
One of the more well-known spots for quesabirria is centrally located in Westport. Cancun Fiesta Fresh serves birria tacos dorados, or "golden," with mozzarella cheese to make the coveted quesabirria. The tacos come three to an order for just $12, with the traditional chopped onions and cilantro, as well as the consommé. The best part? You can get anything on the menu delivered.
Cancun Fiesta Fresh, 4019 Pennsylvania Ave., Westport, Kansas City, Missouri, 816.561.1166, cancunkc.com
El Menudazo
This little family-owned spot is known for its soupy lamb birria and menudo, so when they started serving birria in taco form, it was a hit. Try traditional lamb birria tacos con queso or stick with beef birria at El Menudazo. The corn tortillas are double-layered so that the exterior shell gets crispy while the interior shell stays soft. The tacos and consommé come with a bowl of fresh cilantro and onions so you can add as much or as little as you like.
El Menudazo, 904 N 18th St., Kansas City, Kansas, 913.449.1258, facebook.com/El-Menudazo-Kc-113668656720473
GG's Barbacoa Cafe
Flavorful birria meat is served with creamy mozzarella cheese, cilantro, jalapeños and red onions and stuffed into corn tortillas at GG's Barbacoa Cafe. Each order comes with four crispy quesabirria tacos for $9.25, or you can order them individually. This KCK spot is known for great service and a relaxed environment, but lesser known is that this is the only spot in the area to offer chicken birria in addition to the more commonly offered beef.
GG's Barbacoa Cafe, 210 S. Seventh St., Kansas City, Kansas, 913.562.8264, ggsbarbacoacafekc.com
La Pasadita
A family beef birria recipe has evolved into the special dish found at La Pasadita. The food truck offers a more modern take than the more traditional taco joints in the area, and the whole menu is based on the beef birria recipe. Customers can find birria tortas, burritos, loaded fries, pizza, noodles and of course, crispy, juicy quesabirria. Customers can snag five tacos stuffed to the brim for just $12.
La Pasadita, 16175 W. 135th St., Olathe, Kansas, 913.230.0848, facebook.com/lapasaditaOlathe
Taqueria Gordita 
Community is at the center of the tacos at Taqueria Gordita in the Iron District of North Kansas City. The braised lamb comes from Green Dirt Farm and gets wrapped in tortillas from Yoli Tortilleria before being topped with cilantro from MicrogreensKC. The dairy lambs from Green Dirt are leaner and milder than traditional lamb meat, the locally handmade tortillas are full of flavor and the whole operation serves up these thick tacos out of a 10-by-30-foot shipping container.
Taqueria Gordita, 1599 Iron St., Unit B, North Kansas City, Missouri, 64116, 816.226.7911, taqueriagordita.com
Tarahumaras #2
The quesabirria at Tarahumaras #2 are served traditionally with cilantro and chopped onion, but packed into the corn tortilla with perfectly slow-cooked beef and gooey cheese. When the loaded tacos are grilled on the flattop, both the tortilla and oozing cheese get crispy, readying them to be dipped in the hearty consommé loaded with meat – and flavor. The quesabirra are four for $12.99, and the consommé can be added for $1.99.
Tarahumaras #2, 503 N 6th St., Kansas City, Kansas, 913.912.7259, tarahumaras2.com