The airy, elegant Paros Estiatorio opened in Mission Farms in Leawood, Kansas, late last year and quickly earned accolades for its fresh, modern takes on Greek classics. Paros is a picturesque Greek island surrounded by dazzling turquoise waters, and "Estiatorio" is Greek for "restaurant."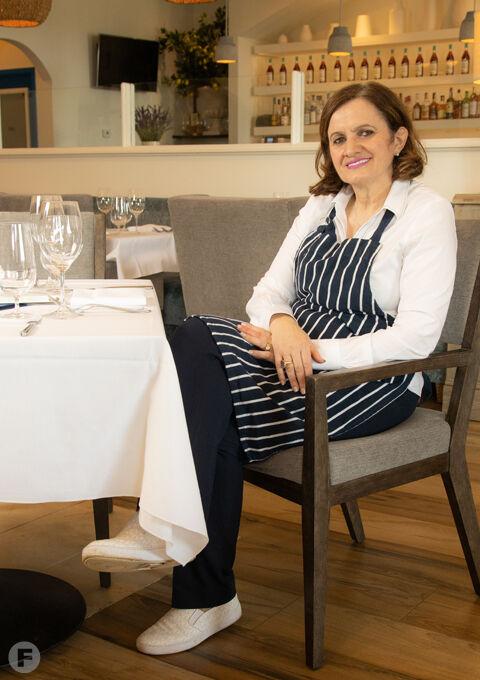 Kozeta Kreka (who also owns and operates Cozy's Cafe in Overland Park, Kansas) and her team create dishes that have the power to transport guests from the latter to the former: Think saganaki – a dish of imported kefalograviera cheese dressed in herbs and lemon and brought to the table aflame – and whole Mediterranean white snapper – best washed down with a glass of Greek wine. The food is impressive, but many diners also come back for the warm, familial feel of the place, which Kreka nourishes.
Amid COVID-19, Paros Estiatorio is currently offering limited dine-in seating inside and on the patio, as well as online ordering for takeout and curbside service.
What inspired you to open Paros Estiatorio? I grew up in Albania, about 45 minutes from Greece. My whole family – they were great cooks. We always had big family dinners – you just cook something and everybody shows up. That's the [idea behind] what we do here. … When I opened Paros with my son, I wanted my kids to get the sense that it's OK to take risks in life. Sometimes you succeed, sometimes you don't. But you always look for more and push yourself to do more.
What influenced the ambiance of Paros Estiatorio? We wanted to transport guests somewhere else. When I was growing up, it was a treat to eat out – you saved the whole month to go eat somewhere nice. So with that [in mind], I want people to come here and to feel spoiled, to feel taken care of. I want people to be happy. Hospitality is very important to me. Sometimes I go to tables, and I say, "Just try this. If you don't like it, I'll make something else." I have the kitchen; I have the ingredients.  
What are some misconceptions that people might have about Greek cuisine? I don't think misconception, but I think we're in Kansas, you know? That's why it took me a long time to do what I do at Paros; I don't think I could have done it 10 years ago when I started Cozy's Cafe because people weren't very familiar with Mediterranean food. But now I think everybody, even in Kansas, looks for more.
How have you adapted Greek classics for Paros Estiatorio? Well, for moussaka, my great-grandmother used to fry the vegetables. Here, I bake them because we want everything to be healthier. And we want everything to be fresh. Our fish is never frozen: It is flown in, and we serve it up that day. We import olive oil, cheeses, kalamata olives, tea and wine, [but] we also work with local farmers. We want our plates to be beautiful – that's just who I am.
How do you maintain a connection to your home country? It's all about family, and food brings family together – and brings me the memories. We [also] use family recipes. The baklava – that's my mother's recipe. It's wonderful.
Paros Estiatorio, 10561 Mission Road, Leawood, Kansas, 913.544.1262, parosleawood.com
Cozy's Cafe, 6740 W. 75th St., Overland Park, Kansas, 913.236.0003, cozyscafe.com