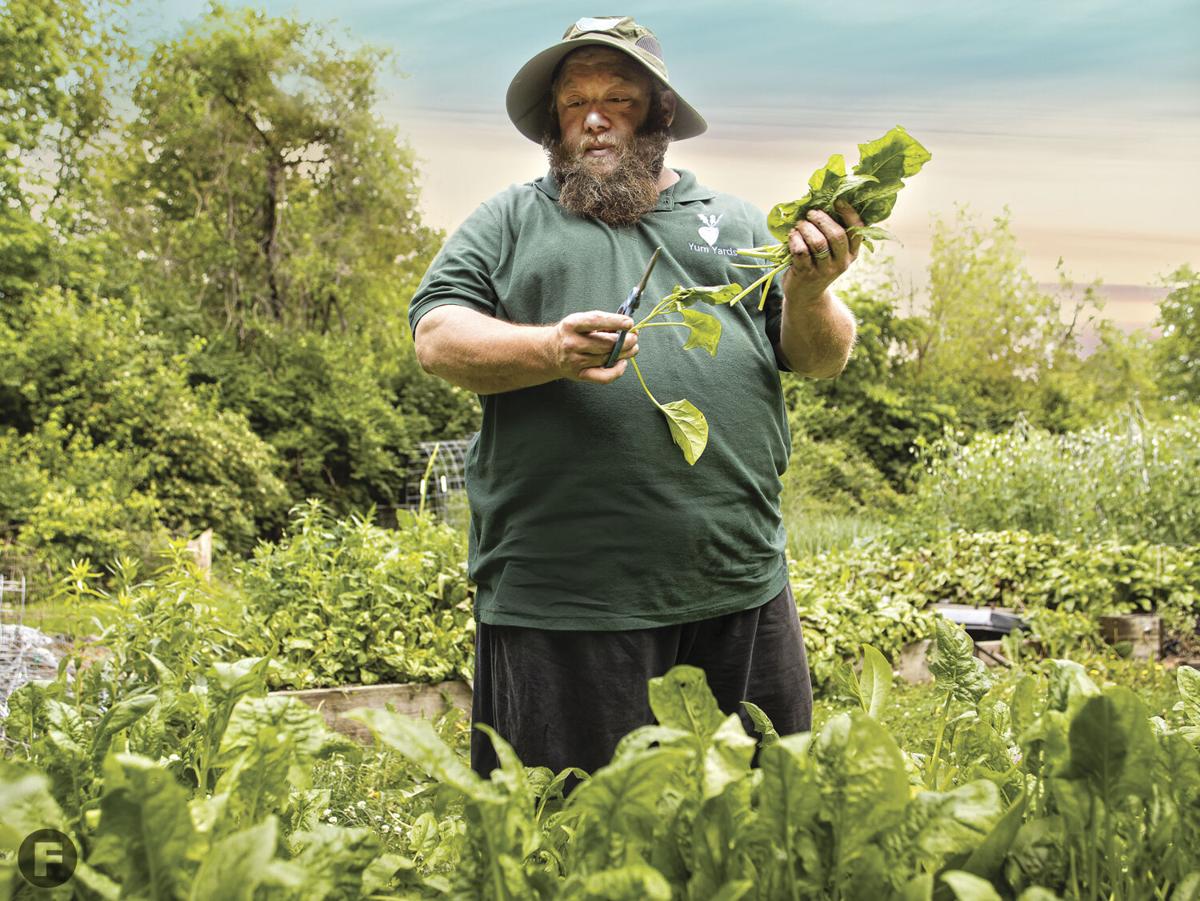 As a kid, James Worley learned how to take tomato cuttings from his parents' backyard garden and successfully propagate them – to his immense pleasure. At one point, he had filled almost every cup and bowl in the house with soil and starter plants – to his mother's horror.
Years later, Worley bought a house in Kansas City and started his own vegetable garden with three raised beds, which has grown to 40 raised beds and 150 containers, rightfully earning him the nickname "The Tomato Whisperer." Working with the Missouri Department of Conservation, Worley taught nature and conservation classes while running multiple greenhouses, but he eventually decided to branch out on his own.
In January 2020, he launched Yum Yards and hired a team of "yardeners" to help people in the Kansas City metro area create edible gardens in their own yards. Someday, Worley hopes to expand Yum Yards to other Midwest cities; his goal is to plant at least 1,000 vegetable gardens before he retires. "If the gardens I build now are tended to, they will still be growing long after I'm gone – that will be my legacy," he says.
How does Yum Yards work? Yum Yards specializes in planning, planting, maintaining and harvesting vegetable and herb gardens. [During the first on-site consultation] the homeowners and I choose the right place to put the garden – usually a spot close to the kitchen that gets enough sun with easy access to water. Then they take my veggie survey, which helps me plant the vegetables and herbs they will like and eat. I don't sell raised beds or smart pots, but I send links to the ones I recommend. Once the beds and containers arrive, my team and I come with compost, seeds and plants – whatever we need to start planting. Finally, the homeowners pick one of three levels of service that Yum Yards provides.
What are Yum Yards' three levels of service? The partial garden service includes four visits to the garden to plant seasonal vegetables and clean and close the beds at the end of the season. The full garden service includes the same services as the partial with two additional unscheduled visits to the site each month, [when we send you] a video about what's happening in your garden. We also do all of the necessary weeding and fertilizing and maintain the drip irrigation system. The premium garden service includes everything in the full but also weekly visits to the garden to do all the work involved in its upkeep and to harvest the vegetables, which we leave by the client's back door. My team provides everything from technical know-how for beginners to additional labor for more experienced gardeners.
What are some of the more interesting things you're growing for people this year? This year, I've had a lot of requests for pattypan squash. I have a family that asked me if I could grow bitter melon and several different kinds of basil for them. Listen, if it can grow here, I will do it.
Is there anything new on the horizon for Yum Yards? Yes! Alix Daniel, who is the vice president of the Kansas City chapter of the Missouri Mycological Society, and I are looking at offering mushroom gardens through Yum Yards. We would come to your home and inoculate logs in a shady spot to grow edible culinary mushrooms in your own backyard. Cool, right?
Yum Yards, yumyards.com