Chef-owner Carlos Mortera's beloved Poi-ō was an unfortunate victim of the pandemic, but fans of the wood-fired chicken and other delicious options are in luck. Mortera has opened a new location of Poi-ō with an updated menu and more ways to enjoy his incredible Mexican barbecue dishes in a more user-friendly location.
Poi-ō can now be found at 800 S. Seventh St., not terribly far from the previous location just off Southwest Boulevard. Mortera was very excited to find this new location, as it had quite a few things he was looking for when he originally conceptualized Poi-ō.
"I had always envisioned having a drive-thru, and it just wasn't possible in our old spot," Mortera says. "Our new location has better parking, it's easier to find and the building used to house a Subway sandwich shop with a drive-thru, so it was just a matter of making the space work for what we needed."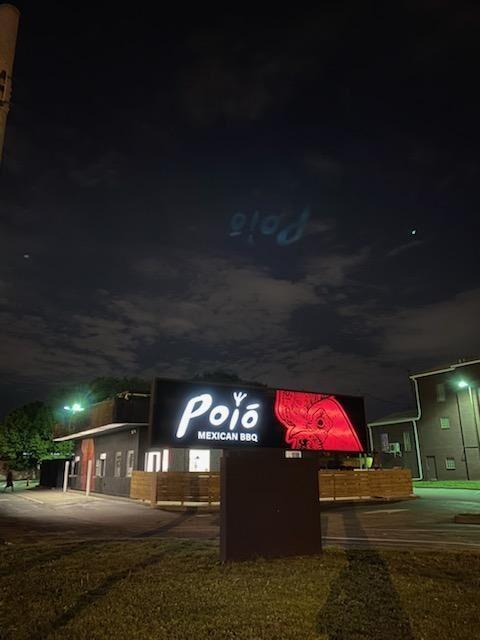 Mortera also grew up in Wyandotte, so the new location is a way for him to bring his talents back home. The chef was born in Mexico, and his father ran a number of rotisserie chicken restaurants before moving to the United States. Mortera continued the family tradition; though he has a culinary background in fine dining, he never lost sight of the type of cooking he and his father enjoyed together.
"My dad and I ate at a few Mexican barbecue restaurants around here and I always thought I could excel in running that type of restaurant," Mortera says. "I wanted to bring the same techniques and approach to quality ingredients that I learned in fine dining, but make it more affordable and more approachable."
Poi-ō's claim to fame is its grilled chicken, which you can order in a few different ways. Like many Mexican barbecue restaurants, the basic order is either "whole or half," meaning a half chicken or whole chicken. You can also order wings, a chicken box (which includes ¼ chicken, tortillas, pickles, salsa, a side and a drink), a chicken sandwich or even chicken nachos.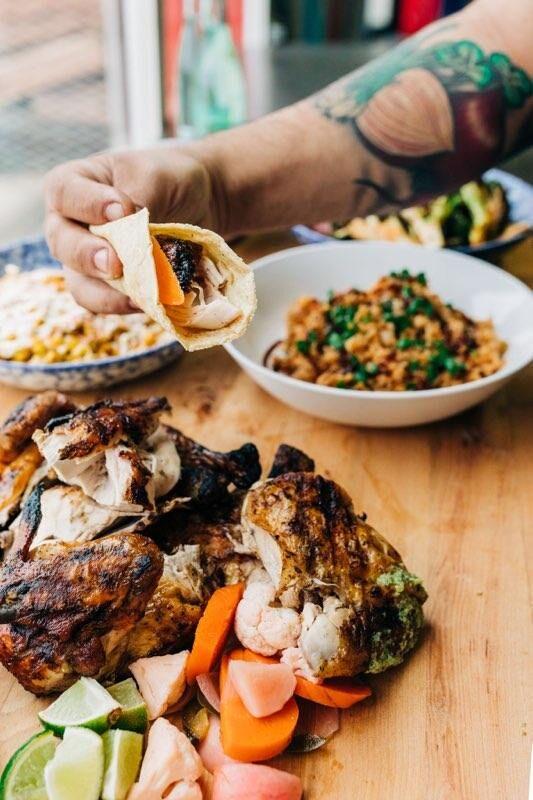 Mortera has also expanded the menu beyond the bird. The adobo pork ribs come in whole or half slabs or as an addition to other orders, and Poi-ō even offers some delectable vegan options, including jackfruit "carnitas" and kimchi fried rice. Mortera says he has worked a lot of Asian influence – particularly Korean – into many of his dishes at Poi-ō, especially in the sides.
"I wanted to put my own spin on a lot of traditional favorites," Mortera says. "My goal was to create a 'chef-driven' restaurant that was still affordable and quick so it wouldn't exclude anyone. You can order an entire family meal at Poi-O for less than a single dish at high-end restaurants, and I would put Poi-ō's food up against any of them."
You can obviously create your own "family meal" off the menu, but Poi-ō also has a few pre-made shareable options on the menu. Opt for whole chicken, half chicken and half rib or a whole rack of ribs. Each family meal includes three large sides, house pickles, tortillas and salsa, and they range between $25 to $30.
The new Poi-ō location just opened its doors at the end of May, and includes all the standard ordering and dining options you'd expect from a restaurant opening in 2021 – including Mortera's beloved drive-thru. Eat a light lunch if you're going there for dinner, as you'll probably want to order an extra side or three to go with your chicken.
Poi-ō is open Monday through Friday from 10am to 10pm and Saturday and Sunday from 11am to 10pm.
Poi-ō, 800 S. Seventh St., Kansas City, Kansas, facebook.com/poiomexicanbbq