If you're looking for a place to keep cozy and warm this winter, you may want to set your sights on the rooftop of The Fontaine Hotel. That's where you'll find its new concept, Nine Zero One Igloo Bar, located in the space that used to house Parker at the Fontaine. 
The central draw of Nine Zero One is the igloo setup. The bar features four different igloos available for reservation, each with their own vibe and décor – perfect for small groups to stave off the cold – among other seating options. Jenna Phillips, associate director of sales and marketing for the hotel, worked with Josh Dampf Events to help design the space; they were inspired by the rooftop bar 230 Fifth in New York City. The goal is to bring an approachable elegance to the Plaza, where guests can safely enjoy high-quality cocktails and tapas while still staying safe.
Just walking through the mylar-covered entryway, guests get a hint at Nine Zero One's atmosphere. Blues, whites, silvers and golds are the color focus; Phillips describes it as "woodsy and cozy, but with an icy, modern touch." There is plenty of space for groups to spread out, and guests can specify where they want to be seated when they make their reservations. There's a set of seats near a massive fireplace, a few cocktail tables scattered near the bar and, of course, there are the igloos.
Although each of the four igloos have their own unique identity, the space as a whole is inspired by traditional Scandinavian and Icelandic décor. One igloo is specifically designed for a romantic date night, while the others can each accommodate slightly larger parties with their own touches worthy of Instagram photos. Other elements include "icebergs" floating in the rooftop pool and a few other areas specifically set up for photo-ops.
Phillips and Dampf tried to work out every detail they could to make things feel comfortable and cozy while still providing a luxurious space for guests. In addition, everything at Nine Zero One complies and will continue to comply with any COVID-19 protocols and mandates that are passed down.
"We want to have a lot of threads that tie everything together here, but we also wanted to make sure everyone who came in got to experience it a little bit differently," Phillips says. "We want to give our guests lots of little reasons to make return visits and to ensure that everyone feels safe when visiting."
Naturally, the food and drink options have also been thoughtfully crafted. The food menu will consist mostly of shareable plates with plenty of Scandinavian inspiration that was designed by the Fontaine's executive sous chef, Michael Olson. There are also a few homages to some favorites from Parker, like Nine Zero One's spiced nuts, but Olson has plenty of original dishes planned as well.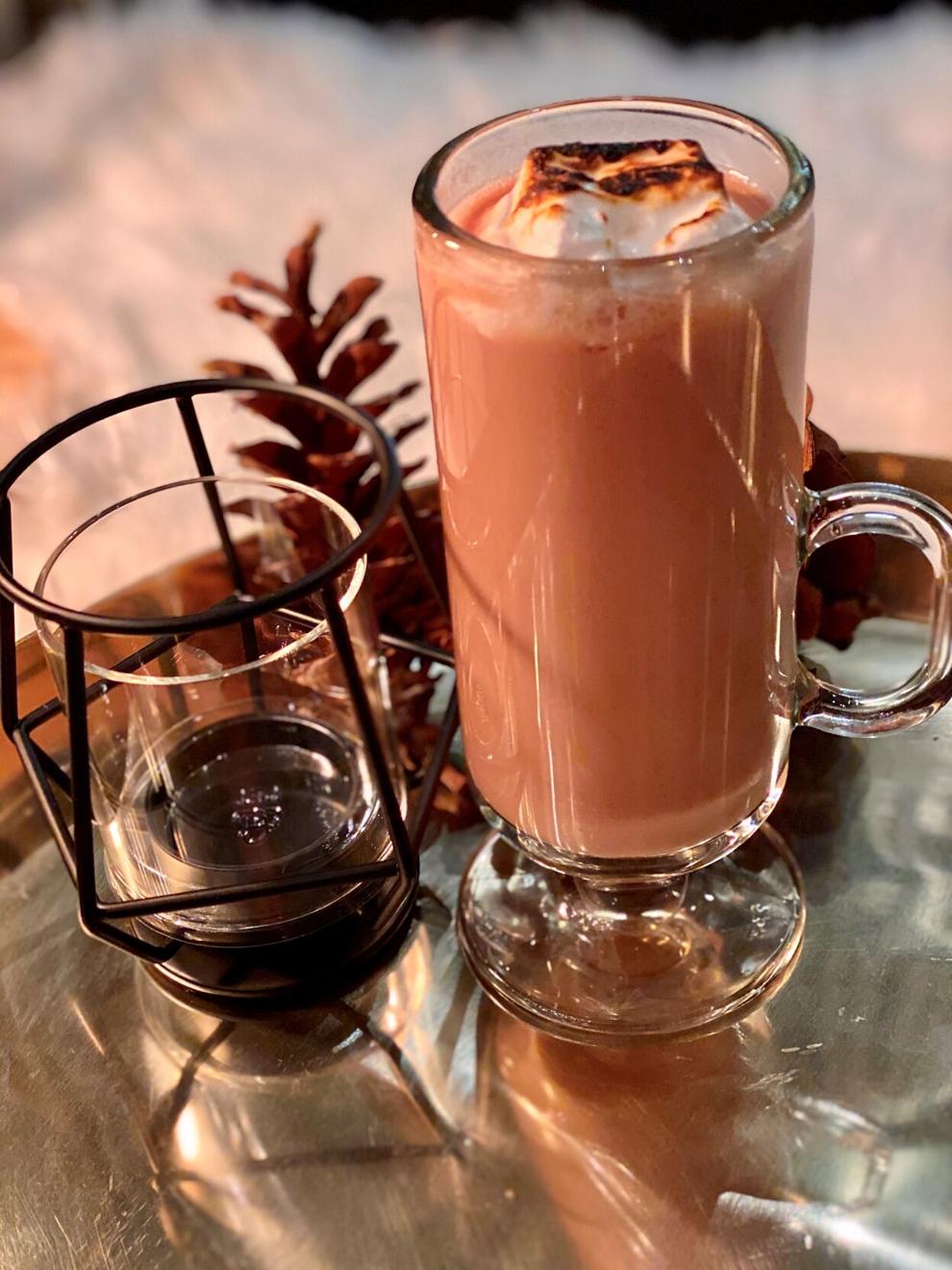 The signature cocktail menu was designed for Nine Zero One by Adam Caparelli. Each of the 10 cocktails comes in a unique vessel, and many are made with local favorites from J. Rieger & Co., Lifted Spirits and Restless Spirits. The warm Ruby Hot Chocolate topped with a toasted marshmallow is sure to be a favorite during the cold Kansas City winter, and another drink uses smoked Palo Santos, which is also used in each igloo prior to new parties stepping inside, to lend a woodsy aroma to the drink. A curated selection of wine and beer is also available.
Phillips says she hopes the space can continue to evolve and offer plenty of memorable moments through its last day of operation on Feb. 15.
"We wanted to avoid the 'holiday' look because we wanted the space to stay open long past the end of the year," she says. "Hopefully this can become a recurring hotspot each year for Kansas City's winter months."
Nine Zero One officially opened this past weekend. The bar is open Tuesdays through Saturdays from 4 to 10pm and Sundays from 1 to 8pm, with some special events planned for upcoming holidays. Nine Zero one is open for general admission from 4 to 5pm but is otherwise by reservation only. Reservations are available for 90-minute intervals, with a rental fee for $120 for each igloo. The igloos are completely sanitized between reservations, ensuring as safe and health-conscious a space as possible for all guests at Nine Zero One.
Nine Zero One at The Fontaine Hotel, 901 W. 48th Place, Kansas City, Missouri, 816.753.8800, thefontainehotel.com/eat-and-drink/igloo-bar