Kansas City's revered Bluestem will close its doors on Dec. 19 after 17 years of delicious meals and memories.
Pandemic or not, chef-owners Colby and Megan Garrelts had already decided that this year was going to be the last for their first fine-dining restaurant in Kansas City, their culinary home away from home for so many years. The two made the announcement in a statement released on Nov. 25 both via email and on social media. 
"As our lease term has reached an end, we are choosing to take this opportunity for change that will allow us to devote more time to our children, to nurture our other two restaurants Rye Plaza and Rye Leawood, and to potentially explore new projects," the statement read.
In the beginning, it was just the two of them. This culinary couple married and then gave birth to Bluestem, signing the lease on the 1,100-square-foot corner space only one month after their wedding. Today, they proudly have 2 children of their own, Madilyn and Colin, and a family dog, Hutch, whom they hope to spend more time with now that their flagship restaurant is closing.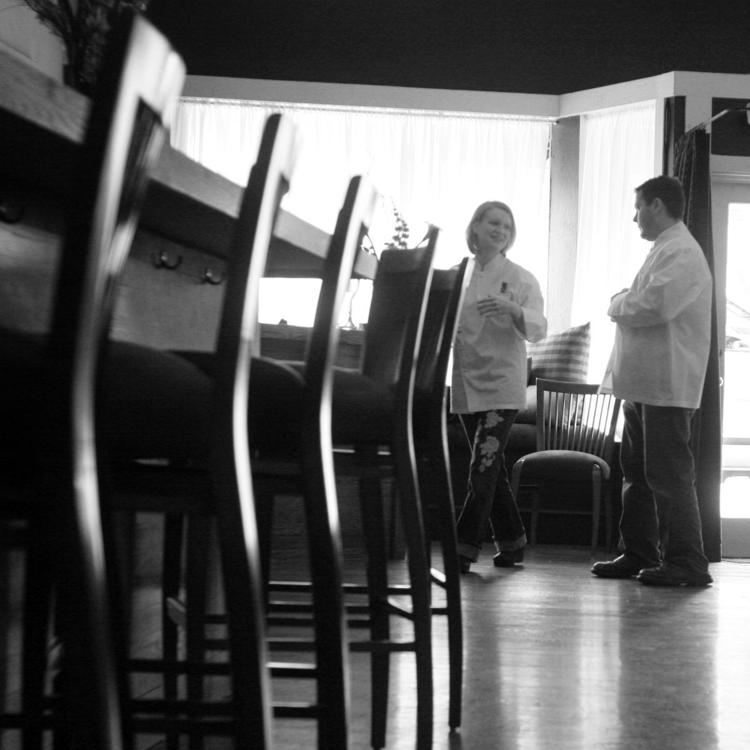 Colby and Megan did much of the initial work on the Bluestem space themselves in the hopes of getting the tiny 13-table restaurant open quickly on a shoestring budget. At the time, Colby was 28 and Megan just 23. 
The original space was not perfect, but they made it work. The front door opened directly into the dining room, blowing cold air across the room in the winter; the bathroom was located in the dining room in view of other guests; and their kitchen was originally hidden behind a wall. The restaurant also infamously had no guest parking.
In spite of it all, Bluestem succeeded wildly. Word began to spread that the now-shuttered The American Restaurant had serious competition, and people started booking a table to see what these two young chefs were serving up for dinner and, eventually, brunch, which also had a loyal following all of its own.
The food is truly what always set Bluestem apart. Colby's modern American cuisine coupled with Megan's artfully plated desserts packaged in prix fixe menus with an optional number of courses immediately made Kansas City, a notorious steak and potato-loving town, sit up and take notice.
Bluestem underwent two major remodels. The first was in 2006, when they expanded into the space next door, adding a full bar and lounge that served a more casual and comforting menu. It was almost its own restaurant, popular and bustling at happy hour, with a much different vibe than its fine-dining neighbor. 
For its 10-year anniversary in the space, the restaurant closed for some weeks to reopen with a stunning new dining room and open kitchen, in addition to building out a new bathroom and open pastry counter where guests could sit and chat with the pastry chef as they turned out gorgeous works of edible art.
Culinary creativity paired with impeccable service quickly put Bluestem – and Kansas City along with it – on the national culinary map. Awards and accolades were soon to follow for both chefs and their restaurant. In 2005, Food & Wine named Colby one of the Best New Chefs in the country, his first national award. Colby would go on to earn the Best Chef: Midwest award from the James Beard Foundation in 2013 after seven nominations. He is also the only chef in Kansas City who has won the award while working in his own restaurant. In 2019, he was nominated for a James Beard Award for Outstanding Chef, competing against other chefs of his caliber across the country. Megan has seen her own fair share of successes during her Bluestem years; she was named a James Beard semifinalist for Outstanding Pastry Chef three different times, and her recipes have been featured in publications such as Bon Appétit, Food & Wine and The Wall Street Journal.
Bluestem itself was also nominated for Outstanding Restaurant by the James Beard Foundation four years running, a testament to not only all of the executive chefs and pastry chefs that trained with Colby and Megan, but also the general managers, bartenders, servers, hosts and dishwashers who all worked tirelessly to uphold the high standards that the restaurant was known for delivering to each and every guest, every time.
"If our walls could talk, they would share heartwarming stories of weddings we've hosted, staff holiday parties, new babies, engagements, wine dinners, tea parties, guest chef dinners, surprise parties, holiday events, corporate toasts, birthday parties, Valentine dates, and countless other moments. Indeed, the years have been very good and very full," the couple wrote in their statement. It is with this celebratory spirit that we close Bluestem."
In their statement, Megan and Colby also thanked their good friends and partners in Rye, Jeff and Joy Stehney, for their continued support, along with local photographer, writer and friend, Bonjwing Lee, who helped them put together both of their cookbooks. Bluestem: The Cookbook came out in 2011, and Made in America: A Modern Collection of Classic Recipes hit the shelves in 2015.
Bluestem has stopped taking reservations, as the restaurant is completely booked with guests wanting one last taste before it closes its doors on Dec. 19. Any remaining Bluestem gift cards will be honored at both Rye locations.
Bluestem, 900 Westport Road, Westport, Kansas City, Missouri, 816.561.1101, bluestemkc.com