Lisa Bledsoe started drinking kombucha for a simple reason: She wanted to cut soda out of her diet. She had heard kombucha referred to as a natural, fizzy and healthy alternative, and as a then stay-at-home mom, she was intrigued by the idea of being able to make it herself at home. She figured the process would be fun, and she might even like the stuff. What she wasn't prepared for was how she would feel after drinking it.
"My skin changed, my hair changed, my allergies went away," she says of her experience a few months into her daily dose of kombucha. "I had more energy, more clarity, [and] I started sharing it with friends, saying, 'You gotta try this. This is crazy.'" Bledsoe attributes the improvements in her health to the bounty of probiotic properties found in kombucha due to its natural fermentation process. Many nutritionists believe kombucha, along with other fermented foods, improve overall gut health by helping digestion, decreasing inflammation and providing a more balanced gut microbiome.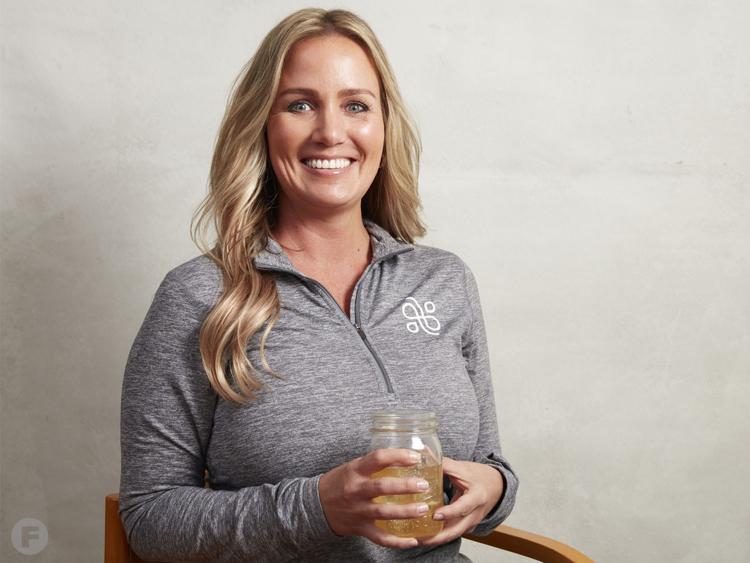 Bledsoe started out making kombucha with a few jars in her kitchen and sharing bottles with friends, but she was soon being hounded by those same friends for more and more of the stuff. The jars multiplied, eventually taking over her kitchen entirely. She laughs and explains, "When I say 'demanded,' I mean they just wouldn't stop bothering me about buying it. They'd say, 'I don't want just one bottle, I want to buy six or 12 of them.' Probably 40 times someone called me about it."
As her youngest child neared kindergarten, she finally relented to the demand. The jars that had eaten up her kitchen counter space morphed into four 55-gallon vats that occupied her entire dining room, and dozens of people started coming to her house every Monday to get their fill.
"It was really crazy. [On Mondays], the driveway and street were regularly packed with cars; I was making 400 gallons [of kombucha] out of my house every 10 or so days – my little hobby was taking over," she says. To turn her house back into a home and grow her customer base beyond her friends and family, she knew she had to move into a brick-and-mortar location. Approximately three years after brewing her first batch of kombucha, Bledsoe found a 2,000-square-foot warehouse space off of South Strang Line Road in Lenexa, Kansas, and set up shop. Tea-Biotics was officially born.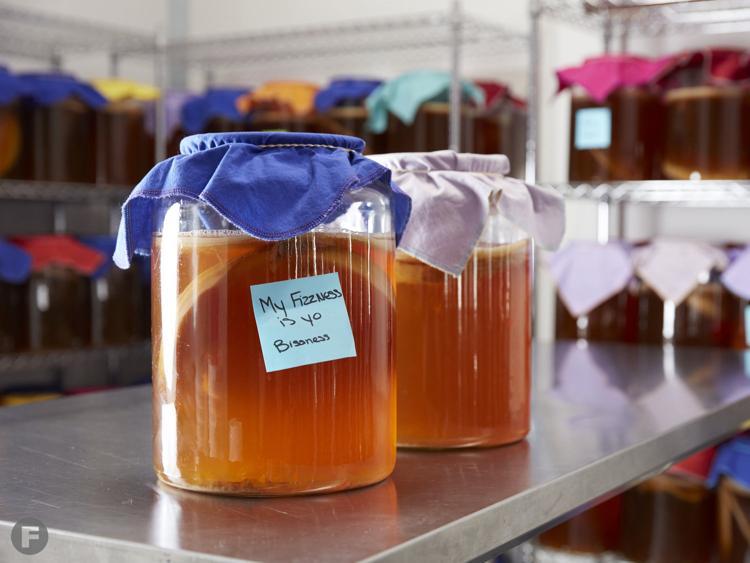 Bledsoe takes pride in the fact that Tea-Biotics' kombucha is brewed using the same small-batch process she started out with in her home kitchen. Her team, whether they are brewing in 55-gallon stainless steel fermentation tanks or two-gallon jars, still stir and flavor each batch, large and small, by hand.
The process of making kombucha is relatively simple, explains Bledsoe. Tea-Biotics' brewers start with reverse-osmosis filtered water – a small, but critical detail, as Bledsoe insists that the highest-quality ingredients make the best finished product. They use the water to brew a proprietary blend of black and green tea, and after it's steeped and cooled, they add more water and organic cane sugar into the mix. A SCOBY (symbiotic colony of bacteria and yeast) and kombucha starter (acidic liquid from a previous batch of kombucha) are then added, after which time the mixture sits and ferments for 10 to 14 days in a warm, dry space, ideally between 72 and 80 degrees. As the SCOBY feeds on the sugar, natural carbonation occurs.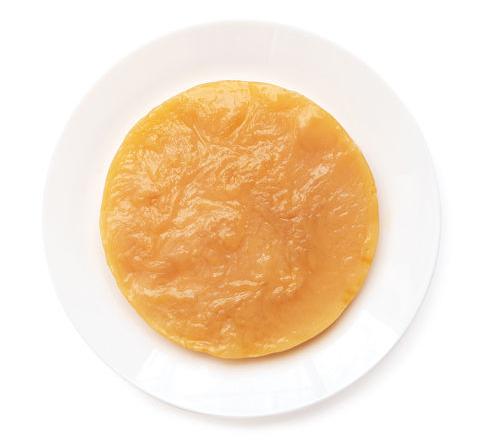 Each SCOBY looks a little different, but most resemble ivory-colored layers of pancakes that feel slick and slightly spongy to the touch, although they typically have a firm texture. SCOBY also self-propagate: As the kombucha ferments, a new SCOBY slowly forms at the top of the brew. It first appears as a thin film and gradually thickens into the telltale blob.
When time is up, the SCOBY is removed from the mixture and either stored or added to its next batch of kombucha – at Tea-Biotics, each SCOBY is used many times before it is discarded. After the SCOBY is removed, different combinations of organic cold-pressed juices, herbs and flowers are added to the kombucha to create the final profile of Tea-Biotics' dizzying array of flavors – more than 50 total by Bledsoe's last count. It's then refrigerated for 24 hours before distribution; at this stage, as the yeast and probiotics from the SCOBY continue to feed on the sugars in the fruit and juice, the kombucha obtains its delightful fizz.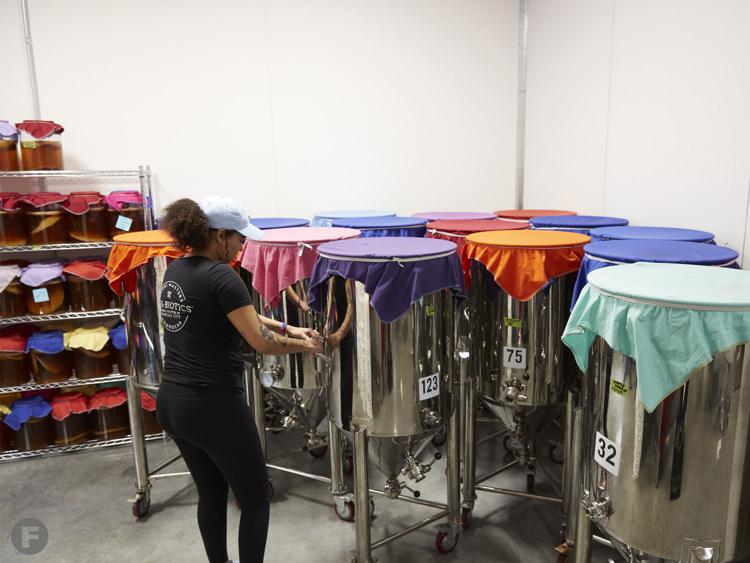 While some companies brew different flavors of kombucha using different teas and brewing methods, Tea-Biotics relies on the same base kombucha for all of its varieties. Its most popular flavors are blueberry, hibiscus-watermelon, cherry-lime, elderberry-mango and Beach Life (a blend of mango, pineapple and coconut originally developed as a cocktail mixer).
When asked what sets Tea-Biotics kombucha apart, Bledsoe doesn't miss a beat. "It's everything," she explains. "The purified water gives it a clean, crisp flavor. It's the clean tea we use. Everything we use is high quality, and we get a certificate of analysis on everything. I was originally making this for myself and my family, and I wanted to make sure I was using the best ingredients. My kids drink this."
Tea-Biotics also makes an ever-expanding line of CBD-infused kombuchas, including lemon-lime and the aforementioned hibiscus-watermelon and Beach Life. Bledsoe and her team infuse the kombucha with a unique blend of CBD, which is sourced from a third party-tested supplier.
Initially skeptical of CBD products, Bledsoe became more familiar with them when her husband was diagnosed with a form of skin cancer. As he began to incorporate CBD into his treatment regimen, she came to believe that it was largely responsible for his recovery. She adds that it has also been extremely beneficial in her own life. "I've always been a highly anxious, tightly wound person," she says. "I had panic attacks regularly, and for me personally, CBD eliminated all of that." Her growing passion for CBD products along with her unshakeable belief in the benefits of kombucha make the new products a natural fit for Tea-Biotics.
Tea-Biotics recently closed the doors on its original 2,000-square-foot production facility and taproom so that Bledsoe and her business partner, Rich Downs, could expand into a 15,000-foot production facility and tasting room. Located in Olathe, Kansas, it's an impressive place: It features a spacious production floor with dozens of shiny stainless steel fermenters, a sleek bottling line and the world's largest kombucha taproom, featuring 32 taps. "We like to think of ourselves as the Baskin-Robbins of kombucha," jokes Bledsoe. With office space as well, the facility offers the opportunity for Tea-Biotics to quintuple its capacity.
"We moved into this space with the intention of moving forward," she explains. "We could have stayed in the old space and remained a successful local business. But then I thought: What if we could venture outside of Kansas City? I want to prove that everyone across the country will like [our kombucha]."
In addition to the new taproom and production facility, Tea-Biotics has opened a taproom and retail shop on 39th Street in Kansas City's Volker neighborhood. Its products are available in various grocery stores in nine states, and the locker rooms of the Kansas City Royals, Kansas City Chiefs and Sporting Kansas City soccer club all feature Tea-Biotics taps.
According to Global Info Research (GIR), a leading aggregator of market data, the kombucha industry is likely to grow from $1.24 billion in 2017 to $3.81 billion by 2023. GIR suggests that this explosion in the market will result from a sustained global health awareness; like Bledsoe when she started making kombucha in her home kitchen, consumers are more and more health-conscious and are looking for beverage alternatives with all-natural ingredients and recognized health benefits.
Optimistic about the future, Bledsoe and Downs are focused on growth more than anything at the moment. "I accidentally started this company – just a hobby gone wild," says Bledsoe. "But now we have our sights set on expanding nationwide, and we believe that it will happen."
Tea-Biotics Kombucha, 677 N. Lindenwood Drive, Olathe, Kansas, tea-biotics.com