The Joplin outpost of Kansas City University of Medicine and Biosciences is Missouri's first new medical school in over half a century, and the campus cafeteria is just as modern as its setting. At the helm are executive chef Damien Tiregol, chef-owner of Crabby's Seafood Bar & Grill and chef Jeremy Canada. Tiregol spearheaded the program when the kitchen opened in August 2017 and has stayed on as an advisor, whereas Canada overseas day-to-day operations. Together, the duo has rolled seamlessly into their second year of serving up elevated cafeteria food to students.
"It's definitely a different ballgame," says Tiregol. "With students, you can play around with their palates and push them. That's the fun of it."
In addition to dressed-up student fare like hand-ground, hand-breaded popcorn chicken with fresh-cut french fries, the daily menu features gourmet specials like the Crabby's-inspired pan-seared scallops with fire roasted corn purée, red quinoa, crispy bacon and arugula, or sesame seared ahi tuna over sautéed fall vegetables and asparagus tips. Specials change constantly. Tiregol touts the kitchen's burnt ends as the best in Joplin, and the kitchen's global ambitions include dishes like beef tips and pataje oorlog, fried potatoes topped with satay sauce, turmeric aïoli and white onions.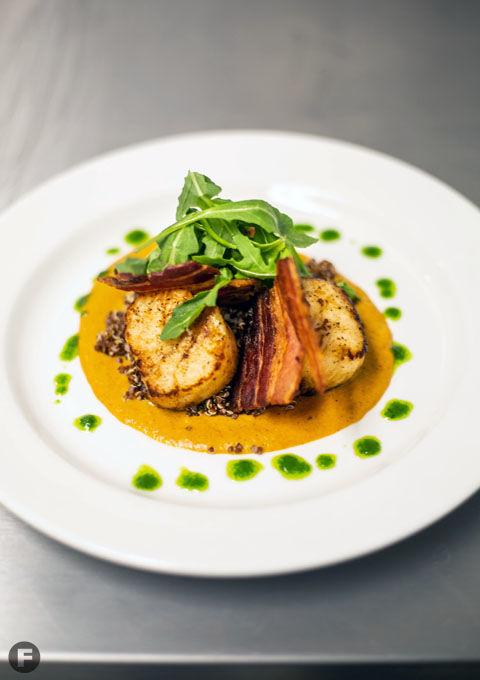 "They definitely have some really interesting recipes where you're like, 'Really? No way.' But then you try it and it's really, really good," says second-year medical student Matt McAuliffe, whose first taste of chorizo was in the campus kitchen's breakfast scramble.
Thanks to the University's generous food subsidies, specials are just $6. Accommodations don't stop there. During orientation week, Canada invites students and staff to discuss dietary needs with him directly.
"Whether it's food allergies or religious [restrictions], it's easier for them to tell me what they want versus me trying to guess. If they see a special and want a vegetarian, vegan, gluten-free option – whatever, if I can, I will."
For herbivores, meatless meals aren't limited to salad or pasta. Canada substitutes jackfruit for pulled meats, and the Impossible Burger™, a nut-free burger made from plant proteins, is available daily. Most staples are available straight from the line, but orders are easily customizable, too.
"With things that take time, we write a ticket and they pay for it and sit down, then we make the food and run it out to them. We try to do as much as we can for them as possible. We're trying to do away with the perception of what cafeteria school food should be. We want to up our game," says Canada.
Even convenience foods get a facelift under Canada and Tiregol's watch. Students in a rush can hit the grab-and-go cooler for protein packs, smoothies, salads and more. Seasonal shifts reflect in the foods; for example, root vegetables replace citrus in the fall salads. Everything, including the salad dressings, is made in house from scratch every day.
"It's definitely a better choice to eat here," says Sarah Gillen, a second-year osteopathic medicine student. "With long labs, quick, substantial snacks like hummus, apples and hard-boiled eggs are extremely convenient, instead of chips from a vending machine."
Gillen is still a college student, though, and her guilty pleasure is definitely the cafeteria tater tots. But hey, at least she had the kale salad for lunch.
Kansas City University of Medicine and Biosciences – Joplin, 2901 St. Johns Blvd., Joplin, Missouri, 417.208.0630, kcumb.edu/about-kcu/our-campuses/kcu-joplin