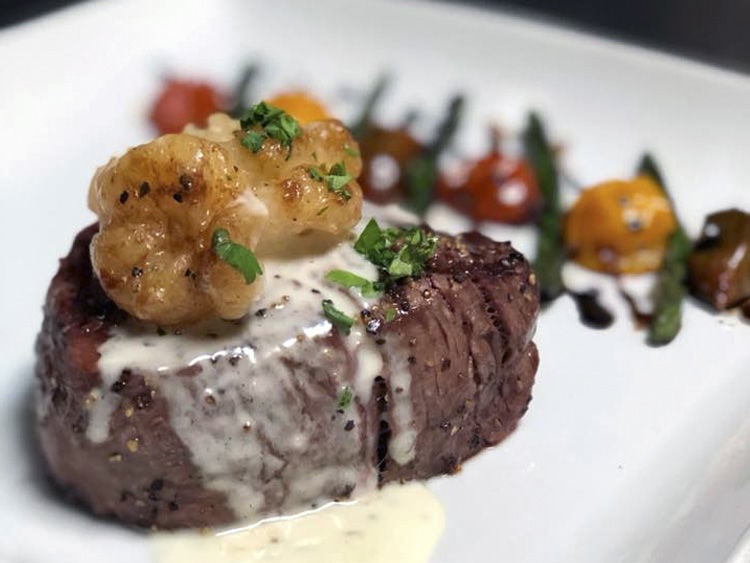 There is no shortage of great steakhouses in Missouri, but if you're in Joplin, Wilder's Steakhouse is the place to be. Whether it's a weeknight treat or a special occasion, Wilder's offers a wide selection of beef. And although you can spring for a 12-ounce Kansas City strip, seared medallions with a blue cheese demi glace or go big with a the 24-ounce bone-in Beefmaster, we like to stick with a luxurious classic: the beef tenderloin filet. 
You have three size options for the latter, including six, eight or 10 ounces, and custom cuts are also available upon request. The steak is cooked to your liking, but you can also choose plenty of add-ons to enhance your experience. Add toasted English blue cheese, Béarnaise, sautéed mushrooms, king crab and more. You can also make it a surf and turf with the seafood of your choice at market price. 
If you don't eat red meat, the steakhouse also offers more selections from both land and sea. Go for North Atlantic salmon in a honey-soy glaze or bone-in farm-raised elk straight from New Zealand. 
Wilder's Steakhouse is offering its menu for carryout and curbside pickup.
Wilder's Steakhouse, 1216 S. Main St., Joplin, Missouri, 471.623.7230, wilderssteakhouse.com