In Alton, Illinois, a new shop offers a selection of gourmet sweets. PopUtopia opened its doors in March 11, featuring an assortment of flavored popcorn, bulk candy, chocolates and more.
As reported by Feast last month, the concept comes from Rebecca Pattan, who previously owned a similar store in the area called The Hive from October 2013 through December 2014. With PopUtopia, the former event planner hopes to bring back her brand of tasty treats to the local Riverbend community and beyond.
"It's a really fun family-friendly environment where kids can come, and we also have plenty of grown-up flavors," Pattan says. "It was the type of business our community was lacking, so we wanted to fill the niche."
The 1,800-square-foot space features an on-site kitchen and a small retail space with a retro American theme. Details of the design include splatter-painted floors, starburst wall decals and pastel-colored walls.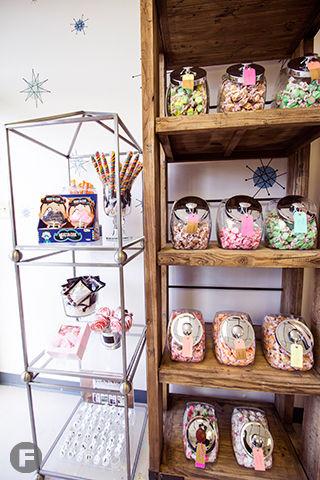 Popcorn is popped fresh daily for the store's wide selection of 150 different flavors – 35 to 40 of which are available on any given day. According to Pattan, the method involves cooking mushroom-shaped popcorn with white-coconut oil, which helps the caramelization process involved in many of her proprietary recipes that comprise at least half of the selection.
Her take on Chicago-style popcorn, for instance, is the Riverbend Blend, which features Old Bakery Beer Co. porter-infused caramel popcorn combined with Cheddar cheese popcorn. Another popular selection is banana-split popcorn with glazed banana, vanilla and caramel and cherry popcorn with candied pecans, banana chips and a milk-chocolate drizzle. 
On the savory side, choose from options such as Jamaican jerk, curry, ranch, Cheddar and chipotle-lime popcorn. One of Pattan's favorites is a rosemary and white truffle-flavored popcorn made with fresh herbs.
PopUtopia also offers South Bend Chocolate Co. goods and around 50 flavors of TaffyTown taffy, including everything from saltwater vanilla to mango-chipotle. Fudge, bulk candies, bottled sodas and Hammond's chocolate bars are also available.
Guests can customize popcorn to their liking, with particular flavors, mixes and colors for special occasions. Additional specialties include popcorn balls in flavors such as dark chocolate-sea salt and even decorated popcorn pizzas topped with confections.
PopUtopia is currently open Tuesday through Saturday from 10am to 6:30pm.
PopUtopia Gourmet Popcorn Shop & Treatery, 231 E. Delmar Road, Alton, Illinois, 618.433.8588, facebook.com/PoputopiaPopcorn