One of the biggest barbecue events in the Midwest will turn 30 when the Praise the Lard Murphysboro Barbecue Cook-Off begins Thursday. Headed by legendary 17th Street Barbecue pitmaster Mike Mills and his daughter and business partner, Amy, the festival features multiple competitions between barbecue teams from around the country.
Despite the size of the event, which features more than 75 teams and will encompass four city blocks, maintaining the atmosphere of a down-home barbecue cookout remains high on the Mills' priority list.
"We think that's the highest compliment anyone could pay us, to say it feels like a giant backyard barbecue," Amy says. "But the teams deserve a lot of credit, too. Even if you've never been interested in competitive barbecue, when you meet these people and see how engaging they are, you're going to leave with a new appreciation for it."
The main event of the weekend is the Memphis Barbecue Network and Kansas City Barbeque Society dual-sanctioned barbecue competition, but there are plenty of other attractions to enjoy and even join in on. Locals are encouraged to try their hand at Praise the Lard's third annual steak cook-off competition on Friday, as well as Saturday's Bloody Mary contest.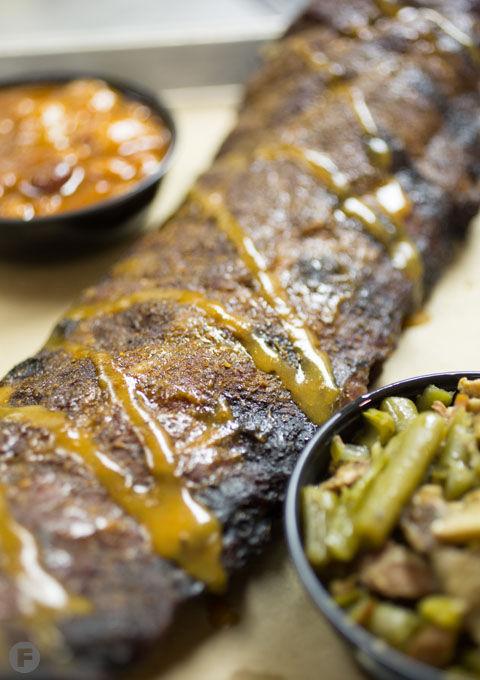 The weekend also boasts some kid-friendly fun. Young pitmasters-in-training between the ages of 7 to 12 can take part in the Townsend Spice Kids' Que competition, which focuses on pork burgers this year. Each team will be provided with a pound of ground pork, charcoal and a grill.
"That, to me, is the best thing we do in the course of the weekend," Amy says. "It's like having the future of barbecue right in front of you. The kids are so impressive, and watching them discovering and cultivating their love of grilling right before your eyes is really special."
For those less interested in competition, Thursday evening's fish fry and Friday evening's Grand Champion Buffet are open to the public, and tickets are available at the door for $17 and $23, respectively. Both evenings will also feature live music, including local country band Murphy500.
"We hope that we've put together something where everyone can find something to enjoy, whether they're long-time barbecue fans or just stumble across it," Amy says. "We want everyone to have a great time. We just ask that you come with an empty stomach and ready to make friends, and we'll take it from there."
Registration for competitions, as well as more details about the event, can be found at 17bbq.com/cook-off.
17th Street Barbecue, 32 N. 17th St., Murphysboro, Illinois, 17bbq.com