The caffeine-driven population of southern Illinois has a new craft option for roasted coffee beans.
For a year, Kazoo Coffee & Cocoa Roasting Co. has been selling its coffee beans at farmers' markets and its Mount Olive brick-and-mortar shop. Business partners Susan Polson and Stephanie Maedge both have day jobs – Polson as a mechanical engineer, and Maedge as a middle school teacher – but when Polson started roasting coffee in her free time, the pair decided to share their single-origin and organic products with people who love coffee as much as they do.
The name of the company, along with all of the names of its various roasts, have a theme that you'll quickly pick up on when you scroll through Kazoo's website.
"All of our inspiration has been from music from the very beginning, from the genesis of our name, and then each one of our roasts come with either a song or a song lyric or some manifestation of a song that has been special to our family or our close friends," says Maedge.
The Bee in Your Bonnet single origin Guatemalan, for example, references the They Might Be Giants song "A Birdhouse in Your Soul;" it's the favorite song of dear friends of the owners who have been taste testers for Kazoo since day one.
Polson and Maedge also wanted to name their company after an instrument, and kazoo – being fun and accessible – was the perfect choice. "Anybody can pick up a kazoo and enjoy themselves, and anybody can pick up a cup of our coffee and enjoy it and love the connections and the comfort that it offers," says Maedge. 
Alongside coffee, Kazoo also offers something that you'll find less often: cocoa beans and drinking cacao. When Polson and Maedge started roasting cocoa beans, they thought about making their own bean-to-bar chocolate, but the process of tempering ended with a tasty yet less-than-ideal product for sale.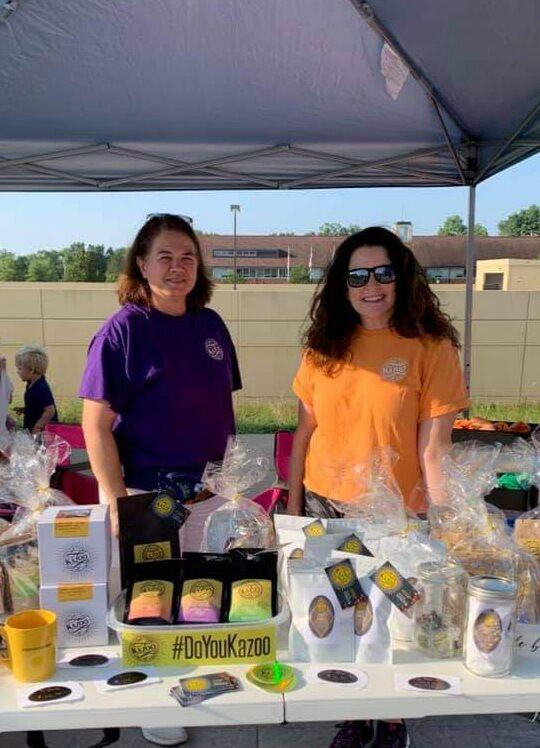 Instead, they now offer those beans as an alternative to coffee. Customers can order both bean form for brewing or dissolvable discs to add to any hot liquid. However, it's been a hard bridge to cross, given that many people are unfamiliar with this form of cacao.
"I think people like it when they try it, but if they're expecting hot chocolate, that is not what you get at all," says Maedge. "It's more of a chocolate tea. Personally, I enjoy it with almond milk, a little bit of sweetener and a sprinkle of cayenne pepper; it is just a really delicious drink."
With no plans to quit their day jobs, the women of Kazoo Coffee hope that they can slowly grow the business, and in a dream world, the two could possibly open a coffee shop when they retire. For now, though, they're happy to serve customers coffee and cocoa beans at their store in Mount Olive, at local farmers' markets and through online ordering and delivery.
"I've just loved meeting new people and talking to them and all the connections that we've made through Kazoo," says Maedge. "They've just made me really, really happy, and I love the small feel of our company; I love the fact that if you place an order, I know it's you that places it, and it goes in the bean hopper for you, and it's on your doorstep in three days. It's almost like a gift."
Kazoo Coffee and Cocoa Roasting Co., 290 Lakeview Drive, Mount Olive, Illinois, 618.741.9164, kazoocoffee.com