In Columbia, Illinois, an area café presents itself as "not your average little town coffee shop." Proving Ground Café and Roaster goes above and beyond the standard small-town coffeehouse model by serving up its own brand of freshly roasted coffee alongside signature cocktails and hearty brunch-style fare.
"So many people in this town go over to St. Louis for their coffee and brunch," owner and Columbia resident Caleb Wolz says. "I wanted to bring that closer to home for everybody here. People in this area can get quality fresh roasted coffee and great food without having to drive as far."
Wolz worked with his father, John, to open Proving Ground in March 2017. Caleb developed an interest in the beverage industry while learning how to roast beans at Waterloo, Illinois' Bean Tree Cafe as well as tending bar at The Fountain On Locust. He also spent time working with his father's company, Gateway Restaurant Supply, which has outfitted several St. Louis-area kitchens including Pappy's Smokehouse and City Diner.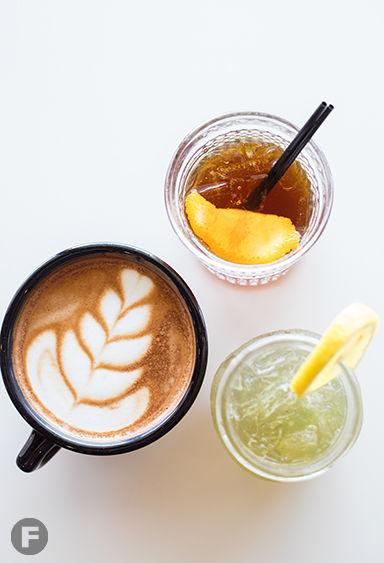 Proving Ground features 36 seats inside and an additional 24 on an outdoor patio. The dining room features a clean, modern look with exposed brick, a tin ceiling and refurbished elements such as a communal table constructed from a section of a vintage pocket door.
An off-site warehouse roasts coffee for the shop multiple times a week, primarily utilizing light roasting techniques to showcase the beans' natural flavors. According to Wolz, Proving Ground's Brazil variety offers a well-rounded, robust flavor, while an Ethiopian option features notes of blueberry and a Colombian roast has hints of tart cherry and citrus.
"To a lot of people in town and the surrounding areas, this is their intro to specialty coffee, so we offer some weird things and some classics," Wolz says. "We definitely do things differently for this area like turmeric lattes and an orange and ginger cold brew. I'm happy to provide something new for people who want to venture out."
The café makes its own syrups including chocolate, vanilla, caramel and honey-lavender. Many ingredients are sourced from area purveyors including milk from Farm Fresh Dairy, kombucha from KomBlu Kombucha, honey from The Picky Bee and liquor from Stumpy's Spirits Distillery.
The latter is used in morning cocktails, such as a housemade Bloody Mary mix and Wolz's signature "Bad Decision" with Stumpy's bourbon, Proving Ground nitro cold brew, orange bitters and vanilla pipe tobacco. The "PG Mimosa" features Stumpy's vodka mixed with orange juice and topped with another famous local product: Ski soda.
For its food menu, Wolz works with area suppliers including Harvest Market, Scharf Farm and Schubert's Smokehouse. Highlights include dishes such as the "Garden Variety" with spinach, peppers, onions and mushrooms served with potatoes, eggs and toast. Another popular pick is the "Drunken Monkey," or golden pancakes smothered in maple-glazed bananas and toasted walnuts.
Proving Ground is open Monday through Friday from 6am to 2pm as well as Saturday through Sunday from 7am to 2pm.
Proving Ground Café & Roaster, 180 Columbia Center, Columbia, Illinois, 618.281.6652, pgcoffeeco.com