Dustin Regan is trying to do the impossible: grow blood oranges in central Illinois. Although the citrus fruit thrives best in a consistently warm climate, blood oranges can survive in greenhouses or even outdoor containers in cooler areas. Dustin planted his trees outside, directly in the soil, next to a pond that's surrounded by a forest.
"We'll see how it goes," he says with a laugh. "They're in a piece of woods that I think might be protected enough to make it through the winter. I've read that if you plant them out in a hardy environment, they'll almost adapt to it if they can. Where I planted them, the trees won't have as much exposure [to the elements] during the winter, and they have a water source."
If the experiment is fruitful, it could eventually allow Rolling Meadows Farm Brewery, where Dustin is brewmaster, to source at least a portion of the citrus locally for its popular blood orange hefeweizen. To make the beer, approximately 300 pounds of blood oranges are peeled and juiced; up until this year, all of that work was done by hand at the brewery. Now, a machine is used to remove the peel and pith, leaving only the pure fruit for the hefeweizen. The peels are then dehydrated and used to add tart flavor to the brewery's white IPA.
The hefeweizen is something of an anomaly at Rolling Meadows, which aims to use as much local product as possible, including ingredients grown on the property – hence the experimental orange grove. Currently, the brewery buys its blood oranges directly from local grocery stores and restaurants that sell its beers in an effort to support the community in some way.
Yet the blood orange hefeweizen is worth the deviation. The beer is special for Dustin and brewery co-founders Caren Trudeau and her son, Chris. It was one of the first ales Caren and Dustin's late mother, Connie, first brewed together more than 20 years ago. Back then, the women were just brewing for fun; they discovered a wild hop growing on Caren's farm in Cantrall, Illinois, where the brewery is located today, and it inspired them to explore homebrewing.
"I watched them for years, helped them somewhat, and it became something that I wanted to experiment with, just because it was cool. It was a science and it really interested me in that way," Dustin recalls. "We started brewing with our moms, and then we took their recipes and made them scalable."
***
The Trudeau family bought the property, just outside of Springfield, when Chris was 7 years old, and renamed it Rolling Meadows. Some of his earliest memories on the 14-acre farm include tooling around on a go-kart, taking turns too fast and singing "Born to be Wild." At the time, the family primarily raised corn and soybeans for commercial sale, as well as some produce for personal use. Dustin was surrounded by farming from a young age, as well, through their friends, the Trudeaus. Initially, Caren and Connie brewed for themselves, family and friends and for harvest parties on the farm.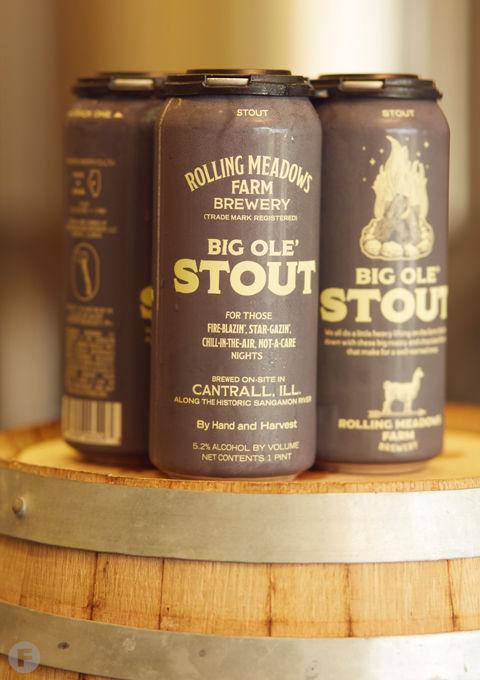 "Before that, our moms were just brewing in beer buckets, glass Carboys and on the stovetop," Dustin says. "They'd do partial grain mashes with [flavor] extracts and then they got further and further into using full-grain mashes."
That's how Dustin and Chris got into brewing as well. Dustin has been brewing on his own since he was 17, but the idea to open a brewery began with Chris. Almost 10 years ago, on a trip home from college in Vancouver, British Columbia, where he'd fallen hard for the local craft beer scene, Chris saw the opportunity to expand into commercial production. He spent many weekends brewing with friends at Half Acre Brewing Co. in Chicago to learn the ropes at a true production brewery; he and Dustin also enrolled in online courses through the Siebel Institute of Technology and World Brewing Academy in Chicago and traveled to the University of California, Davis for intensive week-long programs. Caren and Connie followed suit, intent on translating their extensive homebrewing knowledge to professional brewing know-how.
"My mom never thought she'd be doing complex math equations just to make beer," Dustin says with a laugh. "We always joked that our moms were Belgian brewers – a handful of this, a handful of that. But we needed to scale these things; we needed to figure out how much their handfuls weighed."
By 2011, the two families had opened the first production brewery in the area since Prohibition. Both Chris and Dustin love wheat beers, and one of the brewery's first three releases was Springfield Wheat. In the brewery's early days, beers were released like the white IPA, a weiss beer brewed with farm-fresh coriander and a blend of hops, including the farm's wild variety, to meet public demand. "Then that [style] blew into a huge market, and breweries across the country were releasing white IPAs," Dustin says.
The white IPA trend isn't the only one that Rolling Meadows has been ahead of the curve on. The brewery's session IPA and session lagers were released around the time that such low-ABV beers were gaining ground across the country.
Like the blood oranges for the hefeweizen, what can't be sourced locally is purchased in the community. For the brewery's coffee porter, Coffee Break, Rolling Meadows partnered with Custom Cup Coffee in Springfield. The popular winter seasonal porter ended up being a finalist in the beer category at the Good Food Awards in 2017.
In addition to the blood oranges Dustin is trying to grow, he's foraged for wild hazelnuts and pecans on the property to use in beers, and he raises bees both for honey production and to help pollinate crops. He's even tapped sycamore trees on the land to use the sap in beer. Fresh produce and herbs have also made their way into beers, including those from the brewery's fruited series, like the thyme used in the blueberry-thyme ale, coriander in the blackberry-coriander lager and basil for the strawberry-basil ale. Dustin says the herbs were added to the fruited series beers for additional flavor and dimension; since the brewery doesn't use artificial flavorings or colorings, they found that the beers made with only fresh fruit juice needed other elements for more depth of flavor.
What they don't grow themselves is sourced from other local farms – for instance, blueberries, blackberries and strawberries from nearby Jeffries Orchard, which has been a continuously operating family farm for more than 100 years. Last fall, Jeffries supplied Rolling Meadows with apples for a new apple ale; Dustin says that they've also discussed sourcing asparagus, possibly for an IPA.
Being located on a farm has other advantages: A blend of hops, including some grown on the farm and the wild hop that Connie and Caren discovered more than two decades ago, are used to brew beer. Learning how to raise hops on a slightly larger scale wasn't without its challenges, though. Hops are a vining plant that don't naturally grow upwards; they must be guided to grow on trellises, and at Rolling Meadows, irrigated to survive central Illinois' hot and dry summers.
Dustin estimates that they've experimented with growing 10 or 12 hop varieties over the past 10 years, including some classic English and Pacific Northwest varieties. Chris says the Pacific Northwest hops, including Cascade, grow best in the central Illinois climate and soil. As for the wild hop vine, for years the families assumed it was Japanese hop (Humulus japonicus). The invasive variety was imported to the U.S. from Eastern Asia in the late 1800s, and now grows in states across the Midwest and East Coast. However, after having a sample of the vine evaluated by a specialist, the families learned that their wild hop was an English species likely imported by a previous tenant of the farm or someone nearby.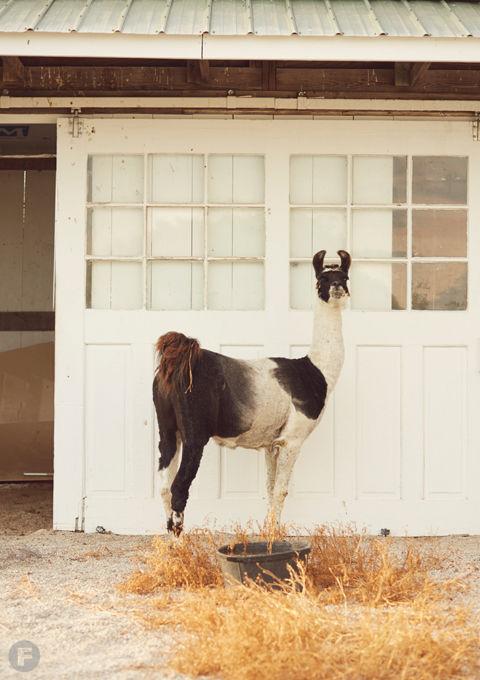 Currently, the brewery sources its different types of wheat, barley and additional hop varieties from farmer collectives. Last fall, though, the families planted wheat; they're hoping to harvest it for beer production next year, with an eventual goal of producing beers made exclusively with wheat, hops and flavorings all grown on the farm. Even the water used for brewing beer is hyper-local, sourced from an aquifer on the property, which filters water from the nearby Sangamon River.
"I always joke that any brewery in Springfield could make the exact same beer recipe as I make out here, but it would taste completely different because of the water," Dustin says. "[Our] water is less hard in the summer, which lends to lagers and lighter ales. In the winter, it's harder and lends toward darker, heavier beers."
***
The location of the brewery is unique – few breweries operate on working farms – and the surrounding area is also part of its story.
Rolling Meadows is located along the Sangamon River, which Abraham Lincoln traveled along and lived near during his early adult life. Lincoln was born in Kentucky and spent his youth in Indiana; he arrived in Springfield when he was 28 and considered it his adopted hometown. Before he made a name for himself in Springfield, Lincoln and two other men were hired to ferry grain and hogs to New Orleans. They built their flatboat in Sangamo Town, an industrial city and shipping port eight miles northwest of Springfield; today, the former site of Sangamo Town is covered in forest, but from the right vantage point on the farm, you can see it across the Sangamon River.
By the time he was 23, Lincoln co-owned the first of two small general stores in nearby New Salem, Illinois, with a man named William Berry. The general stores, called Berry-Lincoln, sold myriad items: tools, food and drink, firearms, and as was customary at the time, eventually booze, making Lincoln the only American president to have ever owned a licensed tavern.
In tribute to Springfield's most famous resident, Rolling Meadows' first two beers – now two of its four flagships – are named for America's 16th president: Lincoln's Lager, a light-bodied lager, and Abe's Ale, a maple syrup brown ale. In 2016, the brewery's limited edition barrel-aged Abe's Ale was one of 14 beers from across the country to win at the Good Food Awards in the beer category.
Rolling Meadows' greatest tribute to Lincoln, however, was the 1831 Vintage Porter, brewed to benefit the Abraham Lincoln Presidential Library and Museum in Springfield. The project was spearheaded by Rolling Meadows' chief operations officer, Bryan Tippy, who joined the brewery in August 2017. A self-described "history and Lincoln nerd," Tippy wanted the porter to nod to Lincoln's life in the state capital.
The porter recipe Dustin used was recovered from a book written in the New Salem area around 1830 or 1831, the year Lincoln first traveled down the Sangamon River to New Salem. Dustin converted the recipe from metric-system measurements and sourced historically similar ingredients – including yeast and unmodified wheat – and aged the porter in local, uncharred oak barrels. For the bottles, Tippy took inspiration from the Sangamon River. During a routine cleanup of the waterway, which surrounds one entire side of the property, Tippy uncovered a heavy, brown glass bottle similar in size to Rolling Meadows' 750-milliliter bomber bottles. Given its shape and design, he estimates that it's 80 or 90 years old; thanks to its lengthy run in the Sangamon, the outside glass features a smooth, river-sanded patina.
"This is where things go from a labor of love to kind of ridiculous," Tippy says with a laugh. "We hand-acid-etched 530 bottles to make it look like the bottle we found in the river, because this beer was a tribute to Sangamo Town. Then we hand-tagged them and hand-waxed the caps. The only historically inaccurate thing we did was use sanitation. And the porter turned out to be really amazing."
Before coming on board at Rolling Meadows, Tippy worked for years with Conn's Hospitality Group in Springfield. He's also a high-school friend of Chris' older brother, Craig; keeping operations among relatives and friends is important to both families. "I've known Craig since I was 15 – so over half my life – but I'm still catching up," Tippy laughs. "I'm still the odd man out when it comes to how strong the close-knit circle is here."
Since joining the Rolling Meadows team, Tippy has helped the brewery evolve its branding and packaging, working closely with an outside PR team to tell more of the farm's story. This included introducing a new logo and mascot, a llama, which references both the farm's two llamas, Dolly and Mama, as well as the brewery's desire to push boundaries. "Llamas, they do their own thing – they don't follow the herd," Tippy says. The brewery's name was also changed; previously, it was known as Rolling Meadows Brewery, and the addition of "farm" seemed a natural way to give a sense of place and purpose.
Maybe the biggest update in the past year, though, has been the brewery's new packaging. Four of its popular year-round beers are now sold in cans: session lager, session IPA, Abe's Ale and Springfield Wheat. The cans each feature a different nod to Lincoln or the farm itself. "There's less carbon footprint in canning and less opportunity for oxygen to get in, and also, you can take them a lot more places," Tippy says.
Tippy has helped usher in a new era at the brewery, although his hiring was precipitated by tragedy. In May 2017, Rolling Meadows co-founder and operations manager Connie Regan unexpectedly passed away.
As family and friends grieved the enormous loss, they also wanted to ensure that Connie's legacy and work lived on. "When I came on board, although it was a tough time, we believed that me moving [into this position] seemed like the right thing to do," Tippy says. "I think we've weathered the storm pretty well, and I'm excited for 2018."
This summer, seasonal releases at Rolling Meadows will include the annual cherry wit made with local cherries and specialty red wheat. The beer was one of the brewery's first fruit variants after the success of its blood orange hefeweizen, and also has special significance to the families.
"The cherry wit was a favorite of Caren and my mom," Dustin says. "It ended up being one of the most expensive beers that we make, though, because of the red wheat. It lends a really nice flavor and a pinkish hue of color, but it's the most expensive grain we purchase. That's still how we make it, though."
Even as the brewery evolves and grows, that emphasis on quality ingredients – the right ingredients, the best ingredients, no matter the cost – stays the same. That's the approach that Caren and Connie took all those years ago, and it's the same one that guides their sons work at the brewery today.
Rolling Meadows Farm Brewery, rollingmeadowsbrewery.com