Taco Tuesday at the Center for Plant-Based Living in Kirkwood, Missouri, started innocently enough. Five strangers and I gathered for a cooking class led by the center's founder, Caryn Dugan, and were tasked with making three types of vegan tacos: Asian-inspired lentil tacos, barbecue mushroom tacos and crispy avocado tacos with Sriracha-ranch drizzle.
As Dugan reviewed the recipes, she explained that we would not be cooking anything in oil.
We exchanged covert looks until Tracey Cain, a certified functional medicine practitioner, spoke up. "Why can't we use oil?" she asked.
"When you don't use oil, you can taste the food," responded Dugan. She went on to explain that most cooking oil is heavily processed and overused, adding unnecessary calories to dishes that don't need them. Instead, she recommends dry sautéing, or using water or broth to cook vegetables. She promised to demonstrate for us later on.
Breaking into teams of two, we each took a different taco recipe. I consider myself a good cook; still, I was a little nervous to work in an unfamiliar space. But Dugan's cook-friendly kitchen assuaged some of my nerves: It's equipped with every tool imaginable, including a ¹⁄₈ measuring spoon – I didn't even know they made them that small!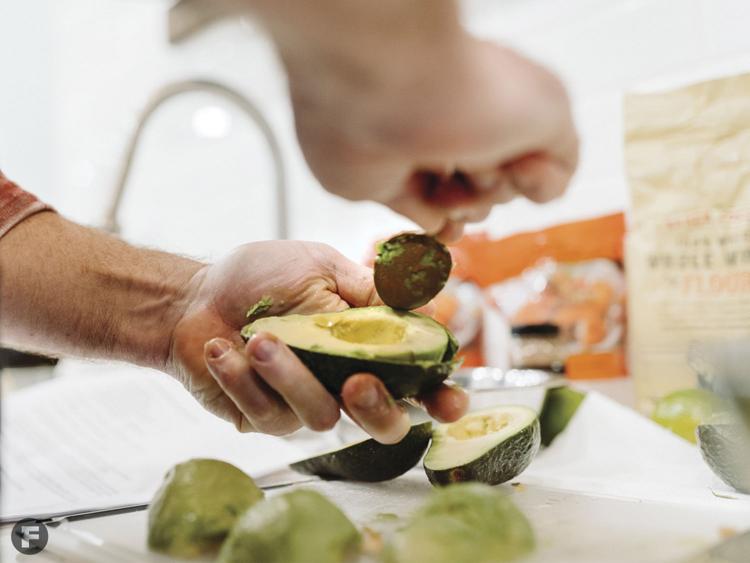 Cain and I concentrated on the barbecue mushroom tacos. To make the sauce, we added chopped red onion, garlic, chipotles in adobo sauce, lime juice and spices such as cumin, oregano and cloves to a blender. After the sauce was well blended, I set a large sauté pan over medium high heat, added the mushrooms and sauce and, once the mixture began to simmer, covered it. I had never cooked vegetables this way, but the process was very straightforward – it's freeing to be able to leave them to simmer while you prep something else. As the mushrooms cooked, everyone commented on the aroma drifting from our side of the kitchen.
The team working on the Asian-inspired lentil tacos was learning how to peel fresh ginger by scraping the back of a spoon across the surface of the rhizome, while a married couple tossed chunks of avocado in a flour-water mixture before coating them with breadcrumbs for the crispy avocado tacos. They baked half the avocado in the oven and put the other half in an air fryer – we unanimously agreed that the air-fried version was better.
Before finishing our dishes, Dugan demonstrated a dry sauté. She placed a large pan over high heat and added a little water to test it. Once the water rolled around like little balls of mercury – an indication of even cooking temperature – she added onion for the lentil tacos and then mushrooms, explaining that their high water content would allow them to cook without oil. She explained that a good quality, wide pan with a heavy bottom achieves the best results because it evenly distributes the heat, creating more uniformly browned vegetables. It's also important to chop the vegetables into equal sizes so they all cook at the same rate.
Once everything was finished, we gathered around a communal table to savor our hard work. Between bites we discussed why we had come to class that night. I assumed that some of the attendees would be new to vegan cooking, but it turned out that all my classmates were settled into their plant-based ways. One woman cooks vegan meals for herself because her husband still eats meat. Cain spent almost 18 years as a vegetarian, but she recently converted to a plant-based diet with very few animal products – she says she just feels better eating that way. And the married couple became vegan when the man experienced health issues that he believed veganism would quell.
Although we all have different backgrounds, and perhaps our own ideas about plant-based living, we were able to come together over tacos. I left the class feeling light – even though I put away at least five air-fried avocado tacos. I was also more knowledgeable about plant-based eating – which, up until now, I thought was more about ingredients than technique – and that's exactly what Dugan intended.
A traumatic turn of events set Dugan on a path toward plant-based living. In 2008, her father passed away from prostate cancer, and 10 weeks later, she herself was diagnosed with malignant melanoma. It was the one-two punch Dugan needed to make a big lifestyle change, and fast.
As Dugan started researching ways to boost her immune system in order to fight the cancer, she stumbled across plant-based solutions more than once. Dugan, a St. Louis native who grew up eating Velveeta cheese and Campbell's soup, was skeptical that a plant-based diet could make her that much healthier. "Living in the middle of the country and not being exposed to anything different than what I grew up with, I thought, 'I'm not doing a vegan diet, no way. Those people are crazy,'" says Dugan. "I don't mean any disrespect; I was very sheltered." Then she read about the science supporting the idea that a plant-based diet can boost your immune system. According to the Physicians Committee for Responsible Medicine, a Washington, D.C.-based nonprofit that focuses on fighting chronic illnesses with nutrition, "one in three cancer cases are a result of lifestyle choices. A plant-based diet is a powerful way to reduce the risk. And for people who have been diagnosed with cancer, it is an important way to improve survival."
At the time, Dugan was working at a medical practice, so she enlisted the doctors there to help her read more studies, further exposing the truth that plant-based living could save her life. "In one fell swoop, to check off a box, I decided to go vegan," she says. First, she threw out everything in her kitchen and went shopping, but her foray into plant-based cooking was, initially, far from a success. When she presented her husband with one of her first home-cooked plant-based meals, he simply looked up at her with puppy dog eyes.
"I said, 'What? Say it,' and he said, 'You're going to kill us both with this food.' I ugly cried until I was laughing," says Dugan. "The food was horrible."
That moment proved pivotal; Dugan enrolled in a plant-based cooking class at Whole Foods Market in Brentwood, Missouri, in hopes of learning a recipe or two that would make dinner at home more bearable. Bridgette Kossor, a local expert in holistic living, led the class, and Dugan soon became her assistant. When Kossor relocated, Dugan created her own series of plant-based cooking classes at Whole Foods Market – and so her business STL Veg Girl was born. Through STL Veg Girl, Dugan offered cooking instruction, personal chef services, meal delivery and collaborative restaurant events – each day working toward her ultimate goal: "a plant on every plate."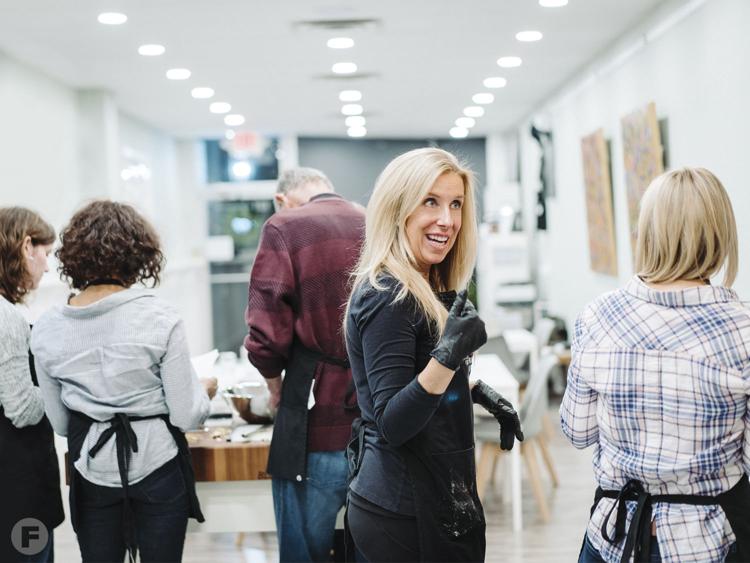 Diving deeper into plant-based living, Dugan attended a food-for-life program at the Physicians Committee for Responsible Medicine in 2011. Days after she returned home, the then executive director of the Cancer Support Community of Greater St. Louis, Charli Prather, asked her to teach introductory courses about plant-based cancer prevention. "[Prather] gave me a blank calendar and said, 'I want you to teach as many classes as you can,'" says Dugan. "It was a full-circle moment. It was amazing; it was a gift. That's when I started to take this really seriously."
STL Veg Girl was on an upward trajectory. In remission at this point, Dugan also started teaching plant-based classes at Dierbergs Markets – where she still teaches today – and tried her hand as a personal chef, all the while saving up to open a center where people could learn more about her lifestyle. She came across some skeptics: people who tried to discourage her from opening a brick-and-mortar location, cautioning her about overhead costs and a lack of precedent. But she remained committed to her vision, believing that she could do the most good in a physical space where the community could gather, learn and grow.
On August 13, 2019 – the 11-year anniversary of her father's death – Dugan fulfilled her longtime dream and opened the Center for Plant-Based Living, the first of its kind in the country. At the center, Dugan, executive medical director Dr. Jim Loomis and other collaborators offer programs to educate people on plant-based living, how to seamlessly incorporate it into their lives and how the approach can help fight cancer and chronic illnesses such as type 2 diabetes.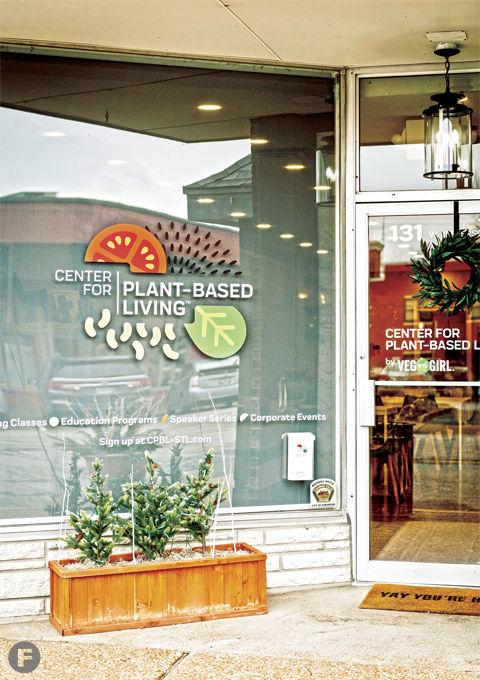 One program, Forks Over Knives, spans six weeks and gives participants the knowledge and tools they need to lead a plant-based life. With the help of Dr. Loomis, Dugan answers questions about the positive effects of plant-based eating on the body and provides information about everything from nutrition to navigating the grocery store. How Foods Fight Diabetes and How Foods Fight Cancer are two other classes at the center, which encourage people to eat well to feel well. The introductory classes include cooking demonstrations and nutrition lessons, and attendees leave with myriad recipe ideas to immediately implement healthy eating habits at home.
"People want to know the why," explains Dugan. "Unless you know why you're doing something, there's not a big motivator. … Come in and learn. That's why I offer the programs."
Dugan also teaches plant-based, hands-on cooking classes at the center, in which she discusses the common concerns with converting to an entirely plant-based lifestyle. In the past, classes have covered delicious, interactive themes such as breakfast for dinner, savory shareables and Super Bowl favorites. Boasting a menu of Buffalo cauliflower with creamy vegan ranch, crispy spinach and artichoke dip spring rolls and Southwest sliders with chipotle hummus, the latter showed just how fun – and flavorful – it can be to transform notoriously indulgent and unhealthy snacks into nutritious plant-based meals. This month, the center will offer compelling classes featuring Mediterranean and Thai cuisine as well as an introduction to tempeh.
Eventually, Dugan hopes to open more centers for plant-based living throughout the U.S., but for now, she's refining her template for the center in Kirkwood. "I'm trying to be the person or the resource that I so desperately wanted back in 2008," says Dugan. "That's what I aim for every single day … When one person randomly walks in off the sidewalk, I want them to think, 'Thank God I came in here.' I'm always trying to further my education to do what I can to help people."
Center For Plant-Based Living, 131 W. Jefferson Ave., Kirkwood, Missouri, 314.394.2063, cpbl-stl.com