When Meggie Mobley was a sophomore in college, she had a realization: She hated calculus.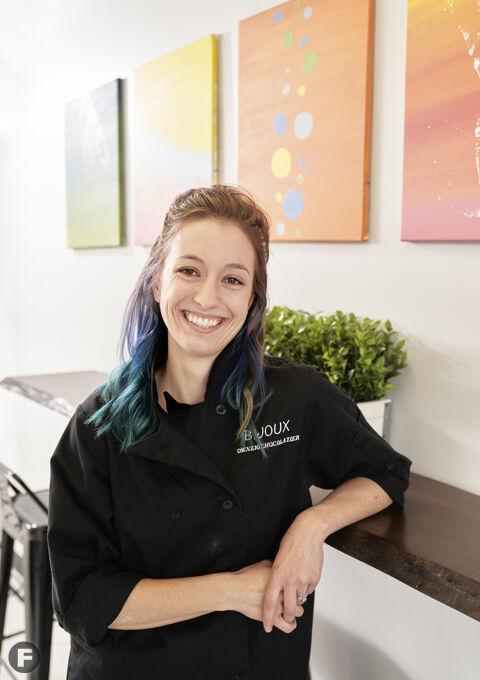 This was something of a problem since it's integral to computer science, which she was majoring in at the University of Missouri. As Mobley began making plans to switch her major, her mind kept going back to childhood memories of piping flowers and making icing borders with her aunt, who worked as a cake decorator for Schnucks grocery stores in St. Louis. "I was trying to figure out what the heck I was going to do," says Mobley. "That's kind of when I was like, let me just remember things I really liked as a kid. What did I really enjoy doing in my free time? And that's when I remembered when my aunt would come over and show me how to decorate cakes."
Soon after, Mobley landed her first baking job at Harold's Doughnuts in downtown Columbia, Missouri, while still in college but planning to follow in her aunt's footsteps as a cake decorator. A self-described "Midwest homebody," Mobley knew she didn't want to go far for culinary school, so she enrolled at The French Pastry School in Chicago. There, she realized just how big the world of pastry is.
Over the course of approximately five months, Mobley rotated between different modules across the spectrum of baking and pastry, spending one to two immersive weeks at a time learning the ins and outs of different crafts such as entremets, cake decorating and, finally, chocolate.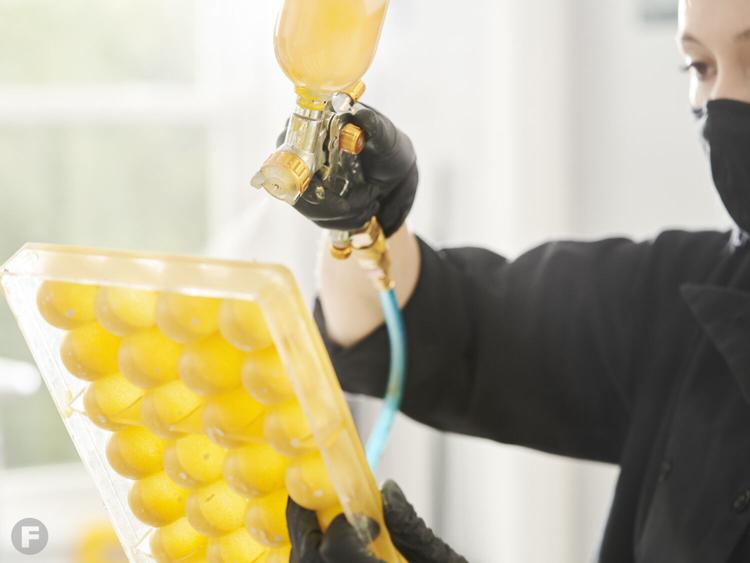 Although chocolate was the final module in Mobley's program, she had started staging with Veruca Chocolates – a Chicago chocolate company that specializes in luxury milk and dark chocolate bonbons – at the beginning of the semester. Chocolatiers Heather Johnston and Meghan Ryan quickly took her under their wings and walked her through the technical side of making chocolate; she was instantly hooked. "By the time I got into [chocolate] at school, I had had five months of these two very talented chocolatiers being really hands-on," says Mobley. "That was really what did it – being at Veruca and seeing all the possibilities. They were definitely instrumental in setting me on this path."
After graduation, Mobley returned home to St. Louis and began working full-time at the acclaimed Rick Jordan Chocolatier. Both Veruca and Rick Jordan gave her foundational knowledge for crafting chocolate, but Mobley also learned much of her technique by watching videos on YouTube, and eventually she was ready to launch her own chocolate venture. She decided to name her company Bijoux Handcrafted Chocolates after the French word for "jewels," as customers frequently remarked that her ornate bonbons resembled jewels or gemstones.
Bijoux was born out of Mobley's "chocolate room" – a 200-square-foot space in the finished basement of her home in Des Peres, Missouri – under the Missouri Cottage Food Law, which allows for the production and sale of certain foods, including breads, cookies and jams, in a home setting. Here, Mobley began crafting hand-painted bonbons in creative, often seasonal flavors such as salted caramel, passionfruit and hazelnut. After building a following for her intricate chocolates online and at the Lake St. Louis Farmers and Artists Market, she was able to expand the business into a brick-and-mortar shop, which opened just up the street from her home this past July.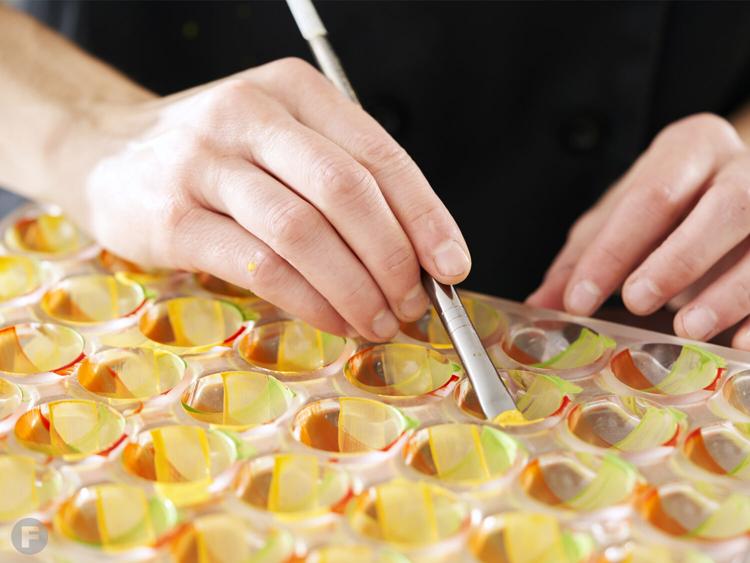 Tucked next to an alterations shop in a squat, red brick building on Manchester Road, Bijoux is a blink-and-you'll-miss-it affair. The sleek, 750-square-foot shop is decidedly minimalist, with a white marble counter and a white tile floor. Your eye is quickly drawn to the five brightly colored canvas paintings, each featuring a different pattern designed by Mobley, hanging on one wall – a playful nod to the artistic nature of the chocolates sitting in her pastry case.
The bonbons are nothing short of stunning, but Mobley is quick to downplay the artistry of her work – it's "pretty simple," she says. Much of her craft centers around making sure the chocolate is at the right temperature for fat crystallization – that's what gives chocolate its signature snap, explains Mobley. "If you've ever eaten a Snickers, how it snaps when you take a bite – that means it's been properly tempered. The snap is how you know it's where it should be. For it to be shiny, it needs to have that snap."
Chocolate is an unforgiving medium. As Mobley says, if there's anything wrong, you won't know until it's way too late to fix it. So, before anything else, she cleans her chocolate molds with isopropyl alcohol to remove any impurities. Chocolate will reflect whatever surface it's poured into, so if there's even the smallest particle on the mold, it will show up in the finished product. The average customer might not notice, but you can bet that Mobley will.
Then, essentially, the process works backwards. Mobley starts by painting the molds, most of which are either round or shaped like a geometric dome, with different colors of cocoa butter – the popular salted caramel, for instance, features a striking azure shell. By itself, the cocoa butter is opaque in color with a hard texture, similar to candle wax. It's kept in a warmer set at 42°C, which keeps the cocoa butter thin and fluid enough to function as, well, paint.
It's not an exaggeration to call Bijoux bonbons art. Each flavor features a different design, ranging from the yellow and white speckled lemon bonbon to the brown butter-vanilla bonbon striped with green, orange and yellow plaid to the blood orange bonbon featuring red-to-orange ombré.
To achieve the plaid pattern, Mobley uses regular paintbrushes to make several different brushstrokes. She'll brush on one layer, let it dry for a minute or so in the mold and then brush on the next layer with another color of cocoa butter, and so on. Just like real paint, you can see that it's dry when the cocoa butter changes from wet and shiny to a flat sheen. Similarly, ombré chocolates are made by spraying the mold, letting it dry for a minute and then rotating the mold and spraying it again with a different color of cocoa butter.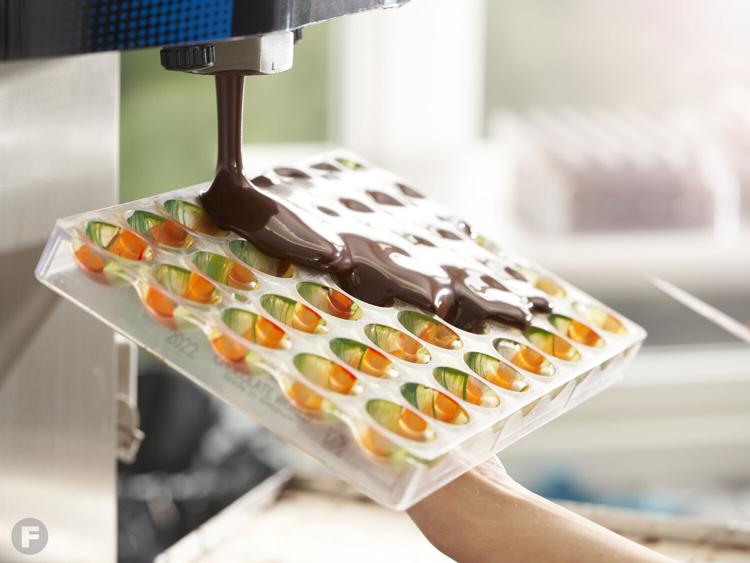 For the speckled chocolates, including the lemon, Mobley uses a paint sprayer – a technique she picked up while working at Rick Jordan Chocolatier. For a splash of color, such as the pink and green strands across the blue shell of the salted caramel bonbons, she uses her fingers to flick a little bit of colored cocoa butter across the top of the mold.
After creating the design, Mobley fills the mold with a melted 66 percent dark chocolate from the Caribbean that she says has a very mild flavor, featuring notes of roasted nut and red fruit. The dark chocolate is placed in a vat inside a 15-kilogram machine – one of the smallest on the market. Within the vat, the chocolate is kept at 55°C and is stirred constantly as it slowly pours through a grate in the bottom. The chocolate is then drawn up through a system of tubes to the top of the machine, where it is stored at 31°C to ensure it pours easily into the molds.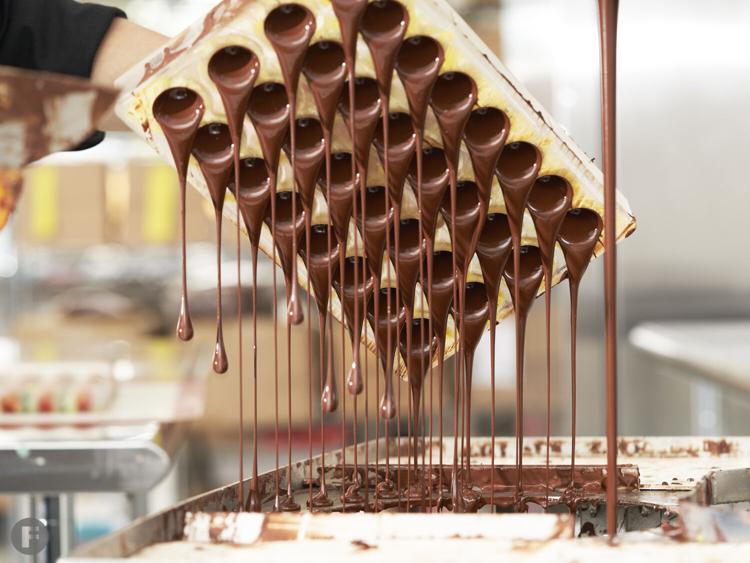 With the press of a button, a steady stream of chocolate pours out of the machine and into the mold; Mobley then uses a wide bench scraper to spread the chocolate across the mold, making sure it reaches every nook and cranny. Any excess chocolate is scraped back into the machine so that the bonbons retain their perfect, pristine shape. Next, the mold sits on a vibrating tray table on top of the chocolate machine for 10 to 20 seconds to release any air bubbles. Mobley then flips the tray upside down on a nearby table and lets the chocolates solidify for a few minutes before popping them in the refrigerator for another five to 10 minutes. After the chocolates have cooled completely, Mobley fills the shells and leaves them to crystallize at room temperature overnight. Finally, she coats the chocolates with a bottom layer.
It's a time-intensive process – it takes approximately 2 days to make a tray of bonbons from start to finish – and one that requires a lot of multitasking. While Mobley waits for one tray of bonbons to set in their shells, for instance, she might start painting the patterns for another batch or filling another tray with chocolate. "You have to figure out how to work in a way where you're continuously doing something," she says.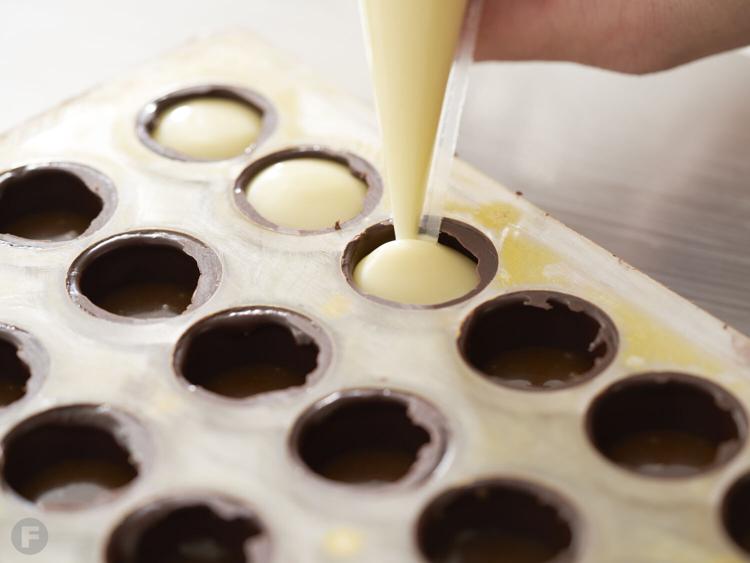 Some bonbons feature literal layers of flavor, which Mobley carefully pipes in one at a time. The cherry-almond bonbon, for example, combines cherry jam, dark chocolate ganache and an extra decadent layer of almond butter ganache, while the seasonal Bellini bonbon, a popular summer flavor, features peach jam and a ganache made with white chocolate, Champagne and Grand Marnier.
Mobley primarily works with dark chocolate, but she says some flavor combinations work better with white chocolate – in her lemon bonbon, for instance, the brightness of the lemon shines against the sweetness of the white chocolate. Key lime, she says with an easy shrug, would just taste weird with dark chocolate.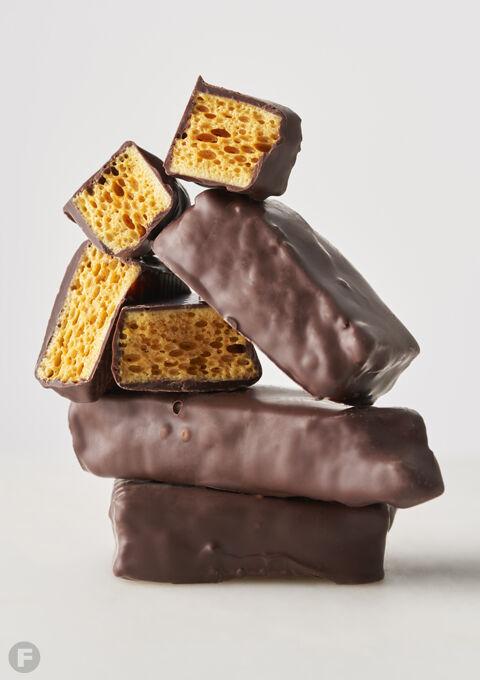 Although the hand-painted bonbons remain the crown jewel of the shop, the expanded production space has allowed Mobley to increase her lineup of treats to include a few chocolate bars and several varieties of toffee such as salted nutty toffee, salted honey toffee and honeycomb sponge toffee. "HEATH Bars were my favorite growing up, so it's an homage to that," she says, adding that toffee is an easy base that can be experimented with in a lot of different ways.
The toffee lining the shelves at Bijoux is, certainly, more sophisticated than a HEATH Bar, and Mobley's mastery of the famously finicky process of tempering chocolate produces treats well beyond the scope of a Snickers. But the ease with which she describes her craft underscores a key tenet of Bijoux: Although Mobley takes chocolate seriously, her jewel-like confections are meant to be fun – just like those days spent piping frosting flowers with her aunt. And while she might downplay the artistry of her work, her customers certainly won't.
Bijoux Handcrafted Chocolates, 13014 Manchester Road, Des Peres, Missouri, bijouxchocolates.com